Medical tourism in Bangkok is booming , with more people than ever before travelling to the Thai capital for affordable cosmetic procedures. Modern hospitals boasting the latest medical technology and equipment await you, as do experienced plastic surgeons who have trained at universities in Australia, Europe, and the United States. Many plastic surgery clinics in Bangkok are accredited by the Joint Commission International , a certification only awarded when international standards of care and cleanliness are met.
Having an aesthetic treatment in Bangkok instead of at an Australian clinic could save you up to 70%, which means you could knock thousands of dollars off your medical bill. All of the most popular plastic surgeries in Australia are available at Bangkok clinics, and all at a lower price. Keep reading to find out the astonishing difference in cost for breast implants, liposuction, rhinoplasty, and more, along with details for the best plastic surgery clinics in Bangkok!
Breast Augmentation
Breast augmentation (also referred to as breast enlargement or breast implants) is a treatment that continues to be in high-demand across the world. The results can give your confidence a boost and make you feel happier about your appearance, particularly if you are unsatisfied with a small bust.
Australian women who want to alter the size and shape of their breasts will pay an average of $16,500 at clinics in Melbourne, Sydney, and Brisbane. When you put yourself in Bangkok, breast augmentation packages cost $7,200 on average , a savings of more than $9,000!
Breast Lift
Another cosmetic surgery that can enhance the appearance of your breasts is a mastopexy (breast lift) . Patients whose breasts have naturally begun to sag due to age will find this procedure particularly effective. Loose skin around your breasts can be removed before they are raised and reshaped to appear more pert and youthful.
If you are interested in having a breast lift, you will pay an average of $15,800 for this procedure at cosmetic surgery clinics across Australia. The same cannot be said when you have the procedure carried out by a plastic surgeon in Thailand's biggest city, where the average price is just $5,200.
Breast Reduction
Large and heavy breasts sometimes create related health issues. A breast reduction can help to bring the size of your chest into proportion with the rest of your body. By removing the excess fat and tissue from your breasts, this procedure effectively reduces their volume. Your plastic surgeon can also reshape your breasts to reduce the drooping and improve their appearance.
The average cost for breast reduction surgery at clinics in Victoria, New South Wales, Queensland, and other Australian states is $18,000. The same procedure performed at a clinic in Bangkok has an average price of $5,500, a saving of $12,500!
Liposuction
If you are trying to shift stubborn fat but are struggling to do it with just exercise and diet alone, liposuction is an effective weight-loss treatment that can really help. Special medical equipment is used to literally suck the fat out of you, and you can specifically target nuisance fat around your stomach, hips, thighs, back, and arms.
Most cosmetic clinics in Australian cities charge in the region of $8,880 for a session of liposuction, but it is a different story in Thailand. Booking a liposuction appointment with a qualified surgeon in Bangkok has an average cost of $3,250, knocking over $5,000 off what you would pay back home.
Nose Job
You can improve the appearance of your nose with rhinoplasty (nose job), fixing aesthetic issues like a crooked bridge, large nostrils, or dropping tip. Rhinoplasty can also be used to treat more serious problems like a deviated septum, which can cause breathing difficulties and increased congestion.
Visit a doctor in Australia for a nose surgery and the average bill comes to $12,600; however, the price is slashed by more than half when you visit a Thai surgeon. After comparing the price of rhinoplasty across the best clinics in Bangkok, we found the average price to be $5,800.
Butt Lift
When you want your bum to appear rounder, there is a procedure that can help. Gluteoplasty (buttock augmentation) is a type of plastic surgery concerned with improving the aesthetics of your bottom. What a butt lift achieves in particular is to improve the contours of your behind, by removing excess skin and fat, then tightening and pulling up the buttocks.
Australian plastic surgeons qualified to perform gluteoplasty charge an average of $19,000 for this treatment, whereas at top Bangkok cosmetic surgery clinics you can expect to pay an average of just $5,350. That is a huge saving of over 70%!
Facelift
As we grow older our faces succumb to the effects of gravity, with our skin slowly drooping and becoming looser. A rhytidectomy (facelift) can help to reverse the effects of aging by reducing the appearance of wrinkles and making the skin on your face appear tighter. Excess skin that hangs around your jawline can be completely removed during a facelift.
Arrange to have a facelift at a clinic in any Australian city and the average price will average $26,000, but travel to Thailand for a facelift and price plummets. Plastic surgery clinics in Bangkok charge an average of just $6,650, which knocks almost $20,000 off your bill!
Three of the Best Bangkok Plastic Surgery Clinics
Now that you've learned how much you could save by traveling to Bangkok for your cosmetic surgery, here are a few of the best clinics in the city. Each of these medical facilities scores between 4.5 and 5 stars for patient satisfaction, and they are all Medical Departures Verified Clinics.
First up is Yanhee Hospital Health & Beauty , which has treated patients from over 160 countries since opening 35 years ago. In 2000, the hospital became JCI-accredited and continues to meet the high standards required by this leading global health organisation. A wide range of cosmetic treatments is available here, and both the doctors and support staff are able to communicate with you in English.
The Nirunda International Aesthetic Centre, a modern plastic surgery clinic , founded in 2007. You can expect the latest medical technology and tools to be available at this Medical Departures Global Patients' Choice Award winner. Many of the English-speaking cosmetic surgeons working here studied at the UK's prestigious King's College London, so you can expect them to be trained in the most advanced methods and treatments.
Last on our list is one of Bangkok's most highly-rated cosmetic facilities: KTOP Clinic . Over 200 past patients from all over the world have left positive reviews of the treatment they received here. Opened just a couple of years ago, KTOP Clinic is the first overseas branch of South Korea's leading cosmetic hospital, Grand Plastic Surgery. Everything about this clinic is state-of-the-art, so you can be sure that the surgeons here will be able to help with whatever type of aesthetic issue you wish to address.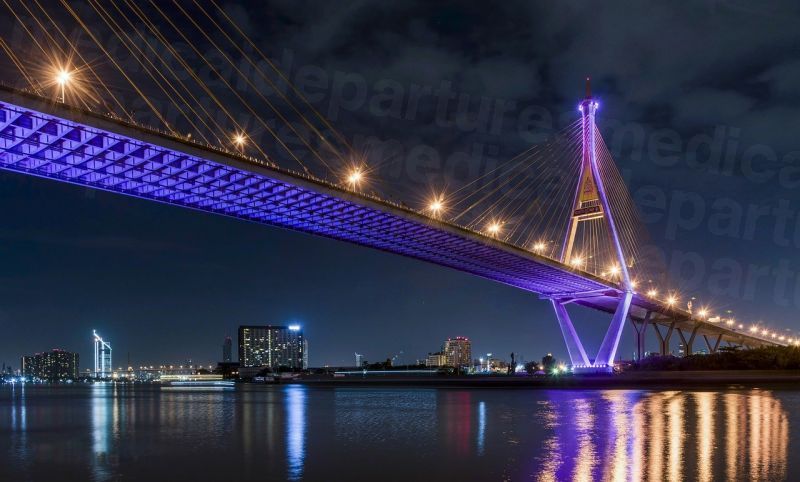 Book Your Bangkok Plastic Surgery Today at Medical Departures
It only takes a few minutes to arrange a consultation with a plastic surgeon in Bangkok, and you can do it right now using our online appointment scheduler. Just pick a clinic and select the treatment you are interested in, choose a date and time that is convenient for you, then add your email and phone number so we can get hold of you.
Shortly after your request is made, you can expect us to get in touch with an appointment confirmation. Any changes to your visit, or even canceling it entirely, can be done for free up to one day before your appointment. If you are not quite ready to book yet and would prefer to just get a no-obligation quote before planning your Bangkok medical trip, you can do that here at Medical Departures too.
Any treatment you book through our online cosmetic care marketplace is covered by the Medical Departures Best Price Guarantee . If you find the same treatment at the same clinic for a lower price, we will match it! Any questions you have can be answered by our Customer Care Team, who are just at the end of the phone. Give them a call and get all the assistance you need to arrange your low-cost cosmetic surgery in Bangkok.
Sources:
Cook, Erin. The Stats Are In: Here Are Australia's Most Popular Plastic Surgery Procedures. Harper's Bazaar. 7 March 2017. https://www.harpersbazaar.com.au/beauty/australias-most-popular-plastic-surgery-procedures-4735
Watson, Stephanie. Mastopexy (Breast Lift). Healthline. 15 May 2017. https://www.healthline.com/health/mastopexy
Gardner, Stephanie, MD. Liposuction: How It Works, Types, Safety, Side Effect & Benefits. WebMD. 6 August 2018. https://www.webmd.com/beauty/cosmetic-procedure-liposuction
Celletti, Erin Nicole. The Complete Guide to Rhinoplasty. Allure. 15 May 2018. https://www.allure.com/story/rhinoplasty-everything-you-need-to-know
Nordqvist, Christian. Facelift: What you need to know. Medical News Today. 31 March 2017. https://www.medicalnewstoday.com/articles/244066.php