Looking for the best rhinoplasty in Bangkok, whilst relaxing and recovering, pre and post-treatment?
Benefit from a top-notch, inexpensive nose job in Bangkok and save up to 50% with Medical Departures. You an combine top-quality rhinoplasty surgery with an idyllic resort setting nearby in one of the world's leading medical tourism destinations.
Discover identical levels of surgical care you would find a home with first-rate, cost-effective cosmetic treatment at the heart of your experience—saving hundreds of dollars. Value-friendly prices, warm hospitality, ultra-modern facilities and fully-approved clinics make Bangkok the ultimate medical tourism trip.
Why Visit Bangkok for Rhinoplasty?
Thanks to world-class medical facilities, majestic scenery, retail therapy and superior cosmetic care, patients have been traveling for decades to take advantage of affordable nose jobs in Bangkok. Constantly advancing with the times, Bangkok's unique service culture, bright lights and mega-malls provide everything medical tourism travellers require for a memorable trip.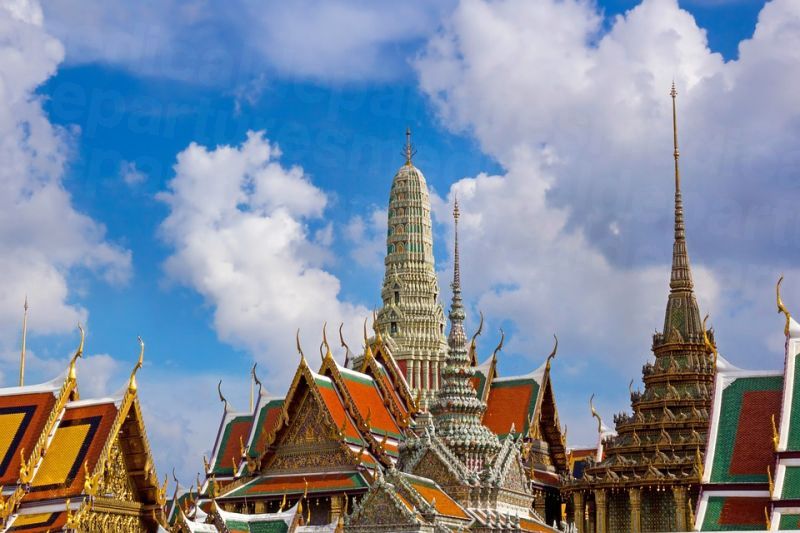 This bustling metropolis is home to a highly-developed healthcare system with fully-trained surgeons, catering to international patients needs. Together with top-class, JCI-accredited hospitals and clinics, fully-regulated by Thailand's Ministry of Public Health (MOPH), you are assured of a first-rate patient-focused experience.
Many of our quality-assured clinics also offer bespoke medical packages, whilst some clinics go the extra mile, helping rhinoplasty patients with their visa extensions in case of a prolonged stay. We work only with the most highly-respected Thai surgeons and clinical specialists who have undergone more than six years of training, specialising in areas such as rhinoplasty.
Yes, but is a Nose Job Painful?
Depending upon the type of treatment you and your doctor agree is best for you, you will be given either a local anesthetic or you will be "put under" with a general anesthesia. Either way you are not likely to feel any initial pain.
As with all surgical procedures, you will no doubt experience some swelling, drainage and bruising post-treatment, causing more discomfort than pain.
If you feel significant pain two weeks after your nose job, contact your doctor. Meanwhile, rest assured your Thai specialists and staff will do everything to help ensure a comfortable and pain-free outcome.
Clinics in Bangkok—Overview
At Medical Departures, we do not underestimate the difficulty of the decision-making process in finding the ideal rhinoplasty specialists. When it comes to high-quality clinical care and a superior patient-led experience, we rigorously vet each clinic in Bangkok across all areas such as stringent hygiene, memberships, surgeon qualifications and more.
Check out virtual clinic tours, view high-res images and enquire about our best price guarantee .
Top-rated rhinoplasty clinics in Bangkok include
How Much Can I Save on Rhinoplasty Treatment in Bangkok?
You can realise well over 60% savings on the rhinoplasty price in Bangkok, over what you might expect to pay at home:
Rhinoplasty in Australia: $12,600 AUD

Average rhinoplasty cost in Bangkok: $4,000
Where to
Stay in Bangkok
Bangkok offers a host of lodging choices , ranging from budget-friendly selections to swanky, luxury riverside hotels moments from Silom and Thonburi districts, where many of the best cosmetic surgery centers are located.
Popular places to stay include Siam Square and Sukhumvit. Due to traffic congestion, patients are obliged to reserve accommodation close to their specific clinic. Our Customer Care Team will also be able to assist with any travel plans.
Why Bangkok?
Brimming with ancient temples, mouth-watering street stalls and millennia of heritage, Thailand's capital is rich in culture, offering the ideal medical tourism destination for high-quality, cost-effective nose job surgery.
Australian and New Zealand rhinoplasty patients are spoilt for choice with numerous airlines flying directly into Suvarnabhumi Airport, making Bangkok highly-convenient for inexpensive, top-notch cosmetic and aesthetic treatment.
Recuperate in tranquil surroundings, whilst soaking up a plethora of activities from lively market stalls to river cruises and tea-rooms. Discover the Grand Palace and iconic Emerald Buddha, enjoy a walk around Lumpini Park or barter for items at the lively, boisterous night-market in Patpong.
Whether savouring an authentic Pad Thai around Banglamphu or heading to Chinatown for retail therapy, travellers to Bangkok can relax and immerse themselves for the perfect medical tourism trip.
How Do I Book a Nose Job in Bangkok?
Make your appointment with Medical Departures for high-end, superior cosmetic care at a fraction of the cost back home. Unlock exclusive discounts and compare prices for unbeatable deals on premium, inexpensive rhinoplasty treatment in Bangkok. Ready to book? See below for ways to arrange your appointment, or speak to our Customer Care Team today.