Having a family is a truly life-changing experience like no other, but if you have fertility problems, even the thought of having a family can ruin your day. If you and your partner have not purchased IVF treatments because the prices are so expensive, you might need to do some research on going abroad for In Vitro Fertilization. Malaysia clinics may well be an option, given it's a great place for a holiday, and English is widely spoken.
Starting a Family
Starting a family is one of the most exciting times in a couple's life and one of the ways you can truly change the world. If you have been suffering with fertility problems and can't have a baby, you need to research all your options for In Vitro Fertilization. Malaysia might seem like a long way from home, but IVF treatments there will cost you in the region of 65% cheaper than in America, New Zealand, Australia or Europe. What could cost in the region of USD $12,000 in America will cost you between USD $3,300 and $5,200 in Malaysia.
IVF treatments are one of the most amazing and life-giving treatments in the world and a true revolution of what it means to create human life. With the In Vitro Fertilization price in Malaysia so low, more and more people are visiting this great nation in SE-Asia to make their dreams a reality.
IVF Clinics in Malaysia
It is very important that you secure yourself a place in one of the best clinics for In Vitro Fertilization Malaysia has to offer. But how do you find the best choice of clinics that merge affordable prices with world-class treatments and surgeons in Malaysia. You acquire the services of tried and tested medical tourism portals such as Medical Departures to find yourself a clinic that comes highly recommended by those in the know.
At Medical Departures, we have taken our time to study all the clinics in Malaysia and have used online reviews from former patients so you can easily find the best options that suit your needs an budget. It is important that you are in the hands of experts, especially where such a delicate treatment is concerned. Here is a list of highly recommended clinics for In Vitro Fertilization, Malaysia:
Pantai Medical Center Kuala Lumpur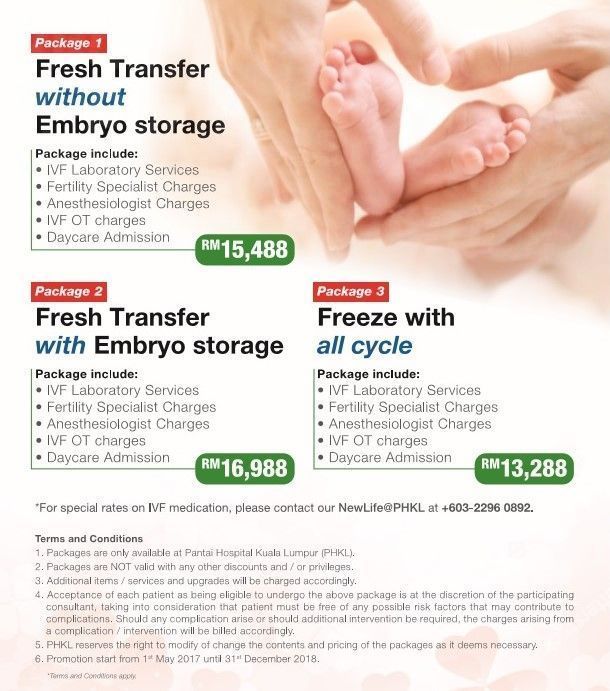 Concept Fertility Centre of Damai Service Hospital
IVF Prices in Malaysia
IVF treatments prices in Malaysia are vastly cheaper than in Australia, the USA or Europe. Here is a list of IVF prices in Malaysia in comparison to the prices in other Western World nations: US $4,200 (CAN $5,257; UK £3,146; Euro €3,570; Aus $5,379; NZ $5,830), compared to the prices in the US $ 12,000 (CAN $14,393; UK £8,821; Euro €9,865; Aus $16,000; NZ $17,071).
When you wanting to start a family, and seek out the cheapest prices for In Vitro Fertilization, Malaysia
offers one of the most cost-effective places in the world for such treatments. Take your time to view our recommendation to find a real ba