Cosmetic surgery is a big deal, and before getting into it, it is important to have all the information that you need prior to making a sound decision. If you're looking into medical tourism as a way of getting your double eyelid surgery, in Kuala Lumpur you'll find a low-cost, high-quality destination.
Finding the right plastic surgeon is important to ensure the success of your procedure, so be sure to do some research about what's involved. You should also research surgeons and clinics, although Medical Departures' quality-checked listings can help you with that.
Why Get Eyelid Surgery in Kuala Lumpur?
Kuala Lumpur is emerging as a top medical tourism destination, albeit a little later than some of the capital cities in neighbouring countries. Malaysia has been a little behind other Asian destinations in promoting itself as a medical tourism destination but is making up for lost time now.
The government closely monitors clinics who are offering medical tourism services, so you shouldn't have to worry you will be seen by some fly-by-night operator. Doctor training is reliable in Malaysia - and as a former British colony, many doctors graduating in Malaysia still opt to take some of their post-graduate training in the UK. Thus, standards are on a par with western dentists.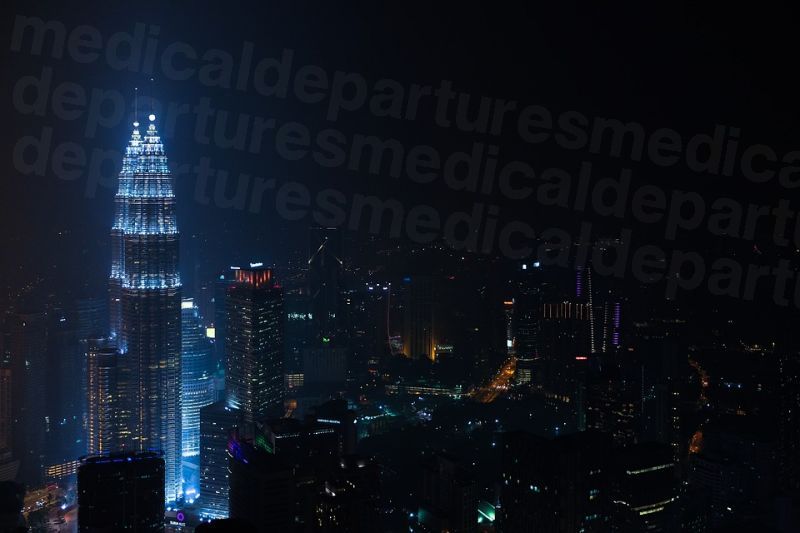 KL's skyline is dominated by the impressive twin towers of the Petronas Building, and while there is a smattering of other skyscrapers there are still plenty of low-rise buildings sitting cheek-by-jowl with their giant neighbours. The city is modern, but retains its traditions, and you won't feel overwhelmed or hemmed in as the city still feels spacious, airy and uncrowded compared with other Asian cities. It offers a good location for medical tourists with all the amenities you'd expect to find in a city, for example hotels, restaurants, bars and other entertainment options, as well as unique attractions specific to KL.
How Much Does Eyelid Surgery Cost in Kuala Lumpur?
The table below shows the cost of double eyelid surgery in Kuala Lumpur, compared to at home:
AUS $

NZ $

UK £

EUR €

US $

CAN $

Double Eyelid surgery cost –

home

8,400

9,000

5,000

5,900

6,200

8,500

Double Eyelid surgery cost –

Kuala Lumpur

1,400

1,500

800

900

1,000

1,400
What Clinics Can You Recommend for Double Eyelid Surgery in Kuala Lumpur?
There are plenty of good clinics in Kuala Lumpur that you can rely on to get your surgery. At Medical Departures, all our verified clinics are pre-checked. We look at legal/criminal records, confirm doctor qualifications and affirm professional memberships, as well as carrying out onsite visits. So, you know when you book through us you can trust you will be going to a reliable facility.
Take a look at some of our popular clinics in Kuala Lumpur:
Smart International Aesthetic Glojas Health Clinic
The Bottom Line
Affordable, good-quality double eyelid surgery in Kuala Lumpur is doable with Medical Departures. Get in touch with our Customer Care Team if you'd like to know more, book an appointment or get an online quote.