Thailand is one of the world's top medical tourism destinations ; in fact, it has been since the concept of traveling overseas for inexpensive medical treatment was first conceived. And with excellent hospitals, low-cost medical treatment, cheap travel and well-developed tourist infrastructure, it's no wonder why. The best hospitals employ top English-speaking doctors and nurses, and are fitted out with state-of-the-art equipment.
Visitors fly to Thailand in order to save thousands on cosmetic treatments not covered by their insurance at home , such as liposuction surgery . Chiang Mai, the hub of Northern Thailand and the country's second largest city, has a number of excellent hospitals and clinics, with the same high-quality standards found elsewhere in the world. The quickly-expanding city also offers pockets of tranquility alongside modern hotels and malls, and proves particularly popular with those looking to keep costs down.
Liposuction in Chiang Mai
So, why would you be considering liposuction in the first place? Well, it is a fact of life that we all accumulate fat - usually around the legs, buttocks or waist - which, at some point, can start to get out of control. This can happen in spite of our best efforts to maintain a healthy figure through proper diet and exercise. Unfortunately, fat spot reduction is a myth (yes, those YouTube videos suggesting you can "lose stubborn belly fat through crunches" are misleading). In many cases, your best option if you want noticeable results is to undergo a medical procedure.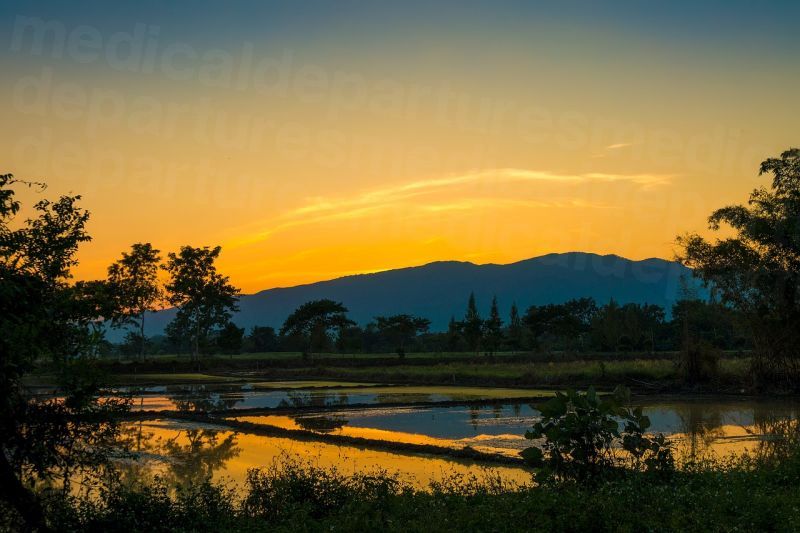 The good news, however, is that low-cost liposuction surgery in Chiang Mai is now a safe and viable option. Plus, after a few days of initial recovery, you will be able to enjoy this serene and peaceful location with regained confidence and a new figure. But do remember to take it easy as you will still be in recovery mode.
How Much Does Can I Save?
The cost of liposuction surgery in Chiang Mai is surprisingly affordable. The rates are typically a third of those in Australia, New Zealand, Europe or the US, at around US$2,200 (c. AUD$3,000), compared with US$6,000 in the USA, and AUD$8,600 in Australia. Medical Departures also offers a lowest price guarantee; should you find your liposuction procedure, with the same clinic, with the same dates and at a lower rate online after you have booked, we will match it. Medical Departures' finance partners can also help you get the medical care you need today at competitive interest rates.
Choosing a Clinic in Chiang Mai
Providing you choose a reputable hospital or clinic, your liposuction will be just as successful as if you had it done at home. Medical Departures only works with reputable, verified hospitals, performing quality-checks, including virtual tours and real patient reviews. Therefore, you can make an appointment with confidence knowing that your treatment will deliver the results you desire for a fraction of the cost at home.
The following clinics are among the best for liposuction in Chiang Mai.
Rose Clinic Chiang Mai : Rose Clinic Chiang Mai is a modern facility with state-of-the-art equipment. It conducts aesthetic surgeries like liposuction and other surgical procedures including facelift, rhinoplasty, and breast augmentation not far from the city center.
Machita Clinic : Machita Clinic Taphae Branch, located in the heart of Chiang Mai, offers patients the latest beauty and cosmetic treatments within a thoroughly modern clinic situated in a three-storey building. Machita is also known to use the latest technologies and products and treat patients from all over the world.
Getting Started
Check out our recommended clinics' profiles on Medical Departures now, all of which contain more information about liposuction surgery in Chiang Mai. You can also connect with us for more information or receive a personalized quote , free of charge.
Sources:
Five-star treatment: Top 10 destinations for medical tourism. The National. 29 November 2017.
https://www.thenational.ae/lifestyle/travel/five-star-treatment-top-10-destinations-for-medical-tourism-1.679880
Kita, Natalie. Will Insurance Cover Plastic Surgery? Very Well Health. 07 September 2018
https://www.verywellhealth.com/will-insurance-cover-the-cost-of-my-plastic-surgery-2710197
Boston, Gabriella. 'It doesn't work that way': Why spot reduction is a myth when it comes to weight loss. National Post. 17 April 2018.
https://nationalpost.com/health/it-doesnt-work-that-way-why-spot-reduction-is-a-myth-when-it-comes-to-weight-loss