Looking to slim and reshape your body? Want to remove excess fat and enhance your contours? Save more than 30% on liposuction surgery in Costa Rica with Medical Departures.
Rich in flora and fauna, nature treks, and bird-watching, Costa Rica has become the ideal destination for thousands medical tourism travelers seeking high-quality, cost-effective cosmetic care.
Why Visit Costa Rica for Liposuction?
Brimming with natural beauty, this premier ecotourism destination is one of the most conveniently accessible destinations for US and Canadian patients seeking to escape the high costs of care at home. Since the 1990s, Costa Rica's medical tourism sector has grown rapidly and has become an appealing choice for procedures that are not covered by your health plan.
With long plastic surgery waiting lists in Canada and expensive cosmetic rates throughout North America, medical tourism can be an ideal solution. At a fraction of the price compared to home, overseas patients combine a relaxing vacation with superior, low-cost clinical care. Costa Rican medical facilities are world-class, with identical levels of care and US-imported equipment, ensuring a first-rate experience.
Our quality-checked Costa Rican surgeons and clinics are accustomed to welcoming international patients and catering to their unique needs. At our best clinics, you'll find English-speaking staff, modern interiors and state-of-the-art equipment. Furthermore, doctors undergo rigorous medical training and have years of expertise in their chosen medical field.
Will I Receive the Same Level of Clinical Care in Costa Rica?
Absolutely—advanced equipment and techniques you would find in the US are also used in our fully-approved Costa Rican clinics. All doctors and surgeons are certified with the Colegio de Médicos y Cirujanos. Furthermore, Medical Departures' background-checks every site for stringent hygiene, doctor qualifications and memberships, making the decision-process of finding the right surgeon hassle-free
Browse virtual clinic tours, view maps and read a host of verified liposuction review Costa Rica cases from patients with excellent cosmetic results. Highly-rated clinics include Pablo Solis , Gustavo Chavarria and Arnoldo Fournier (a globally-respected and renowned leader in innovative cosmetic and reconstructive surgery since 1967).
How Much Can You Save on Liposuction in Costa Rica?
Save more than 30% on the liposuction cost compared to home;
Liposuction cost in the US: $6,000 USD

Average liposuction cost in Costa Rica: $4,084 USD
Staying in Costa Rica
An abundant choice of hotels in Costa Rica await medical travelers —from luxury five-star resorts to wallet-friendly options.
Choose from many Costa Rican cities, home to superior clinical care at the best prices. We list quality-checked, internationally accredited clinics in the capital San José as well as Santa Ana, Tibas and Escazu.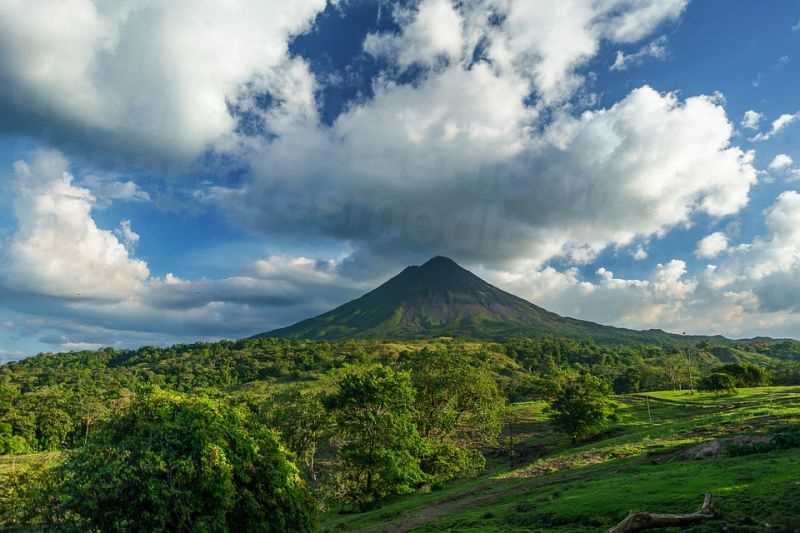 Why Costa Rica?
Bordering Nicaragua and Panama, Costa Rica is a convenient medical tourism hub for many cross-border and international patients.
Three international airports, namely Juan Santamaria Airport, Heredia and Alajuela ensure a quick flight time, whilst Daniel Oduber Quirós International Airport sees flights from most major US airlines.
Explore its variety of national parks and three UNESCO World Heritage Sites , La Amistad National Park, Cocos Island National Park and Area de Conservacion Guanacaste.
Whale-watch in Dominical, take a coffee-plantation tour around Heredia or simply relax and recover on one of Costa Rica's majestic beaches. Sports and adrenaline-enthusiasts will find Costa Rica's natural terrain a joy from white-water rapids to fishing, diving and snorkeling. If you're planning a holiday, be sure to take the time before treatment, as your lipo doctor may well advise you to stay out of the sun for up to two months post-treatment.
When booking via Medical Departures, rest assured you will be moments from your chosen clinic and ideal pre and post-surgical resort setting.
How Do I Book?
Make your booking today at one of our quality checked clinics in this beautiful country .
See below for ways to contact us today for superior, inexpensive plastic surgery in Costa Rica.