If you are considering having breast augmentation surgery, Thailand's popular leisure travel island is also a well-traveled medical tourism destination. Koh Samui is a viable and affordable option that should be near the top of your list for a number of reasons.
Firstly, Koh Samui is a beautiful holiday spot in Thailand, with beaches and a laid back atmosphere apart from the frenetic night scene for you to enjoy pre-treatment and recuperate post-surgery. Secondly, and most importantly, Koh Samui's high-quality medical centers cater to international clientele who flock there for medical vacations because of the inexpensive prices you will discover for an array of kinds of procedures.
What to Expect from a Boob Job?
Do you look at breast augmentation before and after photos and want more of the after than before? If so, reviewing these images is an excellent start point, as they will give you a clearer picture of the kind of results you can expect after this procedure. Some sites also carry testimonials of women who have had this procedure; those listed on Medical Departures have been verified so you can expect honest feedback.
What is Breast Augmentation?
Breast augmentation uses implants to increase the size of, or improve the shape of your breasts. These implants can be teardrop or round, saline or silicone and come in many different sizes and brands. When you meet your surgeon you and he will discuss which type is best for you. Be sure to listen to the doctor, but don't be afraid to give your input regarding the shape and size that you desire.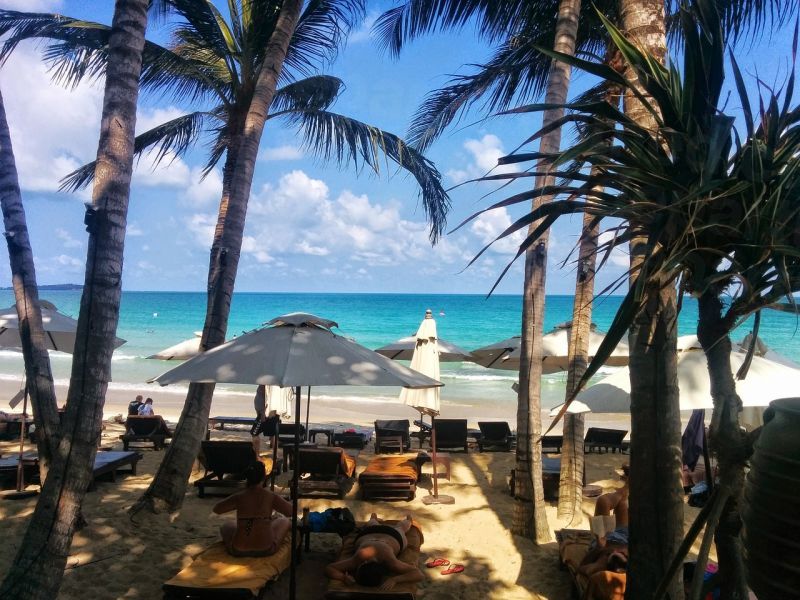 There is another way to get breast augmentation done if surgery does not appeal to you. Autologous fat transfer works only if you have some excess fat on your body. This fat is harvested using liposuction, the fat is refined and processed and then re-injected into the breasts to increase the size. However, there are a couple of shortcomings with this procedure. First, all the fat may not take and some will be absorbed by the body over time, in which case you may require topping up treatment. Also, the procedure is only viable if you have small breasts and want to go up one size only.
How Much is a Breast Augmentation in Koh Samui?
The Thai government is a major promoter of medical tourism , which they believe helps development and infrastructure in the medical and hospitality sectors. When this is added to the low cost of living, medical procedures that are expensive in the West are much more affordable there.
For example, the following table shows a comparison of the cost of implants in Samui compared to the price in some Western nations. As you can see, you will save a great deal of money hav ing your breast augmentation in Samui.
| | | | | | | |
| --- | --- | --- | --- | --- | --- | --- |
| | USA | CAN | UK | EUR | AUS | NZ |
| Cost of Breast Augmentation in Home Country | $11500 | $15777 | £8,897 | €10,556 | $15300 | $16620 |
| Cost of Breast Augmentation in Koh Samui | $5000 | $6860 | £3,868 | €4,590 | $6650 | $7225 |
Where to Go in Koh Samui for Breast Work.
Choose one of the more popular clinics, such as the top quality medical center that is Bangkok Hospital, Samui . This hospital is a JCI accredited medical facility which means that patients are safe and the quality of health care has been tested to a higher level. Here, you can expect an international standard of care. The hospital offers a full range of services so you can even combine medical treatments, such as plastic surgeries with cosmetic treatments, a popular option amongst the large numbers of international patients that arrive every year.
Getting Started
If Koh Samui sounds like the perfect place to become a better looking you, contact Medical Departures for further information, or to book your trip.
Sources:
Froyd, Justin N. THAILAND REGISTERS INTL ARRIVAL RECORD AMID MEDICAL TOURISM BOOM. Tourism Review News. 4 June 2018. https://www.tourism-review.com/thai-medical-tourism-maintains-its-success-news10621
Toomgum, Sirivish. Thailand 'has potential to be medical tourism leader'. The Nation. 24 July 2017. http://www.nationmultimedia.com/detail/business/30321561
Breast Augmentation. Mayo Clinic. https://www.mayoclinic.org/tests-procedures/breast-augmentation/about/pac-20393178
Achieve Accreditation. Joint Commission International. https://www.jointcommissioninternational.org/achieve-accreditation/