Perhaps you are confused about how to arrange your treatment, or it could just be that you need some reassurance from liposuction patients who have been there and done it. Thai hospitals and clinics have been welcoming medical tourists for decades already, so be in no doubt they are more than ready to take care of you.
Liposuction is one of Australia's most popular cosmetic surgeries , but for patients who struggle to afford the high cost of treatment at clinics in Sydney, Melbourne, and Brisbane there is a clear alternative. With plenty of modern medical facilities adhering to international standards, Thailand is a top destination for affordable liposuction. Keep reading to learn more about how this type of weight loss surgery works, and which are the best Thai clinics to visit for treatment.
Understand How Liposuction Works
Reading about what you can expect to happen during liposuction treatment is the best way to prepare yourself for the procedure because it will help you realise there is little cause for concern. With a little knowledge, you can travel to Thailand for liposuction anxiety-free!
To get started, understand that liposuction is an invasive surgery so an incision will have to be made on your skin. A cannula will be inserted into this incision, through which fat can be removed using the force of suction. You can expect to be anaesthetised during the procedure, so you will not feel pain. Discuss with your surgeon whether you want a general anaesthetic, which will put you to sleep during treatment, or a local anaesthetic, for staying awake during treatment.
Read About What Past Patients Thought of Their Liposuction
Familiarising yourself with the experiences of people who have already undergone weight loss surgery in Thailand is a good next step toward preparing yourself for treatment abroad. At Medical Departures you can read hundreds of reviews on liposuction in Thailand , from verified patients who have been there and done it. You will be able to gain valuable insights into what each liposuction clinic is really like, and also learn more about the doctors working at them.
Comparing the Cost of Thai Liposuction to Prices in Australia
Put Thailand liposuction prices side by side with the cost of liposuction in Australia and you will notice a big difference. An Australian clinician charges an average of AUD$8,600 for liposuction, whereas at a Thai liposuction clinic you will pay on average AUD$3,140. You can knock AUD$5,000 off the cost of your liposuction by travelling to Thailand for treatment. Now all you need to do is decide which clinic to visit; here are four of the best liposuctions clinics in Thailand's most popular travel and holiday destinations.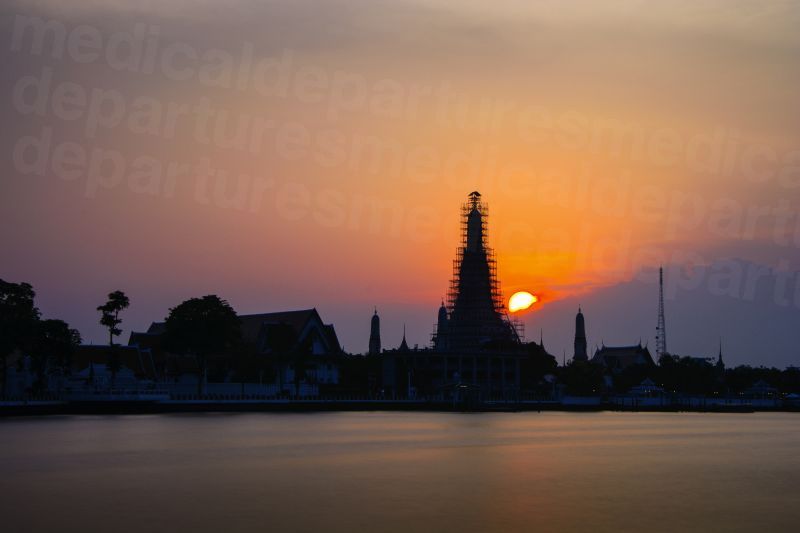 Bangkok - KTOP Clinic
The exciting Thai capital is home to the largest concentration of liposuction clinics in the country, so you really are spoilt for choice here. Our top pick for liposuction in Bangkok is the KTOP Clinic , an overseas branch of South Korea's prestigious Grand Plastic Surgery Hospital. A wide range of cosmetic treatments is available alongside liposuction, including tummy tuck and breast augmentation surgery.
Pattaya - Apex Profound Beauty Clinic
Pattaya attracts international tourists year round, thanks to its many luxury beachside resorts, excellent watersports facilities, and designer golf courses. For liposuction in Pattaya, look no further than the Apex Profound Beauty Clinic, headed by Dr. Nantapat Suphanchart . She speaks both English and Thai, plus is a member of the American Academy of Dermatology. Besides liposuction, you can also enjoy non-invasive body contouring procedures like CoolSculpting® here.
Phuket - Phuket Plastic Surgery Institute
Visit the tropical island of Phuket and you will have the Phuket Plastic Surgery Institute's highly-qualified liposuction clinicians at your disposal. This clinic is located within Phuket International Hospital, a JCI-accredited medical facility , which has been offering expert care to international patients for almost 40 years. Excellent patient accommodation is available at this clinic, so you can stay on the premises in comfort during your treatment.
Koh Samui - Bangkok Hospital Samui
Enjoying an idyllic spot in the Gulf of Thailand, Koh Samui is one of Thailand's most popular holiday islands. If you find yourself searching for a top-quality liposuction clinic here, Bangkok Hospital Samui is the place for you. The high standards of this hospital resulted in accreditation from the Joint International Commission. Only the latest medical equipment is used at this modern medical facility.
Book Your Thai Liposuction Appointment Now at Medical Departures
Whether you decide to sculpt your body with liposuction in Bangkok or head to a relaxing island for your treatment, you have plenty of options for high-quality clinics across the country. Choose from our top picks in this article or check out the whole range of verified Thai liposuction clinics here at Medical Departures.
Arranging your liposuction consultation in Thailand is quick and easy when you use the online appointment scheduler. Just chose a date and time, fill in your details, and click confirm. Free cancellations are available for up to one day before your scheduled appointment. If you have any questions to ask before booking, just call our Customer Care Team for more information.
Sources:
Cook, Erin. The Stats Are In: Here Are Australia's Most Popular Plastic Surgery Procedures. Harper's Bazaar. 7 March 2017. https://www.harpersbazaar.com.au/beauty/australias-most-popular-plastic-surgery-procedures-4735
Gardner, Stephanie, MD. Liposuction: How It Works, Types, Safety, Side Effect & Benefits. WebMD. 6 August 2018. https://www.webmd.com/beauty/cosmetic-procedure-liposuction
Sculpting Your Body with Liposuction in Bangkok. Breaking Travel News. 10 October 2018/ http://www.breakingtravelnews.com/focus/article/sculpting-your-body-with-liposuction-in-bangkok/
JCI-Accredited Organizations in Thailand. Joint Commission International.
https://www.jointcommissioninternational.org/about-jci/jci-accredited-organizations/?c=Thailand