Stubborn fat pockets are easy to pile but very stubborn to do away with. Besides the abdomen, the fat can accumulate on the breasts, arms, buttocks, hips, back, arms, ankles, thighs and even calves. If you have tried all other alternatives in vain, you should not give up without trying liposuction. It is one of the popular safe methods of getting rid of belly fat. Among the most affordable destinations for liposuction, Pattaya has been shown to be one of the most cost-effective for international clients.
Liposuction is done in conjunction with other cosmetic surgical procedures to help you get the body of dreams if need be. The ideal candidates for liposuction should:
Have localized fat deposit areas which are disproportionate with the other body parts.
Prefer to have more definition in specific body areas.
Have good skin elasticity.
Recovery time following liposuction
During the first days postoperative, there might be some leakage of fluids. This should not make you panic. Also, you will be required to put on specially made tight garrets to compress the skin for some weeks.
Discomfort post procedure is expected. However, there should not be any pain. Any bruising or swelling witnessed should be taken as a normal part of the process as long as there are no signs of infection. The bruising might take 7-10 days to clear while swelling goes down within the first 48 hours. Complete remission should be expected within 3 weeks.
You should rest for the first 6 weeks. Avoid strenuous exercises within this period. Light movements like walking are encouraged to quicken the recovery process.
In Pattaya, one of the most trusted liposuction clinics is La Grace Clinic Central Pattaya Beach Branch.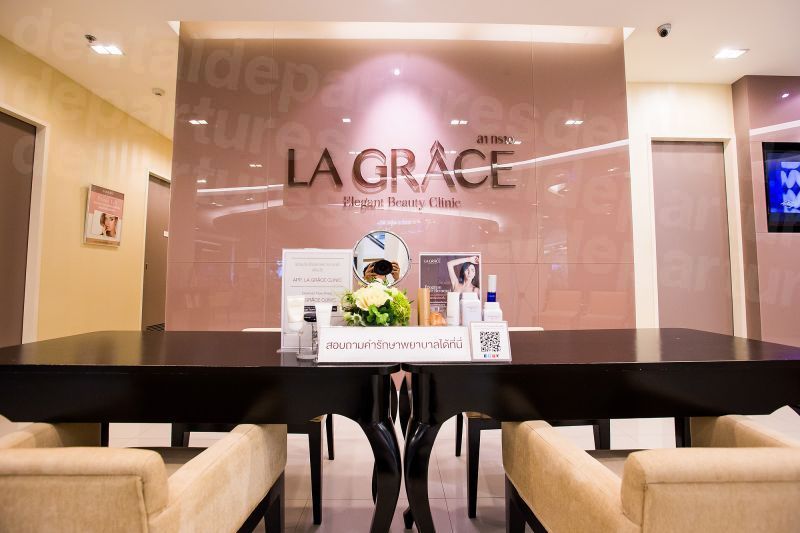 La Grace Clinic Central Pattaya Beach Branch
This luxurious clinic is one of a 15-chain of contemporary aesthetic clinics in Thailand. It is focused on delivering modern and innovative beauty services to all the patients walking through the doors. The clinic boasts the finest, up-to-date equipment.
The professionals working here are board registered, bilingual experts in their specific fields. Dr. Suthasinee Pinpranee is the CEO at this clinic. Dr. Suthasinee is an Aesthetic medicine specialist with more than 20-years experience in the field.
The services offered at La Grace Clinic Central Pattaya Beach Branch range from basic pampering to complex cosmetic surgery procedures like liposuction.
Liposuction techniques offered at La Grace Clinic Central Pattaya Beach Branch
a) Tumescent liposuction
It involves the injection of a saline solution which contains drugs and anesthetic agents into the fat to reduce blood loss, ease pain and remove the stubborn fat.
b) Ultrasound liposuction
Ultrasound technology is used in liquefying the fat before it is removed.
The other services offered here include:
Rhinoplasty
Breast augmentation which helps increase the fullness of the breast and balance your figure to enhance your self-esteem.
Nonsurgical face-lifts which are pain-free. They are delivered using the finest anti-aging technology.
Skin lifting and flabbiness reduction. Wrinkle treatment is also done to firm the face.
Prices for Liposuction in Pattaya for medical tourists
You only have to pay USD $ 1747 for liposuction in Pattaya( CAN $2253, AUD $2299, UK £1355) while you can pay up to USD $12,000 in the United states for the same( CAN $15,482 UK £ 9314 AUD $ 15,796).
Before you book the procedure, ensure you have gone through the liposuction price in the clinic in question. In addition, liposuction review will let you know the expertise of the doctor. You can trust medical departures to give you clear information on liposuction. Pattaya clinics we have quality-checked will not disappoint.