When it comes to our nose—that thing we need for smelling and tasting— we can be quite persnickety about its appearance. Some of us want longer, straighter bridges while others desire more petite nostrils or just a smaller overall size. Sometimes positioning can be the problem, with the nose being at a skewed angle or not pointing sharply enough.
Whatever the reason, this nose job review Kuala Lumpur could help you out. The nose job price in Kuala Lumpur is worth knowing if you are interested in a nasal enhancement of any type. In Kuala Lumpur, the procedure is not only affordable, but also performed to some of the highest standards in Asia.
Where is Kuala Lumpur—and What Does It Offer?
As the capital city of Malaysia, Kuala Lumpur offers a fascinated range of cultural landmarks , both old and new. These include limestone temples, pioneering architectural structures (most famously the Petronas Towers) and a bustling shopping scene, meaning a vacation is always an exciting prospect. Aside from the sightseeing and endless activities, Kuala Lumpur offers the best cosmetic medical institutions in the country.
Why Have a Nose Job?
Nose jobs, or rhinoplasty, offer permanent relief from certain nasal and anatomical abnormalities that cause breathing problems to the nasal system. A nose job treats and helps rectify these abnormalities. Although this is the main medical purpose of the procedure, the nose job is mostly known for its aesthetic reparative capability. A nose job can reshape your nose to one that that best suits your facial features, helping you obtain a certain facial 'look' you've always dreamed of.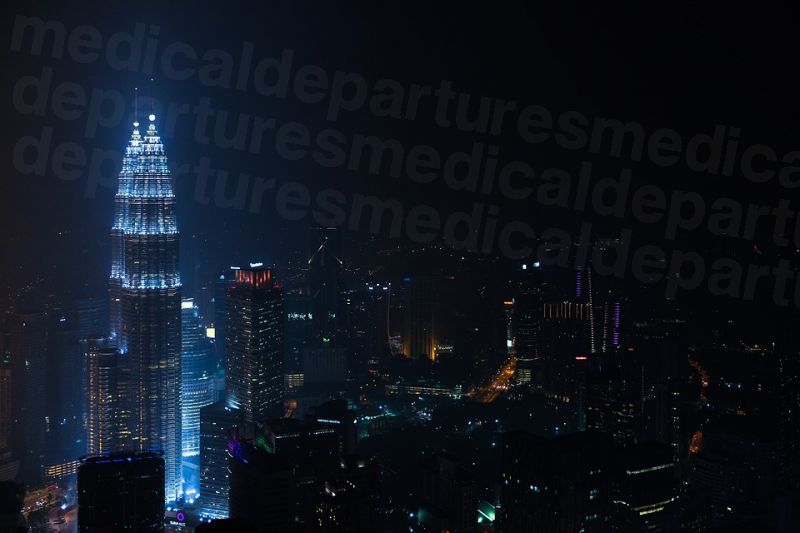 How Is a Nose Job Performed?
The procedure often starts with the initiation of a sedative or anaesthetic to numb the pain of incisions. The nose job, after all, is a surgical enhancement , involving several cuts depending on the preference and target image of the patient. After the incisions have been made, the cartilage is augmented in the desired way; when the final position is achieved, the incisions are repaired.
How Much Is the Average Cost for a Nose Job?
The table below shows the average cost of nose jobs in Kuala Lumpur compared with international prices:
| | | | | |
| --- | --- | --- | --- | --- |
| PROCEDURE | US$ | NZD$ | AUD$ | COMPARISON |
| RHINOPLASTY | $8,800.00 | $12,153.00 | $12,600.00 | INTERNATIONAL |
| NOSE JOB | $2,098.00 | $2,907.00 | $2,673.00 | KUALA LUMPUR |
| | 23.80% | 23.90% | 21.20% | % YOU PAY |
| | $6,702.00 | $9,246.00 | $9,927.00 | YOU SAVE |
Our Top Medical Departures Recommended Clinic:
Asia Clinic—Kuala Lumpur offers aesthetic services customized to the unique needs of each patient. Specialists here use only use the best cosmetic and medical products available today, combined with modern, state-of-the-art equipment. Asia Clinic—Kuala Lumpur also offers services such as facial volumizing, Botox, thread lifts, PRP, microdermabrasion, pigmentation and whitening, hair loss treatments, chemical peels, mesotherapy and more.
Getting Started
Just realizing how reasonably priced a nose job price in Kuala Lumpur is may well be enough motivation for you to go through with that cosmetic surgery you have always dreamed of—but never thought you could afford. Book your appointment through Medical Departures or get in touch with our Customer Care Center today.
Sources:
Visit KL http://www.visitkl.gov.my
Nose Reshaping (Rhinoplasty). NHS.
https://www.nhs.uk/conditions/cosmetic-treatments/nose-job/
Mayo Clinic https://www.mayoclinic.org/