Nobody likes eye bags. Synonymous with tiredness, it can be so frustrating to get your eight hours of sleep every night and still wake up with dark circles around your eyes . And even with a great diet, they don't disappear. Fortunately, there are more ways than one to remove eye bags.
Dermal fillers are typically the treatment of choice for eliminating eye bags without surgery. For patients whose eye bags are caused by bulging or excess fat under the eyes , doctors typically recommend a surgical procedure (known as blepharoplasty).
Medical Departures' Recommended Eye Specialist
If you are thinking about traveling overseas for eye bag removal, Optimax Eye Specialist Johor , leaders in laser vision correction in Malaysia, should certainly be high on your list of considerations. This especially runs true if you are looking to combine your surgical treatment with a restful holiday in this tropical Southeast Asian country .
Booking your eye bag removal at Optimax Eye Specialist Johor via Medical Departures will give you that peace-of-mind everybody needs for a successful medical trip abroad. We know surgery is a major decision not to be taken lightly, and we realise that you may be even more apprehensive about it if you are traveling overseas for your treatment. That is why we conduct background checks on our listed clinics, including researching legal and criminal records, making onsite visits, verification of professional memberships and medical qualifications, and collation of real patient testimonials.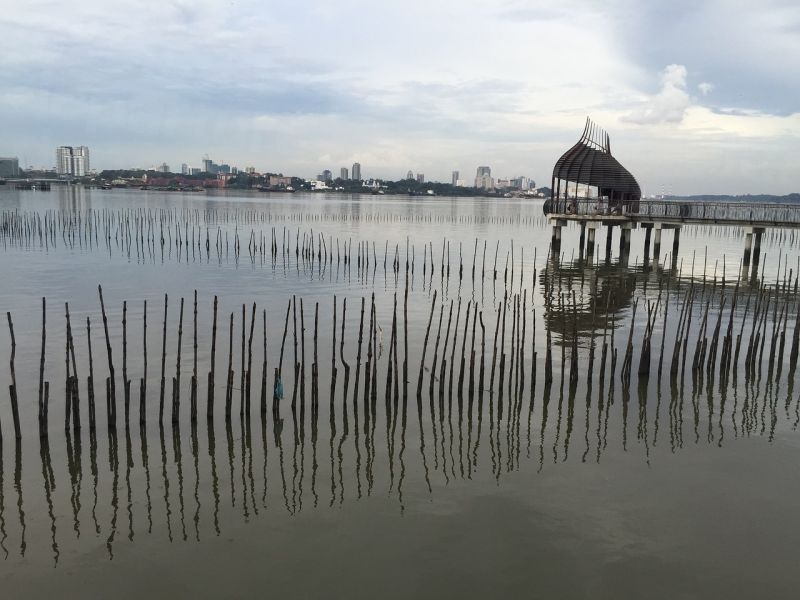 We recently undertook an eyelid surgery review in Johor Bahru. The multi-award winning eye specialist centre, Optimax Eye Specialist Johor, has been making laser vision correction widely available to both local and international patients for over 20 years. ISO Certified, the centre provides a wide range of medical treatments, including eye bag removal. Moreover, the eye bag removal price at Optimax Eye Specialist is considerably lower than you would pay at home, typically less than MYR 2,220 (USD 520, EUR 440, GBP 400, AUD 650, NZD 725). Savings of up to 70%!
Johor Bahru—What Else Is There to Do?
Famous landmarks and attractions in Johor Bahru include Bangunan Sultan Ibrahim, Istana Besar, Sultan Iskandar Complex, Istana Bukit Serene, and Istana Pasir Pelangi. For a fun day out, consider shopping and eating at one of the many shopping malls—this is a popular pastime for a lot of the locals here and a great way of escaping the heat! A meal with a bottle of wine can cost as little as US$5. Or you could visit the Johor Zoo or Danga Bay. Another worthwhile attraction is Hutan Bandar (Jungle in the City), a peaceful garden with children's playground, public pool and a large reflexology exercise area.
In the north of Johor Province, Tioman and the neighboring islands are very popular, with the former easily accessible by boat. A couple of hours from Johor Bahru you can enjoy a beautiful national park; Endau Rompin National Park is in pristine condition and especially popular with nature enthusiasts.
Other popular attractions within the state of Johor are a visit to the waterfalls at Kota Tinggi; a trip to the water village at the town of Kukup and light hiking at either Gunung Pulai recreational forest or Gunung Ledang recreational forest.
Getting Started
Johor Province is packed full of exciting things to do and see, including close proximity to neighborhing Singapore—all of which make this an excellent holiday option when visiting Malaysia.
Just make sure you undergo your treatment at our recommended clinic after you've got your holiday activities out of the way as you will need time to recover before flying home. Connect with us today for more information about eye bag removal and Optimax Eye Specialist Johor.
Or, you can request a personalized quote , free of charge.
Sources:
Sinrich, Jenn. 8 Reasons Your Eyes Look Tired That Have Nothing to Do With Sleep—and What You Can Do. Self. 11 September 2018.
https://www.self.com/story/tired-eye-causes-that-have-nothing-to-do-with-sleep
Mayo Clinic https://www.mayoclinic.org
Poh, Brenda. 17 Amazing Beach Destinations in Malaysia. TripZilla. 19 September 2017.
https://www.tripzilla.com/malaysia-beach-destinations/67837
Wonderful Malaysia—Johor Bahru.
http://www.wonderfulmalaysia.com/attractions/johor-bahru-malaysia.htm