Dermal Filler Cost: Johor Bahru Offers Amazingly Low Prices
One of the best ways of finding affordable skin care treatments like dermal fillers is medical tourism. Travelling to foreign countries can save around 50% of your costs, depending on the procedure you get and the country you travel to. If you are seeking the best dermal filler cost, Johor Bahru, Malaysia, is the place to be. You will get the best quality dermal fillers at the hands of qualified surgeons in excellent cosmetic facilities with a hefty discount.
What makes Johor Bahru's dermal fillers so affordable in comparison to countries like Australia and New Zealand? Mostly it is due to low operating costs in Malaysia in contrast to the countries just mentioned. Also, competition between local private hospitals also keeps prices low. Whatever the reason, you can save a lot of money on skin care treatments in Johor Bahru Malaysia.
Let's now look at some details, shall we?
Dermal Filler Cost in Johor Bahru
Dermal filler prices start around AUD $131 and NZD $140 and at the higher end, prices are AUD $733 and NZD $781. So we can set our average price at AUD $432 and NZD $463 for dermal fillers in Johor Bahru. As you can see, these prices are lower compared to your country. The savings increase with the number of fillers you get. However, low prices are only worth it if you are getting dermal fillers from qualified dermal filler doctors at a reputable clinic.
Dermal Filler Clinics in Johor Bahru
You can find good clinics in Johor Bahru using dermal filler review websites such as Medical Departures. Moreover, you can also ask for referrals from previous medical tourists. Some of the best clinics for dermal fillers in Johor Bahru are: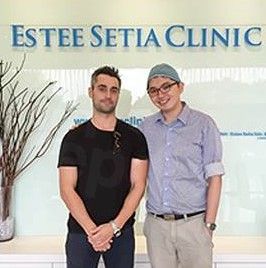 More About Dermal Filler Clinics in Johor Bahru
All the clinics listed above are registered. The Ministry of Health in Malaysian launched the Malaysian Healthcare Travel Council (MHTC) to promote medical tourism in the country, which shows that the government is actively working to improve medical and cosmetic services for foreign visitors like you.
Moreover, these private clinics are comparable in quality and standard to their Australian counterparts. They are designed to provide privacy for patients seeking cosmetic procedures. The staff is bi-lingual, which means communication will not be a problem.
Another major benefit of getting skin care treatments in Johor Bahru is that you will not be subject to extensive waiting periods unlike hospitals in Australia or New Zealand where queues for elective procedures are particularly long. In other words, getting dermal fillers in Johor Bahru helps to save both your time and money while giving you the cosmetic results that you desire.
Schedule an Appointment Right Away
Hopefully by now you have realized that when it comes to affordable dermal filler cost, Johor Bahru is an ideal location. You can schedule appointments at the best clinics in Johor Banhru easily right here at Medical Departures.