Thinking of going to Thailand for plastic surgery? You have made the right choice. If you reside in Australia or New Zealand, you will find Thailand not just a gorgeous vacation destination, but also one of the best places in the world to get affordable plastic surgery. You can find excellent hospitals and clinics in all main cities, but if you are planning to visit Chiang Mai, you should sign up for surgery at the Rose Clinic. Chiang Mai has much to offer in the way of sightseeing and tourist activities, and Rose Clinic provides all major cosmetic services at prices lower than in your country.
In the following paragraphs, we are going to learn what this clinic is all about and we will try to give you a glimpse of medical tourism and plastic surgery in Chiang Mai.
About Rose Clinic
The Rose Clinic was founded three years ago for local and foreign patients seeking the best plastic surgery in Chiang Mai. This clinic focuses on surgery of the nose (nose implant, nose fixing etc.), but its offers all types of cosmetic surgery like breast augmentation, breast reduction, breast lift, eyelid surgery, face lift, and liposuction.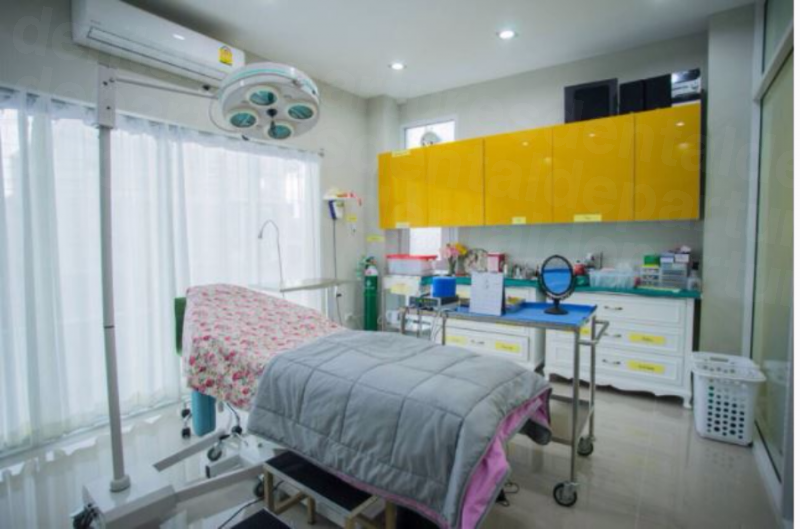 Despite being a relatively new clinic in Thailand, Rose Clinic has shown a commitment to the quality of their services. One of the many measures taken to ensure a high-quality of service is that the staff does not perform solo procedures. All lab procedures are done in the presence of at least one colleague to minimize chances of error.
It is simply a misconception that medical and cosmetic services in Thailand are of lower quality or the facilities are not hygienic compared to international standards. However, facilities like Rose Clinic prove that surgical facilities in Thailand are committed to the safety and health of their patients, offering world-class medical services and procedures.
To sum up, this clinic is equipped with the latest technology and provides patients with high-quality medical care. Not to mention, you get high-quality surgery in a luxurious and comfortable environment.
Meet the Doctors at Rose Clinic
The Rose Clinic has a well-trained and highly experienced team of surgeons and caregivers. One of the best doctors at this facility is Dr. Pimwara Tamgeeran. She is a dermatologist specializing in acne, laser, filler, and Botox treatments. She graduated from the Chiang Ma University, and is also associated with the Medical Council of Thailand.
On a side note, Dr. Tamgeeran is fluent in both Thai and English. This shows just how committed Thai doctors are to their international patients. Is your reason for visiting Chiang Mai plastic surgery? Plastic surgery patients in particular are apprehensive about being able to explain their requirements. Rest assured that communicating with your surgeon will not be an issue. While locals don't usually speak English, you can easily find English-speaking staff at this clinic.
This only adds to the convenience of getting plastic surgery in Chiang Mai. This also ensures that you get personal care and attention with a dose of Thai hospitality!
Cost Savings at the Rose Clinic
This clinic offers you a broad spectrum of cosmetic procedures with utmost dedication to quality and patient services. But you are getting all this at some of the lowest prices in the world. For any given cosmetic surgery procedure, medical tourists (especially from Australia and New Zealand) can expect to save from 50% to 75% of their costs as compared to their home country.
Here are some major cosmetic procedures offered at this clinic with their prices:
· Breast Augmentation: AUD $3,594-$4,034 and NZD $3,855-$4,338 (76% lower than your country)
· Eyelid Surgery: AUD $359-$1,123 and NZD $385-$1,205 (92% lower than your country)
· Face Lift: AUD $2,247-$5,391 and NZD $2,411-$5,784 (33% lower than your country)
· Rhinoplasty: AUD $899-$3,594 and NZD $964-$3,855 (73% lower than your country)
Once again, you are getting all these amazing discounts without the slightest compromise on the quality of care offered at the Rose Clinic. So in essence, you are paying less for more. If we look at the bigger picture, the healthcare infrastructure in Thailand has advanced in the last couple of decades or so. This is also a major reason why Thailand has become a hub for medical tourism in Asia.
The main incentives, of course, are the cost benefits and possible savings that medical tourists can hope to make in this country.
Inside the Clinic
Like all major clinics for cosmetic surgery in Thailand, the Rose Clinic is a beautifully designed clinic that has the look & feel of a spa or a hotel. The beautiful white and golden-yellow color combination lights up the interior and you will see rose patterns on the walls, doors, and even on the beds. The surgery rooms have the most advanced equipment. For a clinic that offers beauty enhancement to its clients, it has also focused a lot on its own aesthetics!
Outside the Clinic
Medical tourism (Chiang Mai) is not just about surgery at the Rose Clinic. Depending on the time taken for the surgery and the healing period afterwards, you can plan your trip in a way to create memorable moments touring the beautiful mountainous city of Chiang Mai.
Thailand, overall, is safe for tourists. It is the 13th friendliest country in the world according to the World Economic Forum. There are plenty of transport options for getting around Chiang Mai, the bus system is both convenient and affordable.
There is much to see and do in Chiang Mai. Predominantly Buddhist, Chiang Mai has some of the oldest Thai temples such as the Wat Phra Singh, Wat Chiang Man and Wat Chedi Luang. History buffs will get a kick out of the Chiang Mai National Museum as well as the Chiang Mai Historical Center and Lanna Folklife Museum. And by northern Thai standards, Chiang Mai offers an all-inclusive nightlife!
In short, there is something for everyone. So while you get high-quality yet affordable cosmetic surgery at the Rose Clinic, Chiang Mai also offers you the best in tourist activities. Get a free quote for your preferred surgery today and discover that plastic surgery in Chiang Mai's clinics is an affordable luxury.