Seeking a more desirable size and shape for your breasts? How about combine your breast enhancement surgery with an unforgettable trip to Thailand? You can save up to 60% on breast augmentation procedures with Medical Departures, while recovering in the Land of Smiles—one of the most hospitable destinations on the planet!
Find and reserve one of our quality-checked breast augmentation clinics in Phuket for a first-rate cosmetic experience. Benefit from high-quality, affordable cosmetic care, whilst relaxing and recovering in a rejuvenating spa or resort setting nearby.
A rich culture, ancient dynasties, a unique "service culture" and majestic beaches make Phuket a leading medical tourism destination.
Why Choose Phuket for Cosmetic Breast Surgery?
For overseas patients seeking low-cost, top-notch cosmetic care, Phuket is easily accessible, with plenty of flights from Australia, New Zealand, Western Europe and the US.
A constantly evolving healthcare infrastructure—and some of the best hospitals in all of Asia—has served to augment Thailand's medical tourism sector. Thailand now boasts more than 60 Joint Commission International (JCI) accredited medical centres and clinics, with world-class care and stringent patient safety standards. Doctors undergo rigorous medical training with many specialists training abroad and to further their medical expertise.
Featuring state-of-the-art diagnostic equipment, English-speaking staff and ultra-modern interiors, patients are treated to a luxury experience at one of our aesthetic treatment clinics in Phuket. After being discharged from treatment, many choose to relax and recover in one of Phuket's stylish, luxury hotels or spa resorts.
Clinics in Phuket—Overview
Receive the very best quality care at one of our background-checked clinics in Phuket. Medical Departures meticulously vets all our listed clinics and hospitals for hygiene, clinical quality standards, physician's credentials and clinic accreditations, helping to ensure you the safest, most seamless possible experience.
The more informed you are about breast augmentation clinics in Phuket, the greater your opportunity to find and reserve the ideal surgeon. Check out our selection of verified breast augmentation review Phuket cases, where verified patients have a chance to post their pro's and cons. Notable clinics include Phuket Plastic Surgery Institute and Jungceylon Plastic surgery Clinic , offering an extensive range of surgical and non-surgical cosmetic surgery and aesthetic treatments.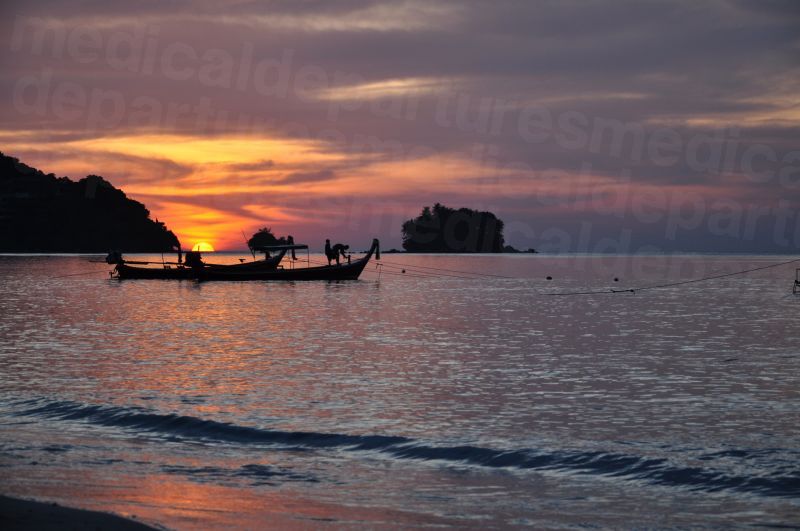 What is the Price of Cosmetic Breast Surgery Compared to Home?
Save more than 50% off breast augmentation surgery in Phuket:
Breast augmentation surgery price in Australia: $16,500 AUD

Breast augmentation surgery in Phuket: $6,000
Why Phuket?
An exotic destination in its own right, Phuket is accessible for medical tourism travellers from Australia, New Zealand and Europe, looking for value for money and quality medical care.
Brimming with lush greenery, majestic beaches, culture and heritage, Phuket is Thailand's biggest island. Home to some of the best beaches in Thailand, experience elephant safaris, sea kayak tours and visit a myriad of caves and lagoons.
Discover snorkelling and scuba diving activities, savour mouth-watering seafood or head to Patong, full of nightclubs and bars. Enjoy retail therapy at JungCeylon Mall and the adjoining Millennium Phuket Resort, or immerse yourself in Phuket's narrow streets, stylish boutiques, contemporary art galleries and restaurants.
Sunseekers and beach bunnies note that your doctor will advise you not to show off those perfect new breasts just yet, as exposure to the sun and swimming are off limits for several weeks post-op. Patients choose instead to chill and recover in a beautiful, vibrant resort setting. Others opt to take a few days' getaway prior to treatment.
Staying in Phuket
Various and sundry accommodation options await you in Phuket Town , suiting all wallets, ranging from budget-friendly hostels to luxurious spa-resorts and boutique hotels. Traffic on the island is manageable, so you will never be too far from the clinic of your choice. That said, booking a room near to your clinic will allow for any post-op follow-ups that may be needed.
How Do I Book?
When you are ready to book, see below for convenient ways to make your appointment, or contact our Customer Care Team who will be more than happy to discuss your plans for plastic surgery in Phuket.