Find recommended hair transplant clinics in Manila with Medical Departures. Our background checks help ensure that when you book with us you will find a good-quality clinic with verified doctors.
Surgical hair restoration has advanced significantly over the last few decades. The most up-to-date techniques have no stitches and carry very little scarring. Healthy follicles are removed directly from the scalp where there is more hair (usually at the back of the head), then grafted onto the bald areas.
Most hair transplants involve one of two methods: the Follicular Unit Extraction (FUE), which removes one follicle at a time, and the Follicular Unit Transplant (FUT), where a thin strip of hair is removed from the donor area. As you can imagine, both processes are lengthy and you should be prepared to be in the chair receiving treatment for the greater part of the day.
Why Manila?
Manila is the Philippines' capital city–and it's huge. The term Manila usually refers to the greater metropolitan area (Metro Manila) and includes other cities such as Quezon City and Makati. However, the Spanish city of Manila, founded in the 16th century, is only one of the municipalities that makes up this vast metropolis. Here you will find Spanish colonial architecture intermingled with modern skyscrapers.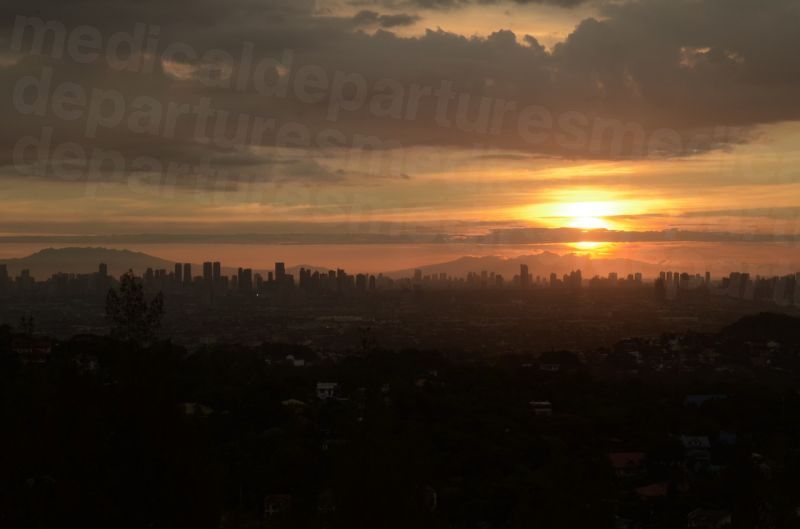 Budget and luxury medical travellers alike will find a wealth of brand-name and boutique accommodations , particularly in Makati City, where many of the clinics are located. You will also find plenty of restaurants to suit any budget, along with a lively Manila nightlife .
Choosing a Good Facility is Imperative
Choosing a good surgeon and clinic is difficult enough even at home, but moreso if you are traveling to a foreign country. You should do your own research, finding out as much as you can about the procedure and how it is performed, as well as checking out potential doctors. Easier said than done, which is where Medical Departures can help you pinpoint a reliable facility.
We do background checks on all our featured clinics, paying onsite visits, verifying doctor qualifications and confirming professional memberships. We also publish real patient testimonials, before-and-after photos, clinic virtual tours and prices, making it easy for you to compare and choose your preferred option.
Medical tourism in the Philippines is popular—and with its affordability and first-rate facilities it's easy to see why. In 2015, the International Healthcare Research Center and the Medical Tourism Association (MTA) ranked the Philippines 8th in the world and the Joint Commission International (JCI) has now accredited five institutions in Manila as providing excellent medical care.
You can see the listings on some of our top-rated clinics here:
What Does a Hair Transplant Cost in Manila Compared to Other Countries?
| | | | | | | |
| --- | --- | --- | --- | --- | --- | --- |
| Price for 1800 grafts | AUS $ | NZ $ | UK £ | EUR € | US $ | CAN $ |
| Hair transplant cost – home | 18,000 | 18,000 | 9,000 | 10,800 | 14,400 | 18,000 |
| Hair transplant cost – Manila | 4,000 | 4,200 | 2,200 | 2,500 | 3,000 | 3,800 |
Find out more about the Filipino hair transplant clinics. Manila is an exciting destination with lots going for it –and as everyone speaks English you'll have no problems being understood. Speak to our Customer Care Team for further information, or book with us online today!