Thinking about getting a hair transplant? If you live in Australia or New Zealand, hair transplants will cost you a pretty penny - AUD $12,000 or NZD $12,855 to be a little more precise. However, in Bangkok the same procedure will cost you just AUD $6,700 (NZD $ 7000). Don't worry, the low prices aren't indicative of a low quality of service. This is why so many people from these countries head to the top 5 Bangkok hair transplant clinics. You can make a small holiday out of it and still end up saving some cash.
Let's take a closer look at the top 5 Bangkok hair transplant clinics where you can enjoy this amazing combination of affordability and best medical treatment:
Nirunda Cellport Clinic
A group of new generation doctors founded this clinic back in 2007. They like to differentiate themselves by employing state-of-the-art innovative technologies, constantly growing their knowledge base and offering a family-like service. Situated in the Emporio Place Tower within the heart of Bangkok's most prestigious building Sukhumvit 24, Nirunda Cellport Clinic offers you the best hair transplant service in the region.
Kamol Hospital
With a large team of talented and experienced surgeons, this hospital can quite literally turn your dreams into reality. They offer both Follicular Unit Extraction (FUE) and Follicular Unit Transplantation (FUT). Located in Bangkok's Wang Thonglang district, Kamol Hospital is a first-rate, JCI accredited facility that you should consider for your hair transplant.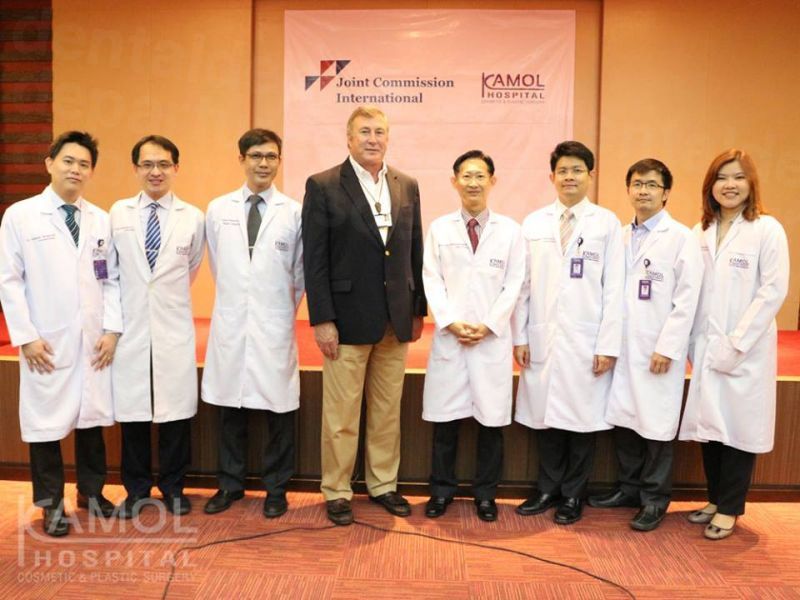 KTOP Clinic
Located in the Wattana District in Bangkok, this is the first overseas branch of Korea's leading Grand Plastic Surgery Hospital. Boasting state-of-the art aesthetic and plastic surgery services, KTOP Clinic serves a highly satisfied local and international clientele. Here you can experience the prestige of Korean plastic surgery, without spending a fortune. Some of the best hair transplant specialists in the region work at this clinic
The SLC Siam Laser Clinic
There are many branches of SLC SIam Laser Clinic in Bangkok. Which is just as well since this group of clinics offers the best hair transplant procedures in the region. Well-known for their wide range of cosmetic and beauty treatment's they can work wonders with your head (and hair). Moreover, their fully-equipped clinic is complemented by a VIP suite for those who insist on privacy, complete with a living zone, a Jacuzzi and an English-speaking support staff on hand.
Dr. Orn Clinic
This world-class clinic opened its doors back in 2011 as a beauty clinic, specializing in laser hair removal and skin treatments. A team of dermatologists runs Dr. Orn Clinic , relentlessly growing their expertise and improving their training. They're also members of the International Society of Hair Restoration Surgery (ISHRS ). Their hair center offers a variety of solutions from follicle stimulation to permanent hair transplants.
So there you go, the top 5 Bangkok hair transplant clinics. There are other good clinics as well, but these five are among our top-rated facilities. You can save quite a bit of money on your hair transplant here while also enjoying a nice little holiday.