Sometimes, there are those of us who have lost confidence because we are unhappy with the way our noses look, and the expensive price tag of gtting a corrective procedure at Western clinics. International patients can now safely book their appointment with corrective rhinoplasty clinics in Bangkok. Not only do patients get the shape of their nose corrected; they would also be able to save around 70% of the price they'd pay back in their home country. That gives patients more leeway to enjoy a holiday while they recover from the surgery.
Rhinoplasty allows surgeons to correct the shape, size and even angle of your nose through surgery. The procedure may vary depending on the type of nose to be worked on. Just like any other cosmetic surgeries out there, rhinoplasty does have its pros and cons that patients need to examine, as the effects can be irreversible. The downtime of the surgery can take a while and visible bruises and scars will appear during the recovery period.
Our aim here at Medical Departures is to provide our patients with options that will help them book their appointment through a fast and seamless process. International patients can use the following services that we provide such as free quotes, best price guarantee and assistance with travel arrangements through our help desk.
It is no secret that Bangkok has become one of the most visited cities in the world when it comes to cosmetic surgery. International patients can find clinics that are within their budget and can receive the same treatment that they get back in their home country. The following nose correction clinics in Bangkok are highly recommended by us as we have verified their credentials. They are: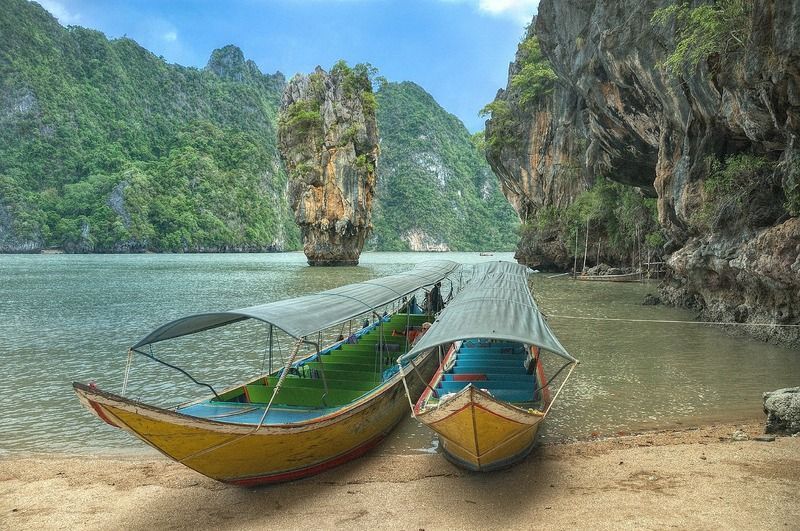 The KTOP Clinic offers plastic and cosmetic surgery to both international and local patients using the latest technology in aesthetics. With their team of experts, the clinic works hard to help patients achieve a natural look that they can be proud of at a price that anybody can afford. Their services include the following:
Facial Contouring

Nose Surgery

Breast Surgeries
The Nirunda clinic is constantly improving their methods of treating their patients by keeping up with the latest technology. The clinic promises to deliver patients realistic goals and results. Their facility is designed to provide medical services and treatments making the process easier and more efficient. These are just some of the services that clinic offers to their patients:
Butt Surgeries

Blepharoplasty

Facial Reconstruction

Rhinoplasty

Non-Surgical Skin Rejuvenation
The price table here shows the average price of rhinoplasty in Bangkok:
| | | | | |
| --- | --- | --- | --- | --- |
| PROCEDURE | US$ | NZD$ | AUD$ | COMPARISON |
| RHINOPLASTY | $8,800.00 | $12,153.00 | $12,600.00 | INTERNATIONAL |
| | $2,617.00 | $3,614.00 | $3,296.00 | BANGKOK |
| | 29.70% | 29.70% | 26.20% | % YOU PAY |
| | $6,183.00 | $8,539.00 | $9,304.00 | YOU SAVE |
Regaining that lost confidence and self-esteem does not have to be expensive. Patients no longer have to suffer from the way their nose looks like because there are very affordable corrective rhinoplasty clinics in Bangkok that will correct it.