While most travelers aim to stay out of the hospital while on vacation, a growing number of medical tourists – people who combine treatment with a holiday -- are visiting Bangkok for medical services such as IVF (In Vitro Fertilization). Committing to airfares, accommodation, uninsured medical bills and time off work is a big decision for patients to make. Yet, for many, the benefits and savings outweigh any risks. No wonder: just look at the In Vitro Fertilization cost in Bangkok compared to the cost in your home country:
On average, the IVF cost Bangkok is AUD 7,000 (NZD 7,539) compared to AUD 16,000 (NZD 17,235), which is the cost one would pay in Australia or New Zealand.
Widespread air travel, mounting healthcare costs in developed countries, and long waiting lists have all contributed to making Bangkok a most popular place for medical tourism. It is not hard to see why: Affordability. In many Western countries, even a simple visit to the doctor can cost a fortune. In Bangkok, you enjoy the benefit of outstanding services and facilities at reasonable rates.
Quality. Most of Bangkok's hospitals are extremely well-equipped. Many have been awarded the United States' prestigious Joint Commission International (JCI) certification, which is seen as the gold standard for healthcare service providers around the world. Most Thai doctors have degrees from prestigious overseas universities.
Service. Famously known as the "land of smiles", Thailand's hospitality is internationally renowned. During your treatment, you will be cared for attentively by well-trained nurses who will go out of their way to ensure that you are comfortable.
Accessibility. Bangkok's international Suvarnabhumi Airport is serviced by airlines from around the world.
Accommodation. Reasonably-priced hotel rooms abound.
Public Transportation. It is reliable and inexpensive.
30-day visas. Easy upon arrival for many nationalities.
We recommend these three IVF clinics in Bangkok:
This hospital boasts state-of-the-art medical equipment and facilities to ensure its highly skilled specialists, surgeons, doctors and nurses have everything required to assist patients. Located in central Bangkok, Samitivej Hospitals Sukhumvit was built in 1979 and has continually improved facilities and services. It has achieved full JCI accreditation.
Samitivej Srinakarin Hospital's team of specialized physicians and nursing staff, many of whom have studied and worked abroad, offer years of practical experience, and are committed to offering patients high-quality healthcare. Located near to Bangkok's international Suvarnabhumi Airport, and surrounded by beautifully landscaped gardens and ponds, visitors enjoy a tranquil environment conducive to patients' recovery and rehabilitation.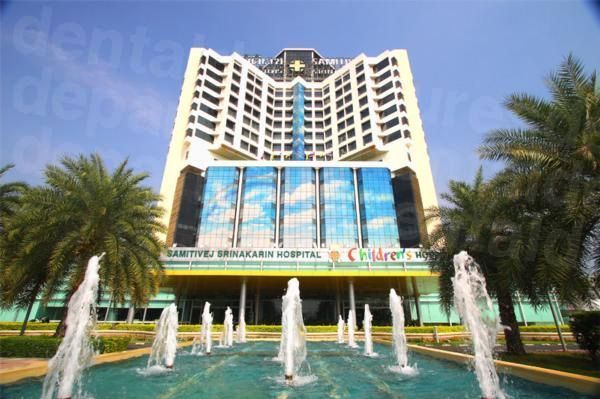 Patients come from all over the world to Bangkok Hospital (Medical) thanks to its international standards and excellent medical facilities, as well as good quality of care at affordable rates. All of its doctors are well qualified and experienced in their fields and speak English. Bangkok Hospital is part of a group of hospitals that have received permission from the Thai Royal Household to display the Garuda emblem.
You can connect with us if you wish to know more about In Vitro Fertilization cost in Bangkok.
Or, please request a personalized quote , free of charge.