Find affordable plastic surgery options in Samui. Rhinoplasty prices vary enormously, and depend as much on the location as well as how extensive the procedure is.
So, what does a rhinoplasty cost? Samui is one of Thailand's go-to places for affordable cosmetic procedures and prices are surprisingly affordable, starting at at around AUD $650 (NZ $680; UK £380; EURO €440; US $500; CAN $630). However, there is a caveat to this, in that some rhinoplasty procedures can be considerably more extensive than others, and there are now also non-surgical rhinoplasties, which may involve using dermal fillers to correct the look of a deviated septum – and these are obviously less expensive again.
Whatever the extent of your nose-job, you can combine it with an amazing holiday at the world's best beaches that Koh Samui is known for. With blue waters, sandy beaches and all-in-one beach resorts galore in different parts of Samui you can have a great time while getting your much desired nose job done. While in the day you can enjoy beach and water sports, in the night you can relax at bars and lounges, since it has a vibrant party atmosphere in the evenings.
How are the rhinoplasty reviews about Samui?
If you were to check rhinoplasty reviews, you will learn that most people – more women than men – have always wanted to do something about their noses. Rhinoplasty is a way to improve on what nature gave you and you can have the upturned or aquiline nose that you always wanted. A nose job get rids of bumps in the nose, changes the tip of the nose and makes it smaller or bigger, depending on your requirements. While a nose job is often done surgically, now there are different fillers that are FDA approved for use in a nose job. As this is a minimally invasive treatment, results are faster.
Samui has a large number of cosmetic surgery clinics that also do rhinoplasty along with a host of other plastic surgeries and cosmetic treatments. The quality of plastic surgeons is excellent and you can be sure that if you are booking through Medical Departures, we have carried out in-depth background checks on the qualifications and training of the doctors. We also ensure the clinics have the kind of amenities that are world class and that you will be in safe hands.
Top clinic in Samui
Issara Clinic is one the top clinics in Samui. The clinic sees many medical tourists who come from different countries to get some cosmetic work done while enjoying their beach holiday. They have top amenities and a dedicated and caring staff who will ensure that your time at the clinic is well spent.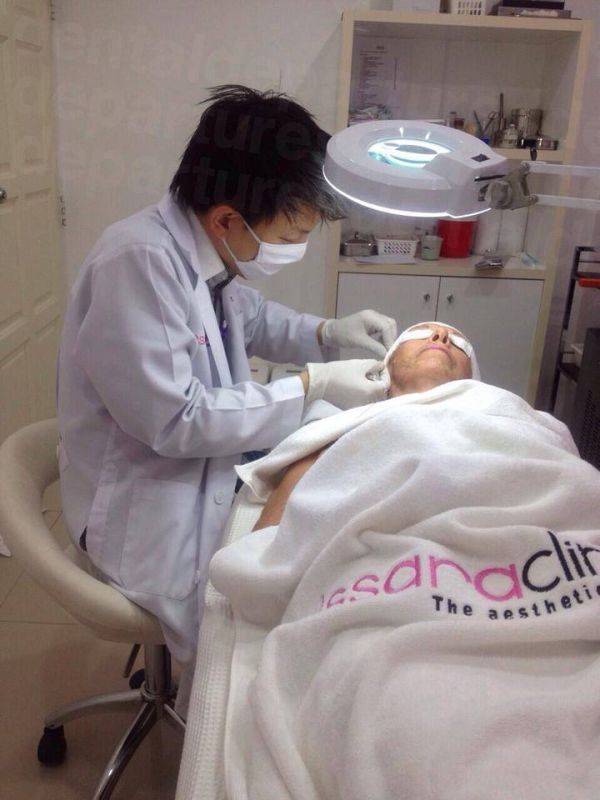 It offers a wide range of cosmetic surgeries and treatments to improve your face and your body. Acne treatments, spot removal, laser hair removal, chin augmentation, lip augmentation, mesotherapy, thread lift and nose jobs are only some of the treatments available at this clinic. It also offers massage therapies and skin and anti-ageing treatments.
Cost of rhinoplasty in Samui
The rhinoplasty cost in Samui is very reasonable. At Issara Clinic you would pay only AU$636 (NZD671, £377, €423, US$484, CAD626) for rhinoplasty. In Australia or your home country, you can pay as much as AU$8,098 (NZD8,545, £4,803, €5,394, US$6,172, CAD7,979) for similar work.
Prices will vary and depend on how much work is required. If only dermal fillers are used, the rhinoplasty cost will be much less. Since Samui offers low cost treatments, you can also avail of other work in this beautiful part of the world.
Medical Departures offers you the best price guarantee so you will not pay more. So book with us for your affordable rhinoplasty cost in Samui.