It has modern high-rise buildings, old quarters, a sky train and an underground metro for convenient transport, museums and palaces, floating markets and shopping malls, river trips, temples dedicated to different religions including the famous Buddhist temples and, of course, the fabulous cuisine – from high-end restaurants to street food. So, there is much to see and do in this capital. You can have a great holiday in Bangkok while getting your cosmetic treatment and also visit spas, get a facial, have a massage and generally spoil and pamper yourself – and all at prices a fraction of the prices at home.
How does Botox help?
Botox is actually a neurotoxin but it is used cosmetically for wrinkles. A small quantity injected into the skin paralyses the muscles and makes the skin smooth. Botox is also used medically to treat lazy eye, overactive bladder syndrome, painful muscle spasms and other problems. Cosmetically it is used to help with forehead furrows, nose to mouth lines, frown lines, wrinkles around ­­­­­­­­­­­­­­­­­­­­­the eyes and neck bands.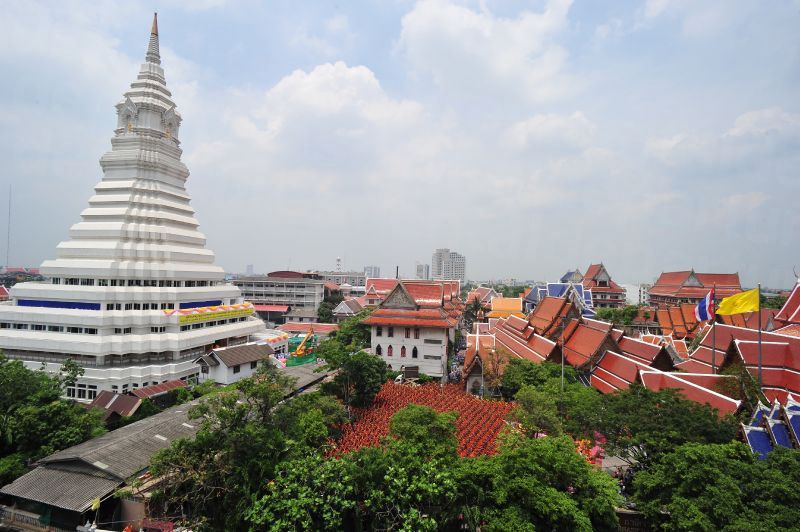 Often for best results and to help turn the clock back, Botox is used to treat some wrinkles (the ones that appear with facial expressions) and others are treated using dermal fillers (the ones you can see all the time).
Top clinics in Bangkok
There are numerous clinics in Bangkok that do cosmetic treatments like Botox. You are safer when you book through Medical Departures because we have done our research so that you don't have to. We always check and verify the clinics, the qualifications of the doctors and also offer a best price guarantee as well. Among the quality checked clinics listed on our site are:
KTOP Clinic – you can avail of different surgeries and treatments at this clinic that aim to enhance your face, figure and appearance. The doctors at this clinic combine science and art to yield the best results. The doctors aim to give you a better natural appearance instead of making you look unnaturally better.
Nirunda International Aesthetic Centre – this clinic specifically caters to foreign tourists and was started for this reason by young medical professionals trained in Western countries. The clinic uses innovative technologies to deliver the best results.
MedConsult Clinic – located in the commercial heart of Bangkok, this clinic specializes in all kinds of cosmetic treatments and therapies including Botox, thread lifts, acne and laser treatments. The clinic focuses on all kinds of non-surgical treatments.
What is the cost of Botox in Bangkok?
Botox injection in Bangkok is reasonably priced and you can pay around AUD16 (NZD17, £9, €10, US$12.5, CAD16) for a unit of botox. In your country of residence you would pay an average of AUD20 (NZD21, £12, €13, US$15, CAD20).
Book with Medical Departures for your Botox in Bangkok's verified clinicsso you get the best outcomes and the best deals.