When your upper arms start looking flabby, it can be quite distressing. If you see arm lift review, Penang comes up as a popular destination for this surgery. And why not? Penang is a great place for a holiday, it offers good connectivity and Malaysia is a great place for plastic surgery and actually has large numbers of people visiting for medical care. It is also very affordable as far as stay, food and medical care is concerned.
Cost of arm lift in Penang
The arm lift cost in Penang is very reasonable when compared to the prices you would pay in your home country. For instance, in Australia it would cost you AU$9,770 (NZD10,215, £5,768, €6,564, US$7,463,CAD9,738). However, in Penang you would pay an average price of AU$2,476 (NZD2,589, £1,462, €1,664, US$1,892, CAD2,467).
This kind of price difference easily covers the cost of your travel, stay, entertainment and other expenses. You can also explore the city and the beaches, go to the many tourist attractions and shop to your heart's content.
How does arm lift surgery help?
If you have been overweight and lost weight or with age and gravity you have developed sagging skin on the upper arms or your arms are simply flabby when compared to the rest of your body, you should consider arm lift. You can get a mini arm lift or get a more extensive one. This depends on your current figure and your doctor's assessment of your condition.
Your surgeon may simply want to cut excess skin and tighten it, or you may need liposuction to remove fat deposits as well. After the surgery and when your healing is complete, you will have much thinner looking upper arms that will also give you an overall slimmer appearance. You can check our arm lift reviews and see what people feel about their surgery.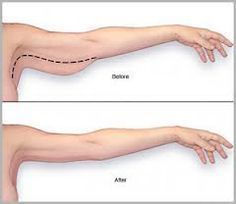 Clinics in Penang that do arm lift surgery
With many arm lift clinics in Penang you are spoilt for choice as to where you should go. It is best to do your booking through a reputed site like Medical Departures because we check the clinics and the qualifications of the doctors. We also offer the best price guarantee. Among the popular MD verified clinics listed on our website are Leh Clinic and Amandrey Clinic.
Leh Clinic is headed by Dr. Louis Leh, a top arm lift surgeon who has done many post graduate certifications from Britain. He provides a full range of plastic surgeries and cosmetic treatments to enhance your face and figure, including arm lift surgery.
Amandrey Clinic is headed by Dr. Lau Hee Sim, an experienced plastic surgeon and dermatologist with specialties in esthetic and anti-ageing therapies. Other therapies offered at this clinic include stem cell therapy and hydrotherapy. You can avail of surgeries and also cosmetic treatments at this clinic.
After going through arm lift reviews in Penang, book at any of these clinics via Medical Departures so that you can have a holiday as well as take advantage of the low cost of arm lift surgery.