By booking your treatment at BIMC Bali, breast implants are available at savings of around 60%-70% compared to the prices that domestic surgeons are charging. This can mean you could save in excess of ten thousand dollars by undergoing your treatment abroad!
Who Are BIMC?
Originally founded in 1998 with just 10 medical staff, the BIMC was established to meet the growing needs of international demands for high quality medical treatments at an affordable price. From their modest beginnings in a building that consisted of just 3 consultation rooms and 2 observation beds, by 2005 they had expanded into a custom-built, four-storey complex and became officially licensed as a fully accredited hospital.
The BIMC hospital has firmly established itself at the forefront of the medical tourism industry in Bali . They offer a comprehensive range of surgical and non-surgical cosmetic procedures, and are recognized as the only preferred healthcare provider in Indonesia by the International Assistance Group (IAG) .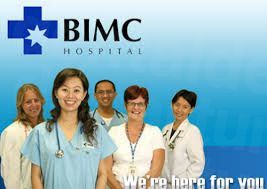 The clinic is ideally situated within easy walking distance of many of Bali's luxury 5-star hotels and villas, including resorts such as the Bali Golf and Country Club, the Nusa Dua Convention Center and the Bali Collection shopping and food esplanade. You will also be within easy reach of the numerous secluded beaches that the island has to offer; and all within 20 minutes of the Ngurah Rai International Airport.
What Does a Breast Implant Procedure Involve?
There are several different methods that your surgeon can employ to insert your breast implants. Each process generally takes between 1-2 hours to complete, and any incisions will be as inconspicuous as possible to minimize any scarring. The three main procedures are:
1. Transaxillary incision – this involves making an incision under the armpit through which an implant can be inserted
2. Inframammary incision – during this procedure, an incision is made underneath the breast, in the crease between the chest wall and breast
3. Periareolar incision – this involves making an incision at the edge of the dark area surrounding the nipple, known as the areola
How Much Can I Save by Having Breast Implants at the BIMC?
Compared to domestic prices, you can expect to save around 65%-70% by having your breast implants done at the BIMC. See below to compare just how much you can save on the cost of breast implants by visiting the BIMC:
Domestic Cost Price at BIMC Saving:
Australia (AUD $): $16,500 $5,000 70%
New Zealand (NZD $) $17,000 $5,400 68%
United States (US $): $11,500 $3,800 67%
Great Britain (GBP £): £9,000 £3,000 67%
How Do I go About Making a Booking at the BIMC?
The easiest way to make an appointment is through the Medical Departures website. By booking through us, you're ensured to get the lowest rates currently available anywhere on the market thanks to our best price guarantee policy. We can even get you preferential rates on additional medical insurance through a number of independent insurance providers.
So, to ensure that you get the very best rates on your BIMC Bali breast implants, visit our website now and find out just how much you could save by undergoing your surgery in Bali's top-rated clinics.