Last fact-checked: 12 November 2022
Save money on plastic surgery in Turkey by booking your procedure at one of our quality-checked partner clinics.
This Medical Departures destination guide explains everything you need to know about travelling to Turkey for affordable surgery, including what to expect when you're there, how to find reliable facilities, price comparisons and plenty of other handy tips and advice.
Turkey in Brief
Modern Turkey is what remains of the Ottoman Empire, which controlled vast swathes of Southern Europe, North Africa and Western Asia at the height of its powers between the 14th and 20th centuries. With its 10,000-year-old civilization and various occupying empires, including the Roman, Byzantine and Ottoman, Turkey is an undeniably fascinating country to visit. Combine that with its beautiful beaches, crystal-clear surrounding waters and relatively affordable four and five-star hotels, and what you have today is a holidaymaker's dream.
Marvel at the majestic architecture of the former capital of Constantinople, now known as Istanbul; spend your days being pampered at a luxury beach resort; explore traditional villages where a much slower pace of life (far from the madding crowds) is the way to unwind; and explore some of the most remarkable ancient ruins in Europe–and all of this only a four-hour flight away from the UK.
Tourism steadily increased in the country until 2015 when political and security concerns saw a major drop in the number of visitors. However, the green shoots of recovery, buoyed by the fall in value of the Turkish Lira saw a 50% increase in visitors during the first quarter of 2018 and Turkey is once again in favour with international visitors.
Why Choose Turkey for Plastic Surgery?
Doctor Training and Qualifications: Training for doctors lasts for six years, in common with standard medical education worldwide, and continuous medical education programs are overseen by the Turkish Medical Association. Doctors offer expertise across the gamut of specialties, including cosmetic surgery, with Turkey particularly renowned for hair transplants.
Tourist Locations for pre and post-op recovery: Turkey offers a variety of locations for medical tourists. Istanbul is, understandably, a hot spot, but so too are traditional holiday destinations, like Antalya or Izmir.
However, while medical tourism is often promoted with the idea of enjoying a sun-filled holiday, the reality may be quite different. The bottom line is that if you are having any form of surgery, taking part in holiday activities is not something that we generally recommended. Even lying on a beach is fraught with difficulties post-surgery given that sand has a nasty habit of getting everywhere, and healing wounds need to remain clean, sun-free and debris-free. That's not to say that going to a holiday resort is a no-no. Beaches may be out, but lying or sitting under the shade of an umbrella pool-side is an option, although keeping wounds dry rules out taking a dip in the pool.
Convenience: Frequent, low-cost flights are available from across the UK and Ireland to airports in Turkey with carriers including Easyjet, Ryanair, Jet2, and Thomas Cook.
Low Cost: The price of medical procedures in Turkey is far less than what you'd pay at home, typically averaging savings of 65% compared to the UK, which is why the country is such a draw for medical tourists.
What Do Cosmetic Procedures Cost in Turkey Compared to the UK and Ireland?
The table below shows the prices of popular aesthetic procedures in Turkey compared to the UK and Ireland:
UK Price (£)

Turkey Price

(£)

Ireland Price (€)

Turkey Price

(€)

Save

Botox

7.80 - 12 (per unit)

1.30 - 3.50 (per unit)

9 - 14 (per unit)

1.5 - 4 (per unit)

70%

Breast Augmentation

9,200

2,700

11,000

3,300

70%

Breast Lifts

9,200

2,500

11,000

3,000

72%

Breast Reduction

8,500

2,700

10,100

3,300

68%

Dermal Fillers

325 (per CC)

215 (per CC)

376 (per CC)

250 (per CC)

33%

Hair Transplants

6,500

1,800

7,800

2,200

72%

Liposuction

3,900

1,800

4,600

2,200

53%

Rhinoplasty

4,770

1,800

5,700

2,200

62%
Where to Stay in Turkey
You will discover a wide choice of locations to stay in Turkey, with various accommodation options from villas to chain and boutique hotels. You'll see that Medical Departures' listings are spread across the country in a variety of popular destinations, such as Ankara, Antalya, Izmir and of course Istanbul, the capital.
Will I Be Safe in Turkey?
Turkey is generally a very safe destination for visitors, particularly along the main tourist coasts of the west and southwest. Turkish people are generally friendly and accommodating, but as in any other popular tourist locations in the world, it pays to keep your eyes open so as not to fall victim to petty thieves and scam artists.
Although isolated terrorism is a threat, as it is anywhere else in the world, the majority of violence and terrorist threats in Turkey are around the Syrian Border, in the southeast of the country and hundreds of miles away from the popular tourist areas.
How Does the Quality of Medical Care in Turkey Compare to Back Home?
Private clinics and hospitals in Turkey that cater to international patients tend to be of a high standard; they simply have to be as a bad reputation will soon see visitor numbers decrease. That said, it's always a good idea to do your own research when looking for a reliable doctor—and that should be the same wherever you decide to get medical care, even at home. Although at home you can ask for recommendations from family, friends and neighbours, it's not a practical solution when you are going abroad for your medical care.
This is where Medical Departures can help. All facilities listed with us have already been pre-screened, so you are assured of receiving a standard of care you can trust.
Our background checks include confirmation of doctor qualifications, verification of professional memberships, searching legal/criminal records and carrying out onsite visits. Our listings also include clinic photos, authenticated patient reviews, prices and location maps so you can easily make up your own mind on what facility is the right one for you to choose.
Many of our top-rated clinics are found in Istanbul, with three of the most popular linked below:
For coastal locations in Turkey, check out these two-highly-rated clinics:
What Happens If Something Goes Wrong? Is My Medical Care Guaranteed?
We are all individuals and our bodies react differently, so it's important to remember that no medical procedure can ever be completely guaranteed. But there are certain steps you can take to give yourself the best chance of a successful outcome. Choosing a suitably qualified doctor and medical facility that meets strict hygiene and safety requirements is the first step in the process; as is following your doctor's recommendations, both before and after treatment.
However, despite best efforts, very occasionally things may not go according to plan. This is where booking through Medical Departures gives you a key advantage as we will assist you in getting things put right should the need arise. Our Customer Care Team is on hand 24/7 to assist you with any problems.
It's worth knowing that traditional travel insurance does not usually cover you for medical trips, so taking out medical complications insurance is certainly something you should factor in when you are arranging a trip for medical care overseas.
Do the Doctors in Turkey Speak English?
Yes, the doctors in Turkey generally speak fluent English. In fact, you'll find English is spoken widely in most major tourist areas.
What Payment Methods Are Accepted by Medical Clinics in Turkey?
Most payment methods are accepted at medical clinics in Turkey, including travelers cheques, bank transfers, Mastercard and Visa debit/credit cards (although there may be a small admin fee for credit cards) and cash (Turkish Lira and Euros). Check individual listings for confirmation of payment types at specific facilities.
When Is the Best Time to Visit a Doctor in Turkey?
Throughout Turkey, peak season tends to be in July and August, which are also the hottest months. It's less crowded, and you're likely to get better deals on flights and accommodation, in May, June, September and October when the weather is still likely to be very warm. Marketed as a summer destination, Turkey could be a good option in winter if you want to see the sights and shop in the bazaars without the crowds and heat.
Our clinics are open throughout the year, save for national holidays, which you should check before you book.
Is There Specific Advice for Medical Tourists in Turkey?
There is no country-specific advice for travelling to Turkey for medical care, but it's worth your while being aware of some of the issues if you want to be a savvy medical tourist.
1: Think about it. Seriously.
No form of surgery is a walk in the park, specifically after the event. You should be honest about what kind of traveller you are, whether you are likely to feel comfortable in strange surroundings and who (if any) will be a good travelling companion as they are going to have to look after you while you are getting back on your feet. It's natural to feel some apprehension, but if you are stressing about these basics beforehand then you might reconsider going abroad for your surgery.
2: Be Fully Informed About Your Procedure
Conduct as much research as you can about your surgery and recovery times. Obviously, recovery times vary from person to person and on what kind of surgery you have, but you should go into it fully aware of the estimated recovery times and how that will impact your daily activities.
For example, you may well be doing a spot of gentle sightseeing a few days after a hair transplant, but for major surgery like a tummy tuck, although you will be encouraged to walk as much as you can, it is most likely to be within the confines of your hotel room or hotel for the first week after surgery.
3: Give Yourself Time
Do not rush your recovery. If anything, book your time away for a little longer than you think you'll need, to allow time for the initial healing phase, and for follow-up appointments with your doctor.
4: Assess Your Costs
Find out exactly what's included in your procedure. Most clinics in Turkey are up-front about the costs, which is usually an all-in-price, unlike in the United States where a surgeon may quote you for their costs, but ancillary hospital costs, anaesthetists, drugs etc. may also be factored in. Medical Departures can obtain a free, no-obligation, "all-in" quote for you so you know where you stand from the outset. Then, all you need to do is work out your accommodation and travel costs (which our Customer Care Team can also assist you with).
What Else Is There to Do and See in Turkey?
Wherever you turn in Turkey, there is something to see—and even on its beaches, you are never far away from ancient history with an accessible underwater sunken city in Kekova and ancient ruins on the beach in Patara just waiting to be explored.
A delightful country, Turkey is certainly a big draw for holidaymakers, and for medical tourists looking for affordable yet quality care in gorgeous surroundings, it's hard to beat.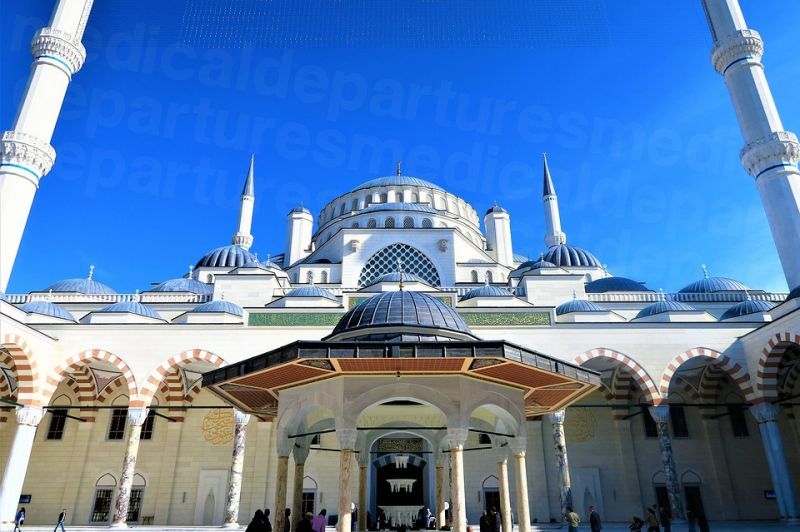 Travelling to Turkey
Fly direct to Istanbul, or any one of the airports serving the coasts, such as Antalya, Izmir and Dalaman from a number of airports around the UK (or rest of the world).
Visa Information
Tourist visas are required for Turkey, allowing a maximum stay of 90 days.
Getting Around Turkey
Domestic flights and trains are best for travelling long distances, but there are usually plenty of options for local transportation via buses, taxis, ferries and the local minibus (dolmus) which you can flag down.
Car-hire is also an option and there are most major international car rental firms based at the airports and local firms based in tourist areas. You need to be 21 and have had a full driving licence for at least a year. An international driver's permit (IDP) may be worth getting before you travel but is not essential.
Distance from Istanbul to Other Major Tourist Locations:
Ankara (the capital city): 280 miles (451 km)

Izmir: 292 miles (471 km)

Ephesus: 333 miles (536 km)

Pamukkale, 411 miles (663 km)

Antalya: 435 miles (700 km)

Cappadocia: 469 miles (756 km)

Fethiye: 490 miles (789 km)
Getting Started with Medical Departures
Browse through our list of quality checked clinics and hospitals in Turkey for affordable plastic surgery, then you can book your appointment online directly with us, free of charge.
Alternatively, contact Medical Departures' Customer Care Team for further information about medical care and cosmetic treatments in Turkey. They can book your appointment, provide you with a free quote or help with accommodation bookings—all at no cost to you!
Sources:
Ottoman Empire. Yapp, M.E. & Shaw, S.J. Encylopaedia Britannica. 27 November 2018. https://www.britannica.com/place/Ottoman-Empire
Sewell, Abby. Photos Reveal Turkey's Lonely Landscapes. National Geographic. 4 September 2018. https://www.nationalgeographic.com/travel/destinations/asia/turkey/rise-fall-changing-tourism-industry/
Lisella, Maria. Turkish Tourism Buoyed by Ancient History and Modern Visitors Even During Testy Times. Travel Market Report. 6 November 2018. https://www.travelmarketreport.com/articles/Turkish-Tourism-Buoyed-by-Ancient-History-and-Modern-Visitors-Even-During-Testy-Times
Moon, Freda. 5 Ways to be a Savvy Medical Tourist and Enjoy a Vacation. The New York Times. 8 March 2017. https://www.nytimes.com/2017/03/08/travel/five-ways-to-be-a-medical-dental-tourist-vacation.html
Whitlock, Jennifer. What to Expect When Recovering from Surgery. Very Well Health. 30 August 2018. https://www.verywellhealth.com/recovering-from-surgery-what-to-expect-3156826
Smith, Michael W. Hair Transplants: What to Expect. WebMD. 7 December 2017. https://www.webmd.com/skin-problems-and-treatments/hair-loss/men-hair-loss-17/hair-transplants
Cronkleton, Emily. Tummy Tuck Recovery: Timeline, Tips and More. Healthline. 17 May 2017. https://www.healthline.com/health/tummy-tuck-recovery
Sakin, Ozlem. An Ultimate Guide to Anatolian Istanbul. Daily Sabah. 10 February 2016. https://www.dailysabah.com/feature/2016/02/11/an-ultimate-guide-to-anatolian-istanbul
Cappadocia is Like Landing on Another Planet. Lonely Planet. Website accessed 23 May 2019. https://www.lonelyplanet.com/turkey/cappadocia-kapadokya
Turkey World Heritage Sites. UNESCO. Website accessed 23 May 2019. https://whc.unesco.org/en/statesparties/tr