Last fact-checked: 14 October 2019
If you're thinking about joining the millions of people who travel abroad for medical and cosmetic surgery every year, then one of the best options has to be Costa Rica - especially if you're based in the US or Canada and looking to enjoy a vacation at the same time.
Read on to discover why this Central American country should be high on your shortlist for reasons other than just saving money...
Costa Rica: An Overview
Costa Rica is in Central America and is known for its natural beauty since it is a premier ecotourism destination. Rich in biodiversity, tourists flock here for its exotic flora and fauna, nature treks, bird watching and many more outdoor activities. Costa Rica is appealing on many levels – it has miles of beaches and blue sea for beach bunnies. Wildlife enthusiasts will find plenty to discover in the tropical jungles, including many animals and plants that are tricky to find in other parts of the world. Sports and adrenaline junkies will feel at home exploring Costa Rica's natural terrain, including white water rapids, while the sea offers fishing, diving, snorkeling and more. For such a small country, you can certainly pack a lot in!
Costa Rica is also an appealing destination for medical tourists. The country's medical tourism industry has been growing since the 1990s and Costa Rica is now a favored destination for medical procedures that are not covered by insurance, particularly among people residing in Canada and the U.S. It's also a haven for expats who find the cost of living low, the weather good and the amenities and nature even better.
Where Is Costa Rica?
Costa Rica is in Central America and shares borders with Nicaragua and Panama. It touches the Caribbean Sea and the Pacific Ocean, but is only three hours from one coast to the other by road.
Why choose Costa Rica for Plastic Surgery?
Among the reasons to choose Costa Rica for plastic surgery are:
Cost:
Prices for aesthetic procedures in Costa Rica are, on average, between 50 and 80 percent less than in the western countries.
Some examples of the cost savings for different plastic surgeries in Costa Rica are:
Breast Enlargement in Costa Rica: average cost USD 3,000; compared to USD 6,000-12,000 in the US and CAD 15,000 in Canada.

Facelift in Costa Rica average cost: USD 4,500; compared to USD 7,000-15,000 in the US and CAD 12,000-15,000 in Canada.

Tummy tuck in Costa Rica average cost: USD 4,000; compared to USD 6,000-10,000 in the US and CAD 9,000-12,000 in Canada.
(Note. The above prices are approximate. Please check our clinic listings for the latest prices)
Medical Facilities:
Medical facilities in Costa Rica are on par with some of the best in the world. If they were not so, the country would not attract medical tourists who are used to the best. The hospitals and clinics compare favorably with the facilities in Canada and the US. Much of the equipment used is, in fact, imported from the US, so you should not have any doubts on this score.
As doctors deal with expats and foreigners on a regular basis, they are also more comfortable talking to them and also doing the work required as per the patient's' goals.
Doctor Training and Qualifications:
In Costa Rica, medical studies take at least five years to complete. For specialties, many doctors study further in the US or Canada or other parts of the world. There are some universities in Costa Rica that are accredited in the US.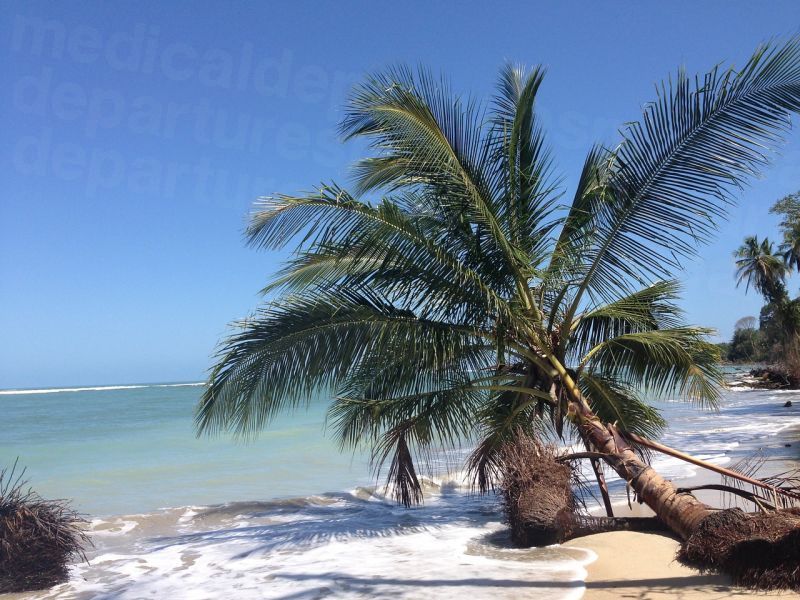 What Kind of Plastic Surgical Procedures Can I Have in Costa Rica?
All kinds of plastic surgery procedures can be found in Costa Rica at our quality-checked clinics. You can have a facelift, neck lift, breast surgeries of all types, eye surgeries and the entire gamut. Costa Rica is also known for knee replacement and bariatric surgery.
Apart from these and other procedures, the country has many spas, wellness retreats, weight loss clinics and minor cosmetic treatments.
Tourist Locations for pre and post-op Recovery:
While you can find all kinds of hotels and other accommodations in Costa Rica, the country is also well known for special facilities for recovering medical tourists. It has special recovery retreats that are geared towards patients who need care. These are usually located close to clinics and hospitals, have all the amenities of a luxury hotel, but have nurses and interns as staff. They are in a better position to deal with patients and take care of them
If you don't need to check into a recovery retreat or you're only having minor work done, then it's worth booking into a comfortable hotel or resort, which often cost significantly less per night than back home.
Where to Stay in Costa Rica?
There are many cities in Costa Rica that are centers for medical tourists and offer the best care. It really depends on which city you want to go to. San Jose is the capital city and has prime hospitals that are JCI accredited. There are also centers in Liberia, Santa Ana, Tibas, Escazu and other places. There's a massive choice of hotels available throughout Costa Rica at different price points to suit your budget.
How Safe Is Costa Rica?
Costa Rica is safe and the crime rate is low. However, you should be careful of pickpockets and handbag snatching in busy tourist areas. It is always a good idea to leave your valuables at home and even your passport in the hotel (you can carry a photocopy for identity purposes). Don't flaunt expensive jewelry, electronics and gadgets in a way that you can become a victim. It is always safer to get a taxi to take you back to the hotel than walking in the dark. Use the same common-sense precautions that you would when being at home - don't let your guard down because you are on holiday.
How Can I be Sure the Quality of Care Is the Same as Back Home?
All surgery comes with an element risk wherever you are in the world, even if all precautions are taken. That is because you can have reactions to drugs or devices at any time. To ensure your own safety, make sure your doctor knows if you have any sensitivities or allergies or reactions to any drugs that you know of. If you have any chronic condition like diabetes, asthma, high blood pressure or are taking any medicines on a regular basis, you should make sure this information is given to the doctor or the hospital. Normally when the medical history is taken all these bases are covered, so don't hide anything.
As far as the quality of care is concerned, all doctors and surgeons must be locally board-certified with the Colegio de Médicos y Cirujanos to practice. Many doctors have specializations and carried out training or work in western countries, as well as being affiliated with various American and International Associations, such as ISAPS.
Additionally, Medical Departures conducts its own background checks and investigations into the qualifications and training of the doctors, their experience and skills. We also check the quality of the hospitals and clinics that we list on our website so you are much safer.
What Happens if Something Goes Wrong? Do Costa Rica Doctors Have Warranties or Guarantees?
Even if you have taken the best of care and the doctor is good, there is a slim chance that there may be some problems or complications during procedures. That said, our clinics and hospitals all have guarantees on the work they do; if any small problem arises after surgery, it will be fixed free of charge.
If you want to add an additional safety factor, then you can buy additional insurance for a small charge. This will cover any complications that require medical treatment, airfares and/or accommodations so that you are not left out of pocket.
Some clinics may also offer additional insurance packages to cover extra costs.
Do Doctors Speak English?
English is the second language in Costa Rica. Almost everyone speaks some English, so there's no need to worry about your Spanish.
What Payment Methods Are Accepted in Costa Rica?
All international credit and debit cards are accepted in Costa Rica. You can also make payments by wire transfer or other methods. What's more, American dollars are also accepted almost everywhere.
When Is the Best Time to Visit for Plastic Surgery in Costa Rica?
Costa Rica is a relatively small country, but because it is both mountainous and near the sea (in different parts) the temperatures can vary a great deal. All clinics and hospitals are open throughout the year and you have to decide which time of the year is good for you. The peak tourist season is from December to April when temperatures are comfortable and the weather is dry. This is also the most expensive season for flights and accommodations.
Off-season is from May to November when it's hot, rainy and humid. However, rates are lower during this period so you should check out this period for the best rates and when you are on a budget. This time is also good if you love to see the verdant greenery that is a constant during the wet weather.
What Is the Downside? What Should I Know About having Plastic Surgery in Costa Rica?
Going for any surgery is never a particularly pleasant experience. You will be apprehensive before the surgery and obviously recovering afterward, which may be uncomfortable.
However, there are some upsides too. When you get plastic surgery in Costa Rica you are in good hands of the doctors and the hospitals. You are also staying in a nice hotel and away from the pressures of your normal life whether it is cooking and cleaning or professional commitments. You don't have to bother about housework or your job. So you are in a relaxing environment with good weather and, even if you have to rest indoors you can catch up on your reading and watching television or movies. - a luxury many of us never have the time to do at home.
If you stay in a recovery retreat after a major procedure, you know you will get the personal care you want.
What Else is There to Do in Costa Rica?
There is a lot to see and do in Costa Rica. If you are in San Jose, you can explore areas around it that cover a wide range of interests.
Visit one of the many national parks that are rich in flora and fauna and offer an amazing experience in natural surroundings. Costa Rica is has three UNESCO World Heritage Sites, La Amistad National Park, Cocos Island National Park and Area de Conservacion Guanacaste. Check out Dominical, which is on the South Pacific and renowned for its natural beauty, incredible biodiversity and whale watching; Heredia has fascinating coffee plantation tours and both of the coasts offer beautiful beaches and other stunning scenery and attractions.
When you book through Medical Departures, you will find the clinics that you require in the areas that you want to visit so you don't need to miss out on your holiday as well.
Costa Rica – Getting There
With three international airports, Costa Rica is eminently accessible. Juan Santamaria Airport is close to San Jose, Heredia and Alajuela. Daniel Oduber Quirós International Airport is near Liberia in the Guanacaste province. This airport sees flights from most major airlines in the US. Tobías Bolaños International Airport is in the Pavas district of San José and only a 10-15 minute drive from the city centre. From here you can catch a local or domestic flight to many local destinations as well.
Flight times (approx.) from other destinations to Costa Rica:
Los Angeles – 9.5 hours
New York – 8 hours
Toronto – 5.1 hours
Ottawa – 5 hours
London – 12.5 hours
Flight times will vary and depend on the airlines, the stopovers and where in Costa Rica you want to go.
Local Transport:
Most places in Costa Rica have metered taxis that are easy to get. While you can hire cars, driving can be hazardous because in some areas roads are not good. You can also use sharing taxis for long distances, with a fixed fare. In remote areas, you can hire taxis for the number of hours required. You may also get local buses in some places.
Visa Requirements:
Americans do not need a visa, but do need a return ticket to enter Costa Rica. If you have a visa for Canada, Japan, Schengen area or any other EU country you don't need a visa to enter Costa Rica. You can stay for up to 30 days in Costa Rica. British nationals can stay up to three months in Costa Rica.
For nationals of other countries, you have to check for visa requirements online.
How Do I Get Started?
First things first, browse through Medical Departures' list of quality checked clinics in Costa Rica.
For bookings, simply scroll down to see a number of convenient ways to contact us. Our Customer Care Team can help you with the booking process and answer all your questions about plastic surgery in Costa Rica.
Sources:
Visit Costa Rica. Website accessed: 14 October 2019. https://www.visitcostarica.com/en" target="_blank
Costa Rica Medical Tourism Industry. Howler Magazine. 1 August 2018.
https://howlermag.com/Costa-Rica-medical-tourism-industry
Savvy Medical Travelers Recover in Comfort at Los Sueños Resort, Costa Rica. HRG Vacations. 28 April 2017.
https://www.hrgvacations.com/blog/news/savvy-medical-travelers-recover-comfort-los-suenos-resort-costa-rica
International Society of Plastic Surgeons. Website accessed: 14 October 2019.
https://www.isaps.org/
Costa Rica - World Heritage Sites. Latin American Collection. Website accessed: 14 October 2019.
https://www.latinamericacollection.com/costa_rica/heritage_site.html
Visas, Residences and Permits. Costa Rica Embassy. Website accessed: 14 October 2019.
http://www.costarica-embassy.org/index.php?q=node/72