If you're off to South Korea, then why not treat yourself to a chemical peel in Seoul –where plastic surgery is as ubiquitous in the city as gambling is in Las Vegas. Rejuvenate your skin with the latest treatments in one of the world's most technologically and medically advanced cities.
How does a Chemical Peel work?
A chemical peel is applied on the skin with mild acids and chemicals that exfoliate the skin and "peel" or remove blemished, scarred and dry skin that exacerbates fine lines and wrinkles, revealing fresh blemish-free skin beneath.
Superficial peels are like facials: they work only on the surface and serve mostly to exfoliate the skin. Only with repeated treatments will achieve the results you are seeking. However, medium peels work on deeper layers, and have a more noticeable effect–doctors recommended you should have them two-four times a year. Deep chemical peels are a once-only treatment and should only be carried out under surgical conditions. These remove the top layer of your skin with dramatic results. However, it will take four-six weeks for your skin to heal; you will have to be happy staying indoors for a couple weeks or more, until your skin starts to look better.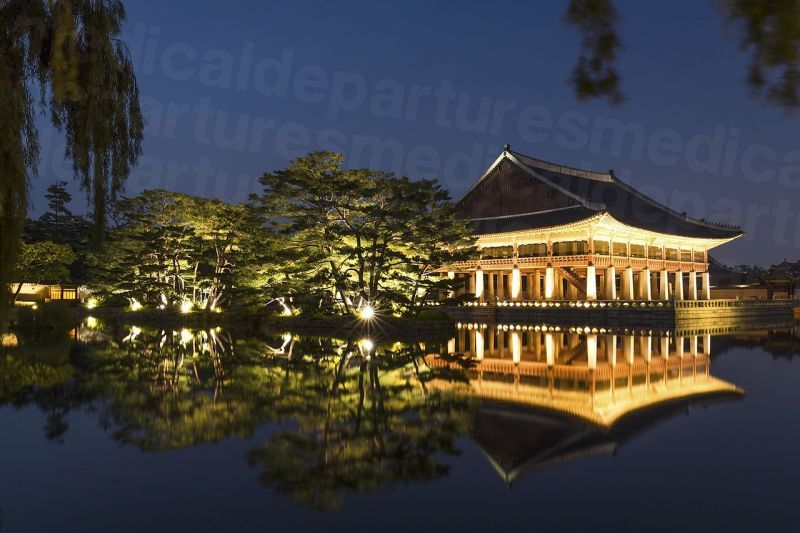 How Much Does a Chemical Peel Cost in South Korea?
These are the average prices for a mild/medium chemical peel. The deep chemical peel costs a good deal more as it is akin to a surgical procedure.
| | | | | | | |
| --- | --- | --- | --- | --- | --- | --- |
| | AUS $ | NZ $ | UK £ | EUR € | US $ | CAN $ |
| Mild Chemical Peel Price – Home | 250 | 270 | 140 | 162 | 200 | 250 |
| Mild Chemical Peel Price – Seoul | 176 | 190 | 100 | 113 | 134 | 173 |
What About the Quality of the Healthcare Facilities in Seoul?
Looking good is part of the culture here–it's quite common to see someone on the train with bandages or nose splints, heading to work after a nose job. Seoul's aestheticians have lots of practice! But, seriously, the standards are high and the level of medical care is excellent—every year hundreds of thousands of patients from all over the world visit Seoul for cosmetic and aesthetic treatments. Seoul is a modern city with contemporary healthcare facilities and medical staff who are well-trained and government-certified.
Understandably, you may be apprehensive about having treatment abroad. However, if you carefully choose a reliable facility, there's nothing to be worried about. This is why Medical Departures has conducted extensive background checks on the clinics you see on our website. Doctor qualifications, professional memberships and real patient testimonials are all verified. We also include before & after photos, prices and lots of other important markers, so you can get a real feel for the clinic, to help ease your decision. Take a look at some of our top-rated facilities in Seoul where you can get your chemical peel:
Seoul has high-quality cosmetic clinics that perform a wide array of aesthetic procedures to enhance your face, figure and skin. So book an appointment with us today for your chemical peel treatment in Seoul—we guarantee a reliable clinic at a great price!