The Apex Profound Beauty Clinic (Pattaya) is One of the Best Clinics for Cosmetic Treatments in Thailand
As Asia continues to lead medical tourism worldwide, Thailand continues to protect and expand its market share within the continent. Statistics may vary a bit from source to source, but it's a fact that millions of tourists visit Thailand every year for medical, dental, and cosmetic services (mostly cosmetic services). And all major tourist spots have excellent facilities to cater to this growing need. A great example is Pattaya's Apex Profound Beauty Clinic. Pattaya is arguably the second most popular medical tourism destination in Thailand after Bangkok. In this article we focus on this clinic and the services they offer along with the prices they charge.
History of the Clinic
Apex is a longstanding medical clinic in Pattaya. The first Apex clinic in Thailand was opened in 1991, whereas the Pattaya branch has been operating successfully for the last sixteen years. The clinic was started by Dr. Nantapat Supapannachart (more in next section). Today, this is one of the best clinics in this country. With medical tourism, Pattaya now attracts more tourists than ever before, and this clinic plays a major part in this respect.
Surgeons at Apex
This clinic has an impressive line up of highly trained doctors and surgeons, along with a qualified and professional medical staff. You will get all the latest and safest procedures offered by licensed and accredited professionals only.
Apex was founded by Dr. Nantapat Suphanchart whose list of credentials speaks for itself. In addition to being a fellow at Thailand's Siriraj Hospital School of Medicine Mahidol University, she has been a research fellow, resident and/or associate at the following leading institutes in the US:
Southern Illinois University
University of Chicago
University of Cincinnati
Northwestern University Chicago
In addition, she holds certification by the American Board of Dermatology and Laser Surgery.
Another prominent doctor at this clinic is Sukolapat Chamlerdwat. She has a certificate in minimally invasive liposuction from Thailand as well as a diploma of clinical dermatology from the University of London. Other doctors at the clinic are also highly qualified; a lot of them have completed at least a part of their training in Europe or America.
The main reason why people fly to Thailand for cosmetic procedures is affordability. You can also see that the clinic maintains high quality of services despite the low prices.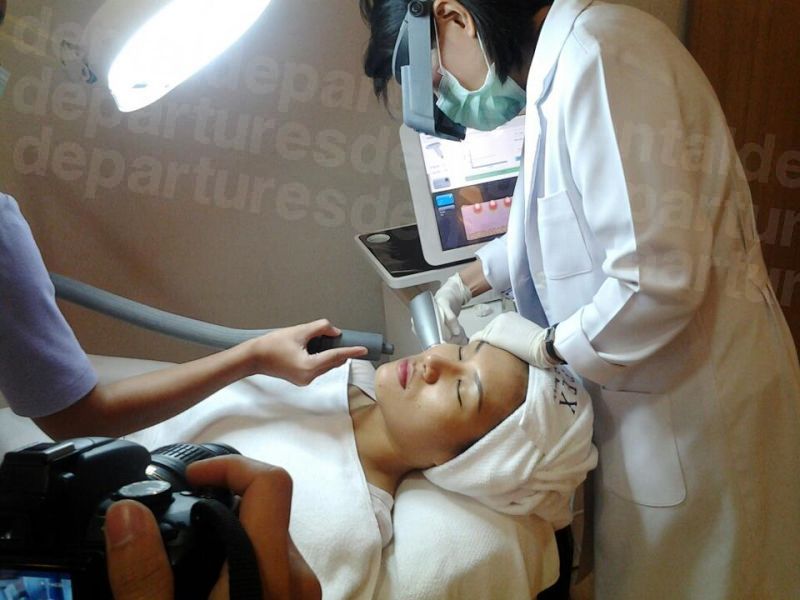 Cosmetic Services at the Clinic
As the name implies, this is a clinic focused on enhancing your beauty through invasive and non-invasive methods. The clinic offers a range of non-invasive skincare options that require no minimal downtime.
You can also get non-surgical facelifts like Ultherapy, Thermage and Vectorlify and Enerjet. This goes to show that this clinic uses advanced and the most effective methods to beautify your face and skin.
The same goes for fat reduction treatments offered by this clinic. The clinic uses modern techniques like Coolsculpting (Zeltiq), Bodytite, and Liposonix. Non-invasive, these techniques break down your body's fat pockets, and help you create a contoured and toned frame.
You can also get laser hair removal therapy for eliminating unwanted hair, while robotic hair transplants are available for people dealing with baldness. Apex also offers other affordable plastic surgery and non-surgical treatments, like Botox.
Prices at Apex
The basic purpose of medical tourism is affordability. In Pattaya, plastic surgery and non-invasive cosmetic procedures are 50% to 75% cheaper as compared to countries like Australia and New Zealand. However, the quality of these procedures is the same. The price difference emerges primarily because of the operating costs and living expenses being much lower in Thailand. In other words, cheaper in price doesn't necessarily mean cheaper in quality.
Here is a list of the major service and their prices at this clinic, along with comparison with prices in Australia and New Zealand in brackets.
· Facelift: AUD $56-$5616 and NZD $60-$6026 (AUD$ 23,904 and NZD $25,645)
· Botox: AUD $15 and NZD $16 (AUD $200 and NZD $215)
· Thermage (face lifting): AUD $4,492 and NZD $4,820 (AUD $3,477 and NZD $3,730)
So as you can see, even for a surgical procedure like facelift, this clinic offers you phenomenal price savings as compared to your country. And these are upfront prices, and you can get a personalized quote without any hidden costs. This clinic will honestly discuss the total cost of your procedure. Clinics in Thailand are quite upfront in this respect, possibly because they know that even the highest prices in this country are lower than what medical tourists pay back home.
Service Quality at Apex
This state-of-the-art clinic attracts tourists not only due to its prices and treatments, but also because of its excellent service towards its patients. To begin with, this clinic has excellent amenities. You get, among other things, check-in receptions with professional customer service, luxurious and comfortable waiting rooms, and English-speaking staff and doctors. So even if you don't know Thai, you can still easily discuss everything about the procedures and prices with the clinic staff.
A former patient, Chayangkul Nuanmanee says that 'the staff were so caring and well presented' during his time at the clinic. You also get free Wi-Fi and free parking at the clinic.
Touring Pattaya
Once you sign up for cosmetic services at this clinic, you not only get a chance to enhance your aesthetics but also to tour Pattaya and enjoy its sights and sounds. Pattaya is a great tourist destination with amazing beaches, bars, and temples. Since you are saving money on your treatment at this clinic, you can use some extra cash to explore this beautiful resort city. And since non-invasive procedures at the clinic have little-to-no downtime, you will have plenty of time after your treatment to tour the city.
That's about it! We have provided all you need to know about the Apex Profound Beauty Clinic, Pattaya branch. So, if you are travelling to Pattaya for a beauty procedure, you know which clinic to go to.