BIMC Hospital (Nusa Dua) Spearheading Medical Tourism in Bali
If you are seeking high-quality and affordable medical or cosmetic services (who isn't?!), Bali is the place to be. The BIMC Hospital (Nusa Dua branch) invites you to avail a host of healthcare services as well as cosmetic surgery and cosmetic dermatology on this serene island. Not only can you enjoy a relaxing and memorable vacation, but also save a lot of money on the medical, dental, and cosmetic procedures at BIMC.
Indonesia is swiftly catching up with the rest of Asia, and this hospital is on the forefront of medical tourism in Bali. Let's see what this hospital is all about.
A Brief History of the Hospital
The BIMC Hospital was first opened in Kuta, Bali in 1998, and it was a one-of-its-kind international medical facility that changed the face of medical tourism in Indonesia. The Nusa Dua branch became a fully accredited hospital in 2007. Since then, it has attracted a vast local and international clientele for a wide variety of services, including but not restricted to:
Trauma facilities
Medicine
Cosmetic surgery
Dialysis
Dental treatments
Spa services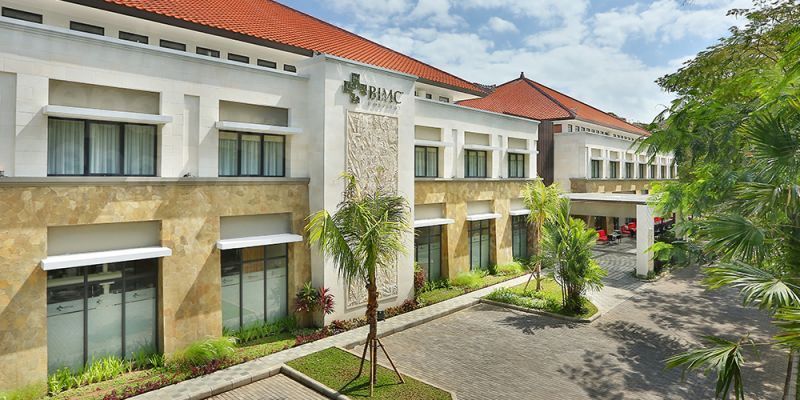 Doctors, Surgeons, and Nurses at this Hospital
The BIMC Hospital in Nusa Dua has a highly dedicated and skilled medical staff. One of the most impressive things about the medical staff at this hospital is that many of them have been recruited internationally. So, while medical tourists come to this hospital from all over the world, doctors and surgeons have also been hired from different countries including US, UK, Australia, New Zealand, and Japan.
The team of doctors includes:
· Dr. I Made Suka Adnyana, who completed his plastic surgery training from Airlangga University School of Medicine 2010. He is also a member of the Indonesian Association of Plastic Surgeons
· Dr. Rosalina Silvia Dewi, who has a Certificate in Aesthetic Medicine by the American Academy of Aesthetic Medicine. She is also a member of the organizing committee of Indonesia Surgeons
· Dr. Ridwan T. Lembong, who has completed several courses of aesthetic medicine.
Since healthcare and cosmetic services in Indonesia are cheaper than countries like Australia and New Zealand (more on this in a moment), some people, who are bamboozled by the low prices in Indonesia think the prices reflect the quality of services. But this is just a myth.
Reading about the doctors at BIMC Bali will show you the availability of a wide variety of high-quality medical and cosmetic procedures that you can get there.
Services that this Hospital
While BIMC Bali offers all sorts of medical services, cosmetic treatments are rather popular among international patients. This hospital offers the following cosmetic procedures:
Breast surgery (augmentation, reconstruction, reduction)
Eye surgery (eyelid surgery)
Facial surgery (chin augmentation, facelift, forehead lift, neck lift)
Abdominoplasty
Botox
Liposuction
Non-surgical rejuvenation
This hospital offers you facial rejuvenation and spa services that not just beautify your appearance but thoroughly relax you so that you will return home refreshed.
Medical Staff at the Hospital
The medical staff assisting doctors at this facility is world-class. The nurses and other staff workers are qualified and experienced, and they exhibit a great combination of professionalism and hospitality.
Larissa, a previous patient from Australia, comments said that she was 'extremely happy with my experience with BIMC Nusa Dua'. And this has been the experience of thousands of medical tourists who have been treated at this hospital.
Treatment Quality
As far as treatment quality is concerned, this hospital is one of the finest in the world. The clinic meets international protocols for hygiene and safety and use state-of-the-art facilities. In addition, the facilities for in-patients are designed for maximum comfort.
This hospital was the first one in Indonesia to attain accreditation from the Australian Council on Healthcare Standards International (ACHSI), and this speaks volumes about the treatment quality that you can expect at this hospital.
Affordable Prices
When it comes to medical treatments or plastic surgery, Bali is significantly cheaper than in countries like Australia and New Zealand.
The following is a comparison of Bali prices vs. Australia/New Zealand prices:
Breast augmentation – AUD $5,020- $6,577 and NZD $5,386-$7,057 (AUD $15,680 and NZD $16,823)
Eyelid surgery – AUD $3,106 and NZD $3,332 (AUD $8,893 and NZD $9,541)
Facelift – AUD $5,160-$6,169 and NZD $5,536-$6,619 (AUD $23,904 and NZD $25,645)
Abdominoplasty – AUD $7,570 and NZD $8,122 (AUD $20,558 and NZD $22,056)
These are major cosmetic procedures, but they are extremely low-priced at this hospital as compared to hospitals in your country. And as already mentioned, the quality of the procedures is the same as you can find at a quality hospital around the world. So you are not compromising on your health or safety. In fact, you are saving thousands of dollars in the process of enhancing your beauty, and this is a definitely a major advantage of medical tourism in Bali.
This is also a benefit because cosmetic procedures are elective in Australia and New Zealand. Because of this, insurance doesn't cover them, and they can be really expensive. That is why Aussies and Kiwis go to Bali where they can get any cosmetic treatment they like without breaking the bank.
Touring Bali
Flying to Indonesia and heading to this hospital not only saves you a fat load of cash, but also gives you the chance to vacation in Bali. This island has a tropical climate and remains fairly warm throughout the year. Bali also has a number of beautiful beaches. All these things make Bali a great place for vacationing and recovering after surgery.
Of course, once you are completely healed, Nusa Dua has much to offer in the line of tourist activities. Examples include Pantai Geger, Water Blow, Bali Camel Safari, Warung Dobiel, Pura Gegar, Nusa Dua Beach Grill, Pasifika Museum, and Serangan Turtle Island Conservation Centre etc.
So schedule your free consultation at BIMC Hospital, Nusa Dua and avail the best treatments and surgical procedures at the lowest prices. It's also a chance to explore the sights and sounds of Indonesia.