Nicha Clinic is a One-of-its-Kind Cosmetic Clinic in Pattaya
Pattaya is one of the most beautiful cities in Thailand, and it also is an emerging market for tourists seeking healthcare services at affordable prices. Nicha Clinic is an exemplification of the fact that in Pattaya, medical tourism is growing as more and more people discover the high-quality medical, dental and cosmetic services the city has to offer. For the best invasive and non-invasive treatments, Nicha is your ideal choice. Located in Pattaya's Chonburi province, this is one of the best clinics in all of Thailand.
About Nicha Clinic
The Nicha Clinic (Pattaya) is one of the best clinics in Thailand for cosmetic services . The clinic offers various, specialized cosmetic skin-care services for rejuvenating the skin and making your skin appear younger. Skin problems arise due to a variety of factors like aging, scarring, and hyperpigmentation, and this clinic offers the best available treatments to combat these problems.
Doctors at Nicha
One of the many reasons behind the success of this clinic is the exceptional cadre of doctors and medical professionals who work here. The highly-skilled doctors offer personalized solutions, realizing that everyone has different aesthetic needs.
The chief doctor is Natnicha Loichuen. After graduating from the Rangsit University in Bangkok, she received further training in cosmetic dermatology. She is also a member of the America Board of Aesthetic Medicine and the American Board of Nutrition.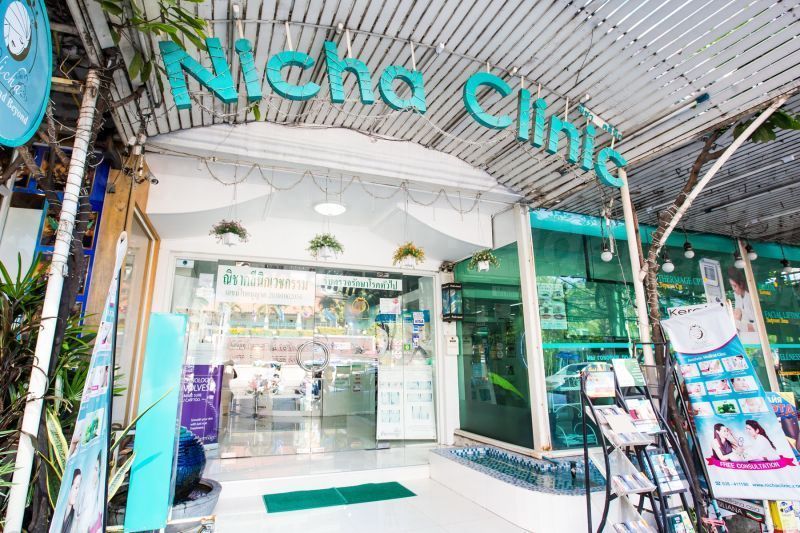 Cosmetic Services at the Clinic
The clinic also offers holistic services, such as vitamin facials and body firming treatments. All these are FDA approved treatments – a good standard for judging the inherent safety of any medical procedure, as well as drugs. Along with wrinkle treatments and facial treatments that include acne and pore management, as well as eye bag treatments, body treatments include contouring and slimming, varicose veins, and cellulite. You can also get hair loss and hair removal treatments.
One of the many benefits offered by this clinic is that you can also avail holistic treatments in addition to plastic surgery. Pattaya, like the rest of Thailand, is a leading provider for a wide range of alternative and holistic treatments. These promote wellness and the integration of the mind and spirit.
You can also get various massage and spa services at Nicha as well, such as Thai massage, body scrubs, and infrared sauna. Massage and spa services compliment your beauty treatments and they will lower your stress levels. So you will go home thoroughly relaxed and rejuvenated.
As far as customer service is concerned, this clinic provides the utmost care and hospitality that is an integral part of Thai culture. Clinics like Nicha earn significant revenue from foreign tourists, and they don't hesitate showing you how much they value your business.
Some people are under the impression that you need to know the Thai language to avail healthcare or cosmetic services in Thailand. But this is just a misconception. This clinic has English-speaking staff and doctors, so there is no communication barrier. You can freely consult with your doctor about what procedures will be best for you and you can also discuss prices without any communication problem.
Other services for customers include free consultation, free car parking, and free Wi-Fi.
Prices at Nicha Clinic (Pattaya)
The following is a list of popular procedures done at this clinic compared with prices from Australia and New Zealand that are written in brackets:
Botox: AUD $936 and NZD $1,004 (AUD $200 and NZD $215)
Fractional CO2 Laser Treatment: AUD $374 and NZD $401 (AUD $4,768 and NZD $5,115)
Peel: AUD $74 and NZD $80 (AUD $2,146 and NZD $2,302)
Thermage (face lifting): AUD $2,247-$3,370 and NZD $2,411-$3,615 (AUD $3,477 and NZD $3,730)
Laser hair removal: AUD $94-$1872 and NZD $101-2,008 (AUD $1,186 and NZD $1,273)
On average, Aussies and Kiwis who come to Pattaya for medical tourism can expect to save 50% to 75% on invasive and non-invasive procedures in this city. The price difference can be a little greater or lesser than the numbers provided, but these are the average savings you can expect when to travel to Pattaya.
While cosmetic procedures are cheaper at Nicha Clinic as compared to top clinics in Australia and New Zealand, the quality of these procedures is the same. The price difference emerges mainly because the cost of running a clinic in Pattaya is much lower than the countries just mentioned. Competition between local clinics also tends to keep prices low. Nicha also offers promotions throughout the year that further help you save money
This clinic offers you free quotes and will never charge you any hidden fees. In other words, these discounts represent the final prices you pay. There is no fine print or a loophole that will cause you to spend substantially more than you expected.
Also note that cosmetic procedures are usually not covered by private insurance. National healthcare programs in Australia also don't cover cosmetic procedures. That makes it all the more sense for you to get these treatments in Pattaya instead of your home country.
And even if you don't feel that the cost difference is significant enough to take a flight to Thailand, remember that you are also getting a chance to vacation in Pattaya. This brings us to our final point.
An Opportunity to Vacation in Pattaya
While Bangkok and Phuket are more famous, Pattaya is a great tourist hotspot. Visiting Nicha Clinic gives you the opportunity to experience picture-perfect temples and palaces along with exotic food and the rich Thai culture. Once you are done with your treatment, Pattaya is the perfect place to heal, relax and unwind. This is especially true if you are travelling to Pattaya for cosmetic surgery.
Experience the tranquility of the Sanctuary of Truth, have fun at the Teddy Island, view the grandeur of the Baan Sukhawadee, take a splash at the RamaYana Water Park, soak in the legendary Songkran Festival Thai Thani, enjoy the live 'Pattaya' show, and enjoy Thai delicacies at local restaurants…all in addition to getting the best quality and prices at this wonderful clinic.
An appointment at the Nicha Clinic enables you to get the best cosmetic treatments while enjoying a once-in-a-lifetime vacation in Pattaya. Schedule your free consultation at this fantastic Thai clinic right away.