The success of your cosmetic surgery procedure (or any surgical procedure, as a matter of fact) depends on several factors, one of which is the experience and expertise of your surgeon. As such, choosing your cosmetic surgeon carefully plays a crucial role. Dr. Piyapas is one of the expert surgeons that operates at the Bangkok Hospital Phuket, one of Thailand's leading cosmetic surgery hospitals. Prior to booking your plastic surgery procedure in Thailand at the Bangkok Hospital Phuket wtih Dr. Piyapas, four most interesting facts are worth reading!
He received top notch medical and surgical training
Medical Schools in Thailand follow rigorous and demanding training. After having graduated with a Bachelor degree from the Faculty of Science and a Doctor of Medicine degree from Chulalongkorn Medical School, Dr. Piyapas went on to pursue five years of General Surgery Training at the Royal Thai Navy Hospital, then sub-specialized in Plastic and Reconstructive Surgery at the Division of Plastic and Reconstructive Surgery, Department of Surgery, Siriraj Hospital.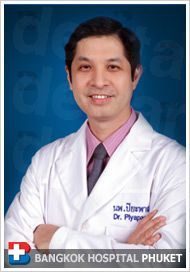 He is expert in more than 10 Cosmetic Surgery Procedures
Before he started working as a Plastic and Reconstructive Surgery consultant at the Bangkok Hospital Phuket , Dr. Piyapas worked on complex, intricate and demanding plastic surgery cases during his specialization at the Queen Sirikit General Hospital and the Royal Thai Navy.
While this experience helped him to narrow down his areas of interest, he also became an expert in more than ten cosmetic surgery procedures: abdominoplasty (tummy tuck), areola reduction, brachioplasty (arm lift), breast lift and breast reduction, forehead lift and facelift, chin implants, labiaplasty, liposuction and vaser liposuction otoplasty (ear surgery), thigh lift and belt lipectomy.
According to reviews, a lot of patients who worked with him are satisfied with his expertise, his standard of care, his quest for excellence and equally important, his personal touch to patient care. Dr. Piyapas' rhinoplasty is one of the procedures he excels at, as this is a field of particular interest to him.
He is Culturally Diverse
Though he was born and raised in Thailand, Dr. Piyapas good reviews indicate how culturally diverse he is. He is used to working with patients from different backgrounds, and is fluent in both Thai and English. Additionally, having travelled across Thailand for medical training and having interacted with patients of Non-Thai origin gave him a greater sense of appreciation for different cultures, which is something important that he added to his personal way of delivering healthcare.
He is accredited Internationally
Dr. Piyapas is a board-certified plastic surgeon, subspecialized in Cosmetic and Reconstruction Surgery and Endoscopic Breast Augmentation. He is an active member of the world's largest international and plastic surgery organizations, which include The Royal College of Surgeons of Thailand (RCST), The Society of Plastic and Reconstructive Surgeons, The American Society of Plastic Surgeons (ASPS) and The International Society of Aesthetic Plastic Surgery (ISAPS) just to name a few.
So if you're looking to have a cosmetic procedure at Bangkok Hospital Phuket, Dr. Piyapas would be a perfect choice given his expertise, hs experience and his dedication to optimal patient care. And if you're in for Dr. Piyapas' breast augmentation or rhinoplasty, rest assured that you're certainly in good hands.