Last fact-checked: 22 November 2020
The Indonesian island of Bali has emerged as one of Southeast Asia's fastest-growing destinations for medical tourism, with plastic surgery clinics in Denpasar, the Balinese capital, offering outstanding value for an array of procedures.
Denpasar is Ideally positioned in the south of the island close to the airport and a number of tropical beaches. we have partnered with a range of verified clinics here that provide safe, tailor-made treatment and effective results.
Learn more about undergoing cosmetic surgery in Denpasar with this brief Medical Departures destination guide.
Denpasar: In Brief
Denpasar is the capital city of the Indonesian island province of Bali. After the city was granted independence from the Dutch in 1949, it became the seat of government for the Province of Bali in 1958 and has remained the administrative hub ever since.
Denpasar has grown rapidly in modern times, becoming the centre of education, industry and commerce in Bali. The city's craft industry remains focused on traditional skills and is renowned worldwide for its hand-made goods. There are many shopping opportunities in Denpasar that includes traditional markets such as the Badung Central Market, where fresh foodstuffs, handicrafts, dried food and spices are readily available. You will discover silk emporiums and gold stores, as well as large shopping malls that contain every type of store imaginable.
Denpasar is a fusion of varied Indonesian cultures, and this is most readily experienced through the local cuisine. Visitors will find a plethora of restaurants that specialise in the many ethnic and regional Indonesian cuisines, from specialist Chinese seafood restaurants to local bakeries and traditional Balinese coffee houses.
It's worth noting that Denpasar is not generally the "go-to" destination for tourists visiting Bali. However, thanks to its convenient location near the southern tip of Bali, prospective patients recovering from treatment here can easily head to one of the nearby beach areas, with Kuta or Legian (towards the west) or Sanur (towards the east) all being a short taxi-ride away. Bali's international airport is also only 13km south of the city.
Where Is Denpasar?
Denpasar, or Kota Denpasar as it is known to the locals, is the largest city and capital of Bali. Located in the south of the island, Denpasar is a popular gateway for tourists looking to explore the island of Bali and other cities located in the Lesser Sunda Islands.
Why Choose Denpasar for Plastic Surgery?
Affordability:
In recent years, the expense of undergoing cosmetic surgery has been one of the driving factors behind the explosive growth in medical tourism. For many patients, savings of up to 70% can be made on the cost of their treatment simply by travelling abroad to undergo their procedures.
For example, in Australia patients can expect to pay in the region of AUD $3,800 for lip augmentation compared to around AUD $345 for the same procedure in Denpasar.
Similarly, blepharoplasty in Australia costs about AUD $6,250 compared to AUD $1,085 in Denpasar.
Quality Medical Facilities:
As more and more medical tourists look to Southeast Asia for high-quality, low-cost cosmetic surgery, competition between medical facilities to attract their custom has seen massive advances in terms of the standards of care, equipment and the same innovative techniques that are used in all of the top clinics and hospitals back home.
For example:
Recommended for bariatric surgery, Kasih Ibu Hospital - Denpasar offers a range of medical care and has been one of the largest general hospitals in the area since 1991. It has received awards for its services, consumer protection and customer satisfaction from the Bali Consumer Protection Foundation.
For effective, non-invasive cosmetic procedures, Rejuvie Aesthetic & Anti-Aging Sanur has received particularly high marks from past patients. As well as common dermal fillers, they offer innovative, age-defying treatments like platelet-rich plasma (PRP) therapy, micro-needling, and human growth hormone therapy.
Doctor Training and Qualifications:
As the standard of medical facilities has advanced, so too has the level of training that doctors are undertaking. Many surgeons now train abroad and graduate from internationally recognised establishments, giving them the same qualifications and skills as western-based doctors.
Tourist Locations for Pre and Post-op Recovery:
Denpasar is a vibrant city with a rich multi-cultural background. Countless temples, museums and palaces for tourists to explore and many of the main sights can be comfortably reached on foot. The city is renowned for its retail shopping opportunities, including locally crafted silver, textiles, pottery and artwork. Visitors can also enjoy the great surfing opportunities at Serangan Island, or enjoy the calmer environment of Sanur beach for a spot of sunbathing or kitesurfing.
It's also a great base from which to explore the rest of the island via private car or taxi, with popular beach destinations like Kuta and Legian as well as the rolling green hills of Ubud all just a short ride away.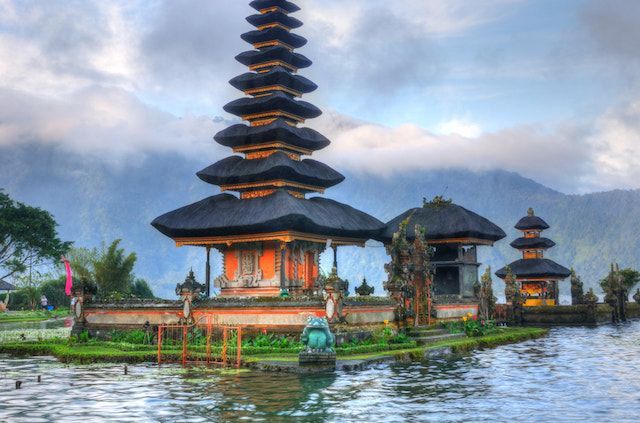 Where to Stay in Denpasar?
Denpasar offers a wide variety of accommodation options to suit every pocket. You will find small budget hotels comfortable enough at a reasonable price. The Mahana Boutique Apartment is a great example, situated close to many tourist attractions and authentic Balinese restaurants. Rooms from as little as AUD $20 per night, rising a little for a suite overlooking the oasis-like swimming pool.
The Praja Hotel Bali is another option situated in the heart of Renon, Denpasar and has 40 stylish rooms available. The hotel is a popular choice with tourists visiting Bali as rooms are generally available for between AUD $30-$60 per night.
There is also a variety of higher-end hotels in Denpasar, such as The Aston Denpasar Hotel & Conference Centre and The Genesis Hotel & Spa. Here you will find four-star facilities including superior quality rooms, suites and interconnecting family rooms. Prices for luxury hotels such as these start from AUD $65-85 per night.
Is Denpasar Safe?
On the whole, Denpasar offers no more danger than visiting any other city in your home country. When travelling in unfamiliar surroundings, it is always prudent to keep valuables hidden from plain view or avoid using back streets for short cuts. By using the same common-sense precautions in Denpasar, your trip should be safe and uneventful.
The vast majority of tourist incidents on Bali involve traffic accidents, particularly when inexperienced drivers try their luck on two wheels around the island's often narrow lanes. We advise getting around the island in a registered taxi, particularly as a medical tourist.
How Can I Be Sure the Quality of Care Is the Same as Back Home?
Medical tourism has become a vital part of the Asian economy in recent years and, as a result, Asian governments continue to invest heavily in their medical facilities and surgical education. Indonesia is no different, with facilities being equipped with the latest technologies and many doctors completing their training abroad.
Medical Departures carry out stringent background checks on each doctor and clinic listed on our website to ensure that all qualifications, experience and professional associations are legitimate. For instance, we:
Undertake site visits to verify that safety procedures, hygiene levels and medical equipment are all of the highest standards.
During these visits, we may take and publish clinic photos on our site so you can see for yourself how modern these facilities are.
Carry out background checks into the legal status of every facility we work with
Interview past patients, helping us to establish how each facility operates and whether their customer service is up to scratch
Collate and publish patient reviews, good or bad, so you can read honest opinions.
All of this information is available free of charge on our site in order to help you select the clinic that best suits your individual needs.
What Happens If Something Goes Wrong?
While it is highly unlikely that any mishaps will occur during your treatment, no medical procedure is 100% risk-free. However, Medical Departures believe that these risks can be minimised, and we will be with you at every stage of the process to provide help and support should anything go wrong. We can even arrange specialist medical insurance before you travel, through a range of independent providers, giving you extra confidence and peace of mind.
Do Plastic Surgeons in Denpasar Speak English?
Yes, the vast majority of plastic surgeons in Denpasar are fluent in English, with many having completed their training abroad in English-speaking countries. You will encounter few language barriers throughout Denpasar in general, with most Balinese people being able to communicate in several languages including Balinese, Indonesian, Chinese and English.
What Payment Methods Are Accepted in Denpasar?
The official currency in Denpasar is the Indonesian Rupiah, and you will need at least some local currency during your stay in the city. For visitors arriving by air from destinations outside of Indonesia, a visa will need to be purchased at the airport upon arrival. This costs in the region of USD $35, but can be paid for with your home currency.
Once you have passed through immigration, you will find a range of ATMs available within the airport for cash withdrawals, although it is advisable to check with your bank before you travel regarding potential charges for foreign withdrawals. There are also money changers available as you leave the airport to exchange currency for Rupiahs, although you will be able to find much more competitive rates simply by walking around town during the daytime—there are hundreds of places to do this.
You can also make card payments at most hotels and many stores throughout the city, but most will probably apply a 3-4% handling fee to any electronic transactions.
When Is the Best Time to Visit a Plastic Surgeon in Denpasar?
Cosmetic surgery procedures are available all year round as our partner clinics only close on major holidays, like Christmas. However, many foreign visitors prefer to book their treatment at a time of the year when local weather conditions are comfortable for them.
With its location slightly south of the equator, Denpasar has a tropical wet and dry climate and is generally hot and humid all year round. There is very little fluctuation in temperature, with the average generally being in the region of 28 degrees Celsius all year round. There are two seasons in Denpasar: wet and dry. The dry season runs between May and October, with the wet season running from November to April.
While temperatures are not extreme in Denpasar, the combination of oppressive humidity, heat and excessive precipitation levels can make the climate uncomfortable from time to time.
Is Denpasar Wheelchair-Accessible?
Most modern hotels and establishments are wheelchair-friendly, although it is fair to say that many older, traditional buildings have stepped access and no ramps. Also, sidewalks can be on the narrow side and, in certain areas, they can be in a state of disrepair and be blocked with debris such as broken concrete.
Hiring a driver for the day is one solution as this will eradicate any navigational issues and the driver will also be able to assist you with access. Our Customer Service team can also help you navigate your clinic visits.
What Is the Downside? What Should I Know About Visiting?
There are minimal risks or threats to visiting Denpasar, although visitors should be vigilant and guard against some obvious dangers. Like in any major city, you should be wary of pickpockets and bag snatchers. By wearing your bag around your neck, rather than just over your shoulder, you can avoid having your bag snatched. Also, try to avoid openly displaying jewelry or cash in public to help lessen the risk of being targeted by petty thieves.
What Else Is There in Denpasar?
There is an abundance of traditional temples throughout Denpasar that provide cultural and historical insight, although if you are planning on visiting any you should make sure you have a sash and sarong as many do not hire out temple dress. At the centre of the city, you will find the Catur Mukha statue that dominates Puputan Square and acts as a landmark and focal point for exploring the rest of the city.
The Bali Museum, originally opened in 1910, offers tourists a comprehensive insight into historical and modern-day Bali, whilst the Sidik Jari Museum and the Taman Wedhi Budaya Cultural Centre document the essence and history of Balinese art. Other places of local interest include Puputan Park, containing the Bajra Sandhi monument, and the Palace of Satria and the Royal Temples which is open for worship and adorned with some breathtakingly ornate carvings.
You will find a number of cultural events, including dance, puppet theatre and art exhibitions. Pesta Kesenian Bali (Bali Art Festival) runs for a whole month and offers a non-stop mixture of cultural and commercial spectacles including daily performances, handicraft exhibitions, village dances, food contests, classical palace dances and contemporary choreography and dance performances. The Bali Arts Festival is the main cultural event of the year in Denpasar, and tourists are invited to experience first-hand the local Balinese village culture.
As previously mentioned, if you are flying all the way to Bali, you will likely not want to spend all your time here in the capital. Check out this Bali travel guide for some inspiration in terms of where else you can visit during your stay.
Traveling to Denpasar
International visitors to Denpasar will arrive by air at the Ngurah Rai International Airport. The airport is located in Tuban, between Jimbaran and Kuta, approximately 30 minutes from Denpasar. The airport is the third busiest international airport in Indonesia with excellent links to Australia, Southeast Asia and the rest of Indonesia.
Tourist Visas
Foreign visitors can obtain a visa on arrival (VOA) when they touch down at the airport. The visa is valid for 30 days; if you intend to stay longer, there is a one-off opportunity to extend the visa for a further 30 days (at a nominal fee), which is a service that can be arranged through a local immigration office at any time during your visit.
This free visa exemption rule is subject to change. You can check the latest international entry requirements for Bali here.
Distances and Flying Times from Other Countries
London, 4829 miles, 16.25 hours
Montreal, 9849 miles, 34 hours
New York, 10166 miles, 25 hours
Los Angeles, 8631 miles, 22.5 hours
Auckland, 4188 miles, 11.5 hours
Sydney, 2871 miles, 6 hours
How Do I Get Started with Medical Departures?
Medical Departures makes booking your treatment in Denpasar as hassle-free as possible. To save time, skip to our full list of clinics and hospitals in Denpasar, Bali by clicking here.
You can book directly online or via our Customer Care Team on the toll-free number provided. They can help with travel arrangements and accommodation, as well as finding a top-quality Denpasar specialist at a price that's right for you.
Sources:
Bali. Hotels.com. Website accessed: 8 September 2020. https://au.hotels.com/go/indonesia/bali
Medical tourism and luxury healthcare set to take off in Bali. Gapura Bali. 1 August 2018. https://www.gapurabali.com/news/2018/08/01/medical-tourism-and-luxury-healthcare-set-take-bali/1533088542
Visa & Immigration Bali. Bali.com. Website accessed: 8 September 2002. https://www.bali.com/visa-indonesia-entry-requirements-bali.html
Things to Do Around Ubud. Deegees. 31 August 2019. https://www.deegees.life/indonesia/things-to-do-around-ubud/
Hotels in Denpasar. Booking.com. Website accessed: 8 September 2020. https://www.booking.com/city/id/denpasar.en-gb.html
Radhakrishnan, Maanasi. 13 Things To Do In Denpasar For A Fun-Filled Vacation In Bali In 2020. 5 November 2019. https://traveltriangle.com/blog/things-to-do-in-denpasar/
Bali. Lonely Planet. Website accessed: 8 September 2020. https://www.lonelyplanet.com/indonesia/bali
Best Times to Visit Bali. U.S. News. 2020. https://travel.usnews.com/Bali_Indonesia/When_To_Visit/