Patients opt to have their breast implants removed for a number of reasons: it could be because of complications, safety reasons or the implants in the breasts are too old. South Korea is one of the best places to visit for this treatment as it is both affordable and offers high-quality surgery. Here are some reasons why you should have your breast revision procedure in South Korea:
South Korea is the Plastic Surgery Capital of the World
Plastic surgery is perhaps too popular in South Korea : both men and women in Korea take beauty very seriously, and added to the local demand are patients from China, Japan, and other Asian countries. Now savvier Westerners are traveling for inexpensive yet high-quality procedures, ranging from surgical treatments such as liposuction, facelifts and tummy tucks to non-invasive laser and dermal filler work.
World Class Medical Facilities
As you would expect from a first-world country, South Korea's medical facilities are world-class . South Korea is also one of the world's technology hub, so the medical equipment is state-of-the-art and more than meets international standards for safety and hygiene.
South Korea has Lots of Activities
In your free time in South Korea, you will discover much to do. From touring the high-tech capital Seoul to visiting the semi-tropical Jeju Island, you will have no difficulty filling your time in this amazing country.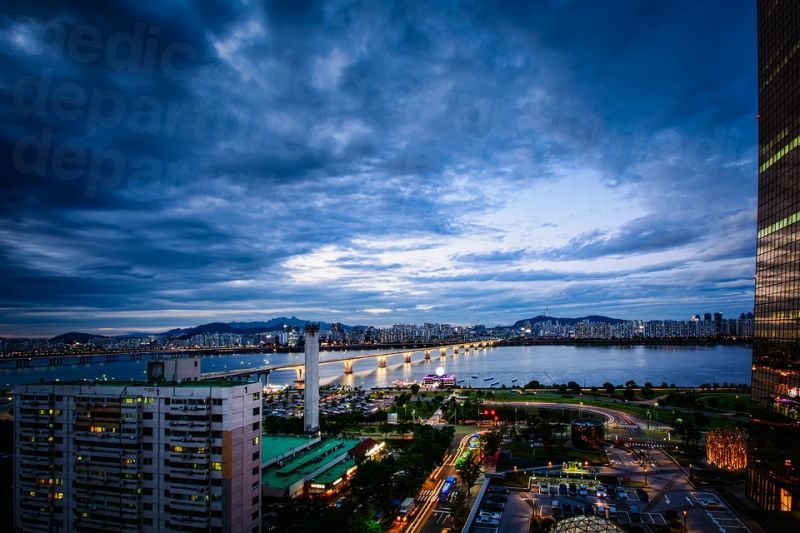 Affordable Procedures
This comparison table shows the average prices for breast revision in South Korea compared to treatment in Western countries.
| | | | |
| --- | --- | --- | --- |
| | US$ | NZD$ | AUD$ |
| US, Canada, Australia | $12,000 | $16,688 | $15,241 |
| South Korea | $2,346 | $3,262 | $2,980 |
What is Involved with a Breast Revision?
Breast revision surgery normally takes between one to three hours . Adjustments to the breast pocket will be made to either house a different size implant or tighten it up. If old scar tissue needs work then it may take longer. Incisions are made over existing ones so there is no additional scaring.
Breast Revision Reviews
South Korean clinics are popular for breast revision and as such you will find dozens of patient reviews online to help you gauge the clinic's credibility and reliability. Reviewing these, as well as before-and-after photos will also help manage your expectations. You can find a number of verified reviews on Medical Departures, and we can even arrange for you to contact the reviewer if you want more information.
Recommended Clinics
Banobagi Plastic Surgery & Aesthetics is an advanced medical facility that provides a wide range of plastic and aesthetic treatments. They also offer this exclusive Medical Departures promotion: No Worries Warranty – Banobagi Plastic Surgery & Aesthetic
Mizain Clinic specializes in providing surgical and non-surgical treatments that can enhance and rejuvenate your body, inside and out. They also offer the No Worries Warranty – Mizain Clinic .
TS Plastic Surgery offers extensive facial and body contouring treatments from their experts in breast revision.
Getting Started
For an affordable yet world-class breast revision procedure in a first world country, South Korea has everything that you need. Organize your trip now through Medical Departures Customer Care Center, or book your appointment directly through our convenient online scheduler.
Sources
Stevenson, Alexandra. South Korea Loves Plastic Surgery and Makeup. Some Women Want to Change That. New York Times. 23 November 2018.
https://www.nytimes.com/2018/11/23/business/south-korea-makeup-plastic-surgery-free-the-corset.html
Mundy, Simon. South Korea's ambitions in medical tourism. Financial Times. 17 October 2014.
https://www.ft.com/content/b84a4f08-4570-11e4-9b71-00144feabdc0
Breast Implant Revision. American Society of Plastic Surgeons.
https://www.plasticsurgery.org/cosmetic-procedures/breast-implant-revision
Health Care Option. www.korea4expats.com
https://www.korea4expats.com/article-health-care-options-korea.html