Do you need a breast revision doctor? Bangkok has a highly recommended breast revision doctor, Dr. Bhumsak Saksiri who is an expert and experienced plastic surgeon.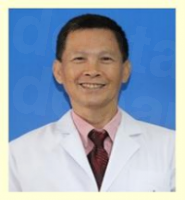 Why would you need a breast revision?
A breast revision may be required if you have previous had breast augmentation surgery and have not been happy with the results or have developed some problems later. At times an implant can deflate and you may need another implant. Or you may be unhappy with the current size of the implants and want to use bigger or smaller ones.
It is possible that you may have other problems like capsular contracture when tissue tightens around the current implants. At times the implants may shift position or you may develop what is called a unibreast where the breasts look like one without separation or cleavage. In any of these cases you may well require breast region surgery.
Going to Bangkok for breast revision surgery
When you need breast revision surgery, it becomes imperative to get one. You may not want to go to the original doctor who did the surgery for any reason, so you are on the lookout for an affordably priced plastic surgeon to do your breast revision.
Bangkok is a premier medical tourism destination, seeing hundreds and thousands of medical tourists who come for all kinds of plastic surgeries and cosmetic treatments, thanks to the low prices, high quality care and the fact that the city has easy connectivity. From many countries you don't need a visa or get a visa on arrival at the airport. In Bangkok you can find hotels to suit your budget and can go pretty much any time of the year taking advantage of the moderate climate.
Top breast revision doctor in Bangkok
Dr. Bhumsak Saksiri is a highly qualified plastic surgeon. After getting his practicing license in Thailand and post graduate education, he has studied further and is an expert at all kinds of plastic surgeries including breast revision, liposuction buttock augmentation, facial and reconstructive surgeries.
He is an Interplast Fellow (Plastic Surgery) Stanford University Medical Center and member of the Oriental Society Of Aesthetic Plastic Surgeons (OSAP) .
Cost of breast revision surgery in Bangkok
You may well think that the top breast revision doctor in Bangkok will be extremely expensive. That is not the case. Thanks to the lower cost of living and many other factors, Bangkok is reasonably priced for medical care and treatment.
The breast revision that would cost you AU$15,907 (NZD16,684, £9,400, €10,681, US$12,197, CAD15,892) in your home country, would cost only AU$5,627 (NZD5,902, £3,325, €3,778, US$4,314, CAD5,622) when done by Dr. Bhumsak Saksiri in Bangkok. With the surgery costing almost a third of the price, you still save a great deal despite travel, stay and food costs in Thailand.
If you need breast revision surger, don't delay but book now with Medical Departures for your surgery by Dr. Bhumsak Saksiri, one of the top breast revision doctors in Bangkok