Deciding to get a hair transplant procedure is not an easy decision, and it is not one that should be taken lightly. While the results can make it well-worth it, it is a very expensive procedure, one which could easily end up costing you over $10,000. For this reason, every year, more and more people are packing up their bags and heading overseas in hopes finding quality affordable treatment. Many of these people are finding exactly what they're looking for in beautiful Bangkok, Thailand. If you want to learn more about a hair transplant, Bangkok, reviews of clinics and more, this article is for you!
Why choose Bangkok?
Bangkok, Thailand is a great place to visit for many reasons. It is home to amazing ancient temples, delicious street food, exciting nightlife, huge shopping centers, and much more. In fact, millions of tourists visit Bangkok every year. But the tourist attractions are not the only things bringing in visitors. Thailand is also famous for its low priced high quality cosmetic surgery options. In Bangkok, the same procedures that you would get at home, are offered at prices so low, you might just have to run home and start packing.
What is a hair transplant?
If you are bald, balding, or have lost hair due to illness or burns, you might be a good candidate for a hair transplant. During a hair transplant, a doctor will extract living hair follicles from a donor location, and carefully implant them into the areas where you wish for hair to grow. Ideally, the follicles will survive and flourish, leaving you with the hair that you've been missing. Generally, there are two methods of extracting hair follicles: FUE, and strip harvesting. With FUE, or follicular unit extraction, the doctor will attempt to remove the hair follicles individually from the donor site. In strip harvesting, a large strip of skin is removed, broken down, and the hair follicles are removed and implanted in the new site.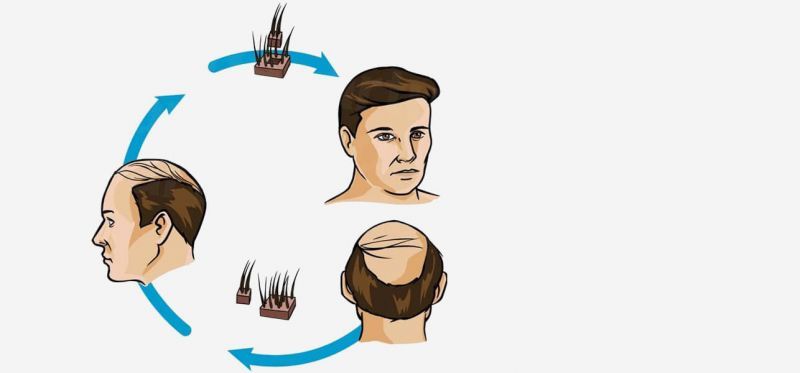 How much does it cost in Bangkok?
In Bangkok, cosmetic surgery is often prices at around 70% of the price you would pay at home. In Australia, a hair transplant would cost an average price of around AUD $12,000. Now compare that with the AUD $7,407 you would be paying in Thailand for a hair transplant. Bangkok , is a mesmerising city so Imagine all that you could do with an extra $5,000 in your pocket. In addition to hair transplants, you can save money on other procedures as well, such as rhinoplasty, liposuction, tummy tucks, face lifts, and much more.
What are former patients saying about their transplants?
Patients are leaving glowing reviews about their Bangkok hair transplants.
Carmine says:
"I still get compliments on it from those who know I've had it done. Other people just think I have my hair."
Grace says:
"Fantastic service. I love my new look!"
Mark says:
"The doctors were incredibly professional and were very helpful in answering my questions. I would definitely recommend it to a friend."
If you would like to learn more about a hair transplant, Bangkok reviews, or see a list of clinics, check out our website, or speak with one of our customer service representatives. They are available and ready to help you 24 hours a day.