Is baldness becoming an issue? Want to eradicate hair loss? Save more than 30% on a hair transplant in Thailand with Medical Departures.
Find, choose and book a fully-approved hair transplant surgeon and receive top-notch quality care at a fraction of the price. Relax and recover, pre and post-surgery in one of the globe's leading medical tourist destinations, filled with diverse landscape, stunning beaches and lush forests.
Why Choose Thailand for Hair Transplants?
Thailand's medical tourism industry is thriving, attracting millions of overseas patients every year for nearly every conceivable medical procedure. Thailand welcomes large number of patients from Australia and New Zealand seeking inexpensive, high-quality hair transplant treatment. This sector is growing at a rate of more than 15% each year.
Accessibility, price, world-class healthcare facilities and clinical expertise are major factors in the patient decision-making process. Thailand clinics offer the latest techniques, including follicular unit strip surgery (FUSS) or follicular unit extraction (FUE).
Medicine is highly-respected in Thailand with only the finest candidates admitted to Thai medical schools. Training is rigorous with cosmetic surgeons undertaking specialist training hair transplantation and other cosmetic surgery specialties. Medical expertise is second to none with numerous private clinics dotted around major tourist destinations catering to patients' needs.
Furthermore, all our background-checked clinics performing hair transplants in Thailand feature modern interiors, state-of-the-art equipment and English-speaking staff, ensuring a first-rate patient experience.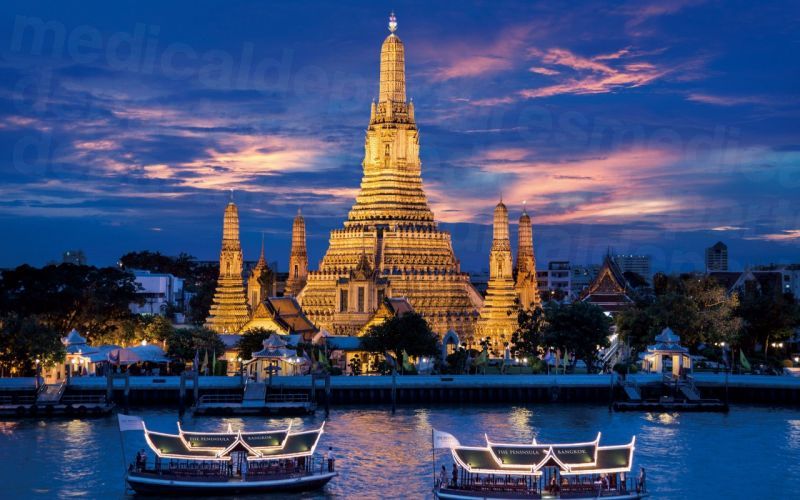 Will I Receive the Same Level of Care in Thailand?
We understand choosing your hair transplant clinic and surgeon is crucial. Although there is no guarantee with any treatment, Medical Departures thoroughly vets each clinic for stringent hygiene, doctor qualifications, affiliated memberships and quality standards.
We also perform on-site visits, giving you a clear idea of what to expect: check out high-definition photos and images on our site, view maps and compare prices before you book. Notable hair transplant clinics include Yanhee Hospital Health and Beauty , Bangkok Hospital and Phuket Plastic Surgery Institute .
Hair Transplant—Overview
So what is a hair transplant? Conducted under local anesthetic, this safe procedure
involves removing a narrow strip of hair-bearing scalp from the back of the head to fill in an area with thin or little hair. The transplanted hair above the scalp will initially be shed, and the roots will remain dormant for around six to twelve weeks. After this period, new hairs will start to grow.
What is the Price of a Hair Transplant Compared to Home?
Save more than 30% on the hair transplant cost in Thailand
Hair transplant cost in Australia: $12,500 AUD

Average hair transplant cost in Thailand: $5,500
Why Choose Thailand?
The ideal place to relax and recuperate, both pre and post-treatment, Thailand is brimming with glorious beaches, water-sport activities, magnificent rainforests and distinct terrain.
Medical tourists visiting for first-class, cost-effective cosmetic care have access to several Thai cities thanks to cheap domestic flights. For beach-enthusiasts, Phuket remains popular as one of the world's cosmetic surgery meccas.
Other beaches of note feature Kata, Karon, and Rawai, as well as the upscale Ao Bang Thao and Hat Surin. Experience verdant hills, adventure trails and hidden villages in Chiang Mai and mouth-watering street food in bustling Bangkok. Discover rice paddies, gleaming temples, silvery waterfalls and limestone cliffs in the South.
If you are more of a city person, Bangkok offers a wealth of choice, not to mention cultural, dining and consumer activities to suit any palate.
Staying in Thailand
A multitude of accommodation options await you in Thailand suiting all budgets and wallets. Depending on location, Bangkok is at the heart of the action, whilst resort coastal town might prove easier on the nerves. Excellent healthcare facilities are plentiful across Thailand with a myriad holiday options before treatment, or recovery choices post-op.
How Do I Book?
Search our extensive listings for quality-checked doctors and clinics in Thailand . Save thousands and take advantage of our best price guarantee .
When you are ready to book, see below for ways to make your appointment, or contact our Customer Care Team 24/7, who will be more than happy to assist with your plans for plastic surgery in Thailand.