Known for its pristine tropical beaches, opulent royal palaces, ancient ruins, ornate Buddhist temples and warm Thai hospitality, the Kingdom of Thailand has become a major destination for Medical Tourism. The favorable exchange rate, world class health-care and medical services at competitive rates make Bangkok Liposuction Clinics an attractive option compared to what you can get for the same amount of money at other destinations.
The top 5 Bangkok Liposuction private hospitals are Samitivej Hospitals, Bangkok Hospitals, Nirunda Cellport Thailand Clinic, KTOP Clinic and Kamol Hospital. These hospitals are fully accredited by the Joint Commission International of the United States (JCI), a standardisation marker for healthcare service providers around the world, so you can be assured that they meet international standards of excellence.
Samitivej Hospitals - open since 1979, it is reputed to be the leading centre of medical tourism in Southeast Asia, and it has 3 JCI accredited hospitals. The Samitivej Hospitals Sukhumvit Branch is an award-winning facility with 270 beds, state-of-the-art medical equipment, bilingual, professional qualified staff and 1200 caregivers.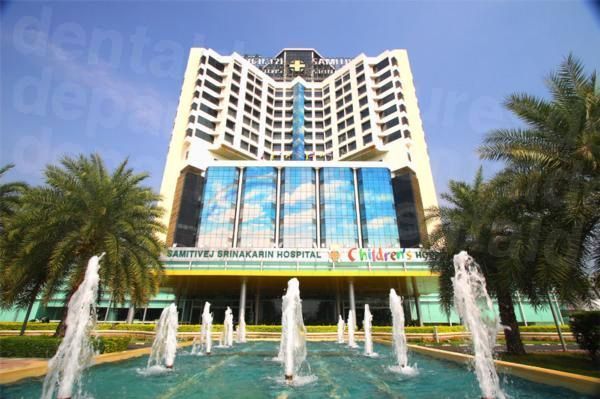 Bangkok Hospital - with a network of 15 hospitals all over Thailand, this renowned hospital received permission from the Royal Household to display the Garuda emblem. It's international Medical Center caters mainly for medical tourists. The hospital employs 800 bilingual highly experienced and qualified doctors doctors.
Nirunda Cellport Thailand Clinic - founded in 2007, Nirunda take pride in their innovative technologies, constantly improving knowledge and family-like service, prioritising patient's health and satisfaction.
KTOP Clinic - is the first overseas branch of Korea's premier Grand Plastic Surgery Hospital. It boasts highly skilled professional staff and specialist techniques, and state-of-the-art aesthetic and plastic surgery services.
Kamol Hospital - JCI accredited, and with a large team of talented and skilled surgeons, Kamol provides exceptional extensive facilities for surgical procedures.
Together these hospitals come with a formidable reputation of being the leaders of medical tourism in Southeast Asia, with world class technology and equipment, internationally qualified professional staff, and high standards of medical care. Multilingual interpreters and health staff are available throughout.
Catering to mostly foreign patients, these hospitals and clinics aim to provide exceptional standards of medical care at affordable prices. Liposuction and Vaser Liposuction procedures cost a fraction compared to home, and often these surgeries are offered at discounted rates as part of a medical tourism package.
Average Liposuction surgery costs AUD6,726, NZD7,306, GBP3,916 and USD5,050 (promotional rates start from AUD1,439, NZD1,564, GBP838 and USD1,082)
Average Vaser Liposuction surgery costs AUD4,607, NZD5,010, GBP2,682 and USD3,464 (Promotional rates start from AUD2,463, NZD2,675, GBP1,434 and USD1,852)
On average, the same procedure would cost AUD12,600 in Australia, NZD12,000 in New Zealand, GBP5,500 in UK and USD8,800 in America
These top 5 Bangkok Liposuction Clinics have maintained 4.5 star and 5 star reviews from their former patients and are dedicated to making your experience comfortable and stress free.
Get in touch with Medical Departures to find out more about our Medical Tourism packages.