Last fact-checked: 12 October 2019
With Medical Departures, you can easily find and locate clinics for laser hair removal in Bangkok. Whether you live in the city, are a frequent visitor or simply planning a trip of a lifetime to Thailand, we can help you find the right clinic at the right price.
Laser Hair Removal – In Brief
Laser hair removal, also called laser hair reduction, is an effective way of getting rid of unwanted hair from practically anywhere on the body or face (apart from around the eyes). Hair in unwanted areas is exposed to pulses of laser light that damages the targeted follicles, rendering them unable to reproduce hair.
While the treatment sometimes results in permanent removal, eventual regrowth over the years is common. Although you may experience some discomfort post-treatment (such as itching or redness of skin), long term side effects are rare and the procedure is practically risk-free.
You will need a course of treatments over several weeks. Many of our patients receive their first treatment while traveling to Bangkok, then either return a few weeks later for follow-up, or visit a clinic in their home country.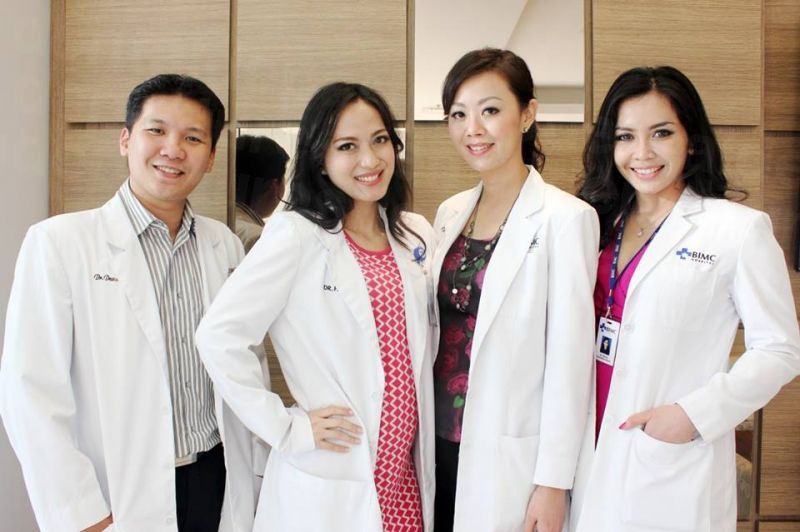 Am I Suitable for Laser Hair Removal?
If facial or body hair makes you feel self-conscious, or you desire longer-lasting alternatives to shaving, bleaching or waxing, then laser hair removal could be for you.
Laser hair removal is most effective for people with light skin and dark hair, as the laser targets the melanin (the pigment) in the hair. State-of-the-art laser equipment can now detect and removes blonde, red and even grey hair. You should check with your specialist to determine whether your hair and skin will be responsive to the laser used by the clinic.
You must be prepared to undergo several treatment sessions to clear the area in question as the laser only affects hair in the active stages of growth. Any hair that is dormant will be unaffected as different hairs have different growth cycles. It takes three to eight sessions to stop hair growth entirely.
Common treatment areas include the chin, upper lip, bikini line, underarms and legs.
What Is the Procedure for Laser Hair Removal?
A number of devices are used for laser hair removal. The device or combination of devices used is dependent on variables including hair thickness and color, skin type and the size and location of your desired treatment area. For example, pulsed Light Devices and Alexandrite lasers should not be used on dark or tanned skin; Diode and Nd:YAG lasers are preferable.
Your clinician will talk you through the options to suit your particular circumstances before treatment begins.
First, the hair in the area to be treated will be trimmed to a few millimeters long which allows the light to more effectively penetrate into the hair follicles. You will be asked to wear eye shields to protect your eyes from the laser beam.
A test treatment to the specific area will usually be performed. That area will be tested for adverse reactions and to ensure the settings are correct. If everything is as it should be, the treatment will be carried out, taking a few minutes to an hour, depending on the size of the area.
What Is the Recovery Time for Laser Hair Removal?
The treatment may be uncomfortable – the sensation is a little like having an elastic band flicked across your skin – but isn't painful. Ice packs, creams or anti-inflammatories may be useful to apply to the treated areas after your treatment is completed.
You should notice smoother skin and a reduction of hairs in the treated area, and any redness will resolve quickly.
Follow-up treatments are recommended between four and eight weeks, during which time you may see hair growth from the follicles that were dormant during your treatment. Hair growth will decrease over time and often never comes back.
Why Have Laser Hair Removal in Bangkok?
Bangkok offers safe, reliable facilities for international patients seeking surgical as well as non-invasive cosmetic treatments. In addition to Thailand's high medical standards, Bangkok has a deserved reputation for delivering an excellent patient experience. As important, prices are considerably less than they are at home, with savings of up to 70%.
While it is little wonder Bangkok is such a huge draw as an international cosmetic treatment destination, patients should use great care selecting a clinic. Because treatments such as laser hair removal are not as highly regulated or policed, you want to visit only a reputable facility, and not base your decision on attractive pricing alone.
Medical Departures sets out to provide patients with a trustworthy resource to find reliable clinics and make an informed choice. We perform background checks, including malpractice and criminal records, as well as ascertaining qualifications and training of practitioners. We also provide clinic photos, virtual tours and verified patient reviews on each clinic's listing, giving you the chance to look before you book and the information you need to make an informed choice before you commit to your treatment.
How Much Can I Save on Laser Hair Removal in Bangkok Compared to Australia or New Zealand?
Prices vary according to the area you are having treated and the types of equipment used. Generally, you can expect to pay around AUD $100 for laser hair removal in Bangkok, compared to AUD $300 in Australia.
Our former patients have given high marks to:
What's Next?
Find out more about our great quality clinics and the many services they offer. Once you have selected a clinic, we make it easy for you to book an appointment online. Feel free to get in touch with our Customer Care Team for more information about laser hair removal in Bangkok.
Sources:
Fontana, Danielle. Derms Break Down Exactly What to Expect With Laser Hair Removal. New Beauty. 6 August 2019
https://www.newbeauty.com/hottopic/blogpost/7482-laser-hair-removal-what-to-expect/
Laser Hair Removal For Blonde Hair: 5 Things To Know. Mclean Plastic Surgery. Website accessed: 12 October 2019. http://www.mcleanclinic.com/blog/hair-removal/laser-hair-removal-blonde-hair-5-things-know/
Thailand, third biggest medical tourism destination in the world. The Thaiger. 1 November 2018.
https://thethaiger.com/thai-life/thailand-third-biggest-medical-tourism-destination-in-the-world