Do you want a better looking nose, but the cost holds you back. For a reasonably priced nose job cost, Bangkok is a go-to place for cosmetic surgery that may be expensive at home. Thailand has developed into a major medical tourism destination and Bangkok being a large and bustling city has many medical centers with plastic surgery departments. In fact, Bangkok's plastic surgeons are very popular, seeing large numbers of tourists who come to improve their looks with affordable treatments.
What does a nose job do?
A professional and experienced plastic surgeon will not give you the nose that you want if it does not match your face. Rhinoplasty is a nose reshaping procedure that could involve re-modeling cartilage and bone, and is typically carried out under local anesthesia. It is usually a treatment of choice for a nose that is too small or too big, has a bump in the middle, the tip is not attractive enough or you don't like the size of the nostrils. You can check out nose job reviews and see the nose job before and after pictures to see how people's appearances have improved after the surgery.
It may also be performed if you feel that your nose is crooked, not aligned well and if you have a deviated septum or nasal blockage. A nose can be made bigger with the use of fat grafting or tissue fillers. For simple work, your doctor may advise the use of dermal fillers instead of plastic surgery as this is a minimally invasive procedure. But this really depends on the shape and size of your nose and the end result should be a nose that is in balance with the rest of your facial features.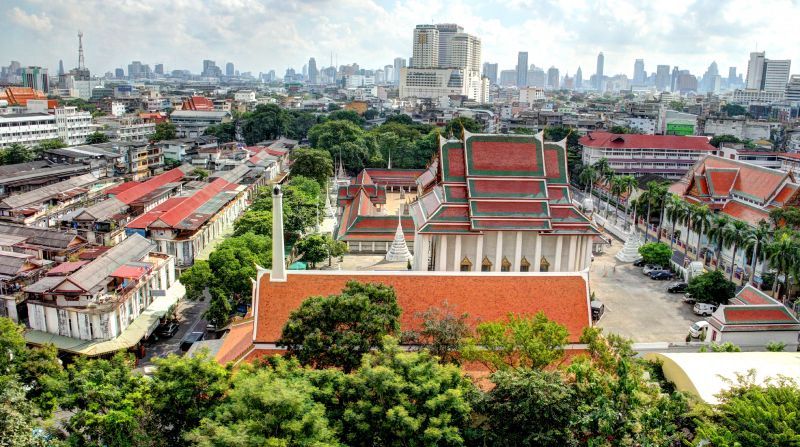 What is the nose job cost in Bangkok?
A nose job in western countries is quite expensive and you can pay an average of AUD$8,000 (NZD$8,346, £4,694, €5,355, US$6,069 CAD$7,888) in Australia and other countries. In Bangkok, however, you would pay around AU$2,225 (NZD$2,321, £1,305, €1,489, US$1,688, CAD$2,193) for similar work. However, rates will be much lower if you don't require surgery and get the work done using implants or fillers.
Since you would save more than 70 percent of the money, it is definitely cost- effective for you to go to Bangkok to get a nose job.
Clinics for nose job in Bangkok
Among the high-quality clinics that perform nose job using different techniques and surgical options and have been verified by Medical Departures are:
Nida Skin & Cosmetic Surgery – this has different branches in Bangkok.
Absolute Beauty Clinic – is part of a Thai chain of beauty clinics.
Nida International Cellesthetic – has dermatologists and plastic surgeons on the team of doctors.
Beaute Equilibree – all kinds of cosmetic surgeries and treatments are available here, tailored to individual requirement.
Aime Clinic – has different branches in various areas of Bangkok and does all kinds of surgeries and cosmetic treatments.
Book with Medical Departures for an affordable nose job cost. Bangkok's clinics are reliable and safe – and with us you are assured of the best prices. Book online or speak to Customer Care if you need further information concerning nose-jobs in Bangkok .