Medical Departures is here to help
If you've already decided to have your medical treatment performed in Bangkok,Thailand - the medical-tourism epicenter of Asia - to capitalise on the enormous potential savings on high-quality, international-standard procedures, then you are well aware of the daunting task now ahead in selecting which hospital out of hundreds best suits your personal needs and budget. That's exactly where Medical Departures makes it easy. Our extensive database of treatments and expert clinics and hospitals, includes more than 200 facilities. In order to assist your decision-making, we have compiled the ultimate guide to the top 3 best hospitals in Bangkok. It is no surprise that the centrally located Phyathai 2 Hospital is ranked very highly for aesthetic procedures like breast augmentation, breast implants and tummy tucks.
The Ultimate Pick: Bangkok's Top 3 Hospitals
Bangkok has very deservedly built world-wide credibility for its internationally-accredited, world-class facilities and highly qualified practitioners for a wide range of procedures, especially when it comes to aesthetic treatments.Some of the top hospitals are: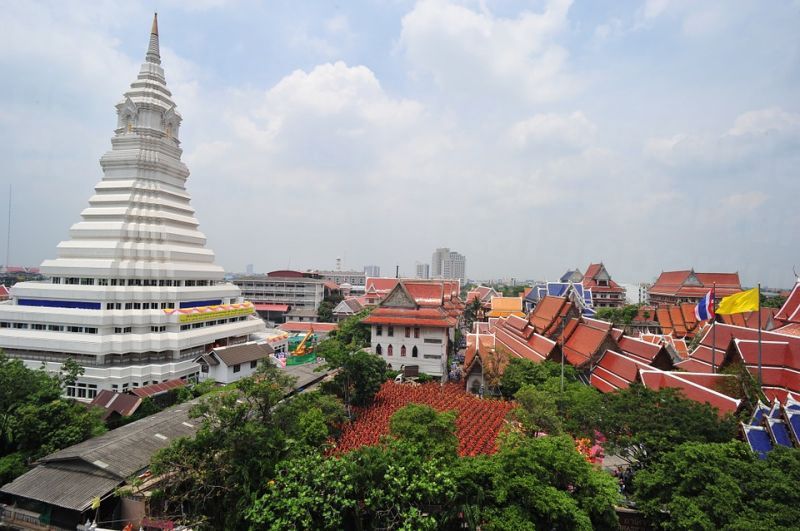 Phyathai 2 Hospital Bangkok
Since 1987, Phyathai 2 Hospital, a JCI (Joint Commission International) accredited facility - which signifies the gold seal of approval for commitment to safety and quality - has built its global reputation for an extensive range of clinical services including: ear,nose and throat, heart and neurology, pediatrics, gastro-intestinal, orthopedics, assisted reproduction, and women's care such as gynecology, oncology and menopausal-related issues. In a state-of-the-art 550-bed facility, centrally located and very close to mass-public transport, this hospital houses some of the world's most cutting-edge technology and employs truly innovative techniques and treatments.
But perhaps, in terms of medical tourism, Phyathai 2 Hospital is best known for its Beauty Center, which provides expertise in a huge range of aesthetic procedures including rhinoplasty, breast augmentation and breast implants, tummy tuck, right through to entire gender reassignment, all using the latest technology and equipment.
You are truly receiving international standard treatments by world-class practitioners, many of whom have been trained in our own home countries at just a fraction of the cost back home. If you take a look at the Medical Departures price list for Phyathai 2 Hospital, you will see massive savings are possible when compared with the same treatments in your home country. For an Australian needing breast augmentation, for example, it would cost AUD $15,680 in Australia, but a breast augmentation in Bangkok - a mere AUD $3743 to $5,24, saving you ,at least, a whopping 67%.
So take a closer look at Phyathai 2 Hospital on Medical Departures to help you make a much more informed decision.
Yanhee Hospital Bangkok
Yanhee Hospital, located on Charansanitwong Road, is one of the most renowned and respected hospitals in Thailand, given that 75% of its international patients from 162 countries are repeat clients, a fact that is clearly testament to their medical excellence in affordable health, cosmetic and beauty services. Founded in 1984, Yanhee hospital has been delivering world-class medical expertise by highly qualified and extensively experienced doctors in a wide range of treatments, in a JCI (Joint Commission International) accredited, one-stop facility.
Yanhee Hospital prides itself in the on-going professional development of its staff to keep at the forefront of current medical technology and techniques. And all this comes at a very reasonable price in comparison to the same services back home. A tummy tuck would cost you AUD $10,950 in Australia, for instance, yet is a fraction of that in Thailand at Yanhee Hospital, where it costs on average from as low as AUD $636 up to AUD $4,867, depending on your individual case requirements. That's, at minimum, well over a 50% saving!
Why not explore further, at Medical Departures, the tremendous savings you can realise at Yanhee Hospital.
Kamol Hospital
Kamol Hospital , also JCI (Joint Commission International) accredited, is a world-class aesthetic surgery facility in Bangkok delivering excellence and innovation. Conveniently located in Ladprao district in Northern-Central Bangkok, Kamol Hospital boasts an extensive team of some of the most highly skilled and experienced aesthetic surgeons in the world. Headed by Dr. Kamol Pansrithum, a talented plastic and general surgeon who has devoted 31 years to changing the lives of his patients, Kamol Hospital is internationally accredited and highly regarded globally for its skill in gender reassignment surgery as well as breast augmentations and breast implants.
If you're not fully content with your current body shape, Kamol Hospital can provide you with expert advice on breast implants and other cosmetic procedures, plus a free personalised quote, by checking them out at Medical Departures.
Of course, Bangkok, and indeed Thailand, are home to many more world-class hospitals and this guide has looked at three of the best, including Phyathai 2 Hospital, which is one of the most highly regarded and respected Hospitals in Asia for medical tourism and, in fact, all medical and aesthetic treatments.