If an embryo successfully forms, it is then placed back into the uterus to develop naturally. There are a number of factors that can influence the success of the treatment, such as lifestyle, age, reproductive history and cause of infertility.
Traveling abroad for in vitro fertilization treatment does not make the process any riskier than undergoing the same procedure at home. In fact, a case can be made for having the treatment whilst relaxing on an exotic vacation in a popular tourist destination such as Singapore!
What is the Standard of Treatment Like in Singapore?
To ensure you optimize your chances of being successful, it is imperative that you attend a top-class facility with a proven track-record and well-experienced IVF specialists.
At Medical Departures, we've researched the available options, carrying out background checks to verify the legitimacy of all doctor qualifications and professional memberships. We've also performed site visits to assess the quality of each facility and to ensure that they adhere to international standards for sterilization techniques and health & safety protocols.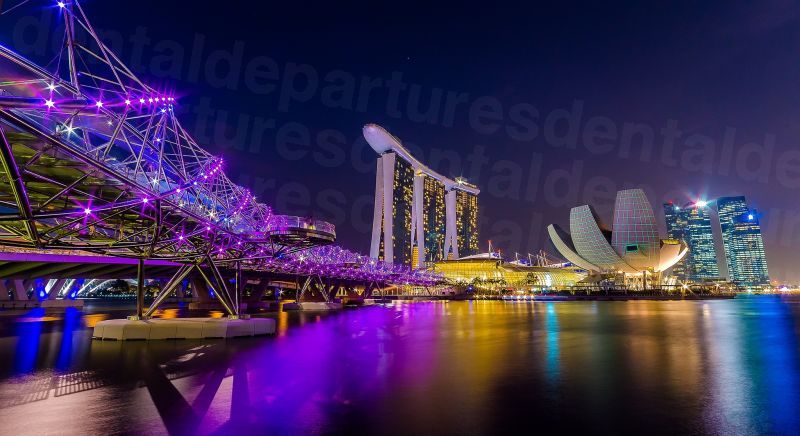 How Successful is IVF at Clinics in Singapore?
We've made all of this information available in our exclusive listing of quality-checked in vitro fertilization clinics in Singapore , and the following facilities come highly recommended for their IVF success rates:
The Mount Elizabeth Fertility Centre provide clear and realistic information to each patient about their individual chances of fertility success. Their IVF success rates are a testament to their expertise and upholding of high standards in the field of fertility treatment, clinical embryology and laboratory technology. In 2015/2016, they had an overall pregnancy success rate of 43%.
The Thomson Medical Centre provide a comprehensive suite of fertility services that includes consultations, scans, fertility screening, andrology laboratory services, nurse counselling and IVF facilities all available under one roof. On average, 20 to 30 per cent of patients who have embryos replaced get pregnant.
How Much Does the Treatment Cost?
IVF price Singapore
IVF treatment is an expensive undertaking and the cost will vary from clinic to clinic. To get a low IVF price, Singapore clinics are significantly cheaper than hospitals in your home country. Below is a price comparison between Mount Elizabeth Orchard, Thomson Medical Centre, and an average cost for the same treatment at a clinic domestically:
· Average Domestic Cost for IVF Treatment:
AUD 16,000 (NZD $17,531; USD $12,412; CAD $15,567; GBP £9,443; EUR €10,572).
· Price at Mount Elizabeth Orchard:
AUD 10,541 (NZD $11,550; USD $8,177; CAD $10,255; GBP £6,221; EUR €6,963) – overall saving, 35%.
· Price at Thomson Medical Centre:
AUD 7,591 (NZD $8,317; USD $5,888; CAD $7,384; GBP £4,480; EUR €5,014) - overall saving, 52%.
To find out more about the cheapest IVF in Singapore, get in touch with a member of our Customer Care Team now.