Last fact-checked: 10 November 2021
Busy moms can get their pre-pregnancy bodies back in just one session of surgery with a Mommy Makeover abroad, with top medical-holiday destinations including Turkey, Mexico, Thailand, Bali, Costa Rica and many attractive locations.
Typically combining a tummy tuck, breast lift and liposuction, this flexible, tailor-made treatment package can transform specific areas of the body at the same time—with the biggest advantage being that patients only have to endure one recovery period.
Discover what this increasingly popular surgical option entails, as well as how much you can save at one of Medical Departures' quality-checked mommy makeover clinics or hospitals around the world.
What Is a "Mommy Makeover?"
Comprised of several surgeries performed simultaneously or concurrently, a Mommy Makeover is designed to address the effects that pregnancy can have on tummies, breasts, legs, and other areas that aren't as firm or perky as they used to be.
The great thing about this increasingly popular cosmetic concept is that patients only need to go through one (albeit longer) session of surgery and subsequent recovery time.
The alternative for those seeking work on their boobs, bums and tums would be to undergo one individual session surgery, wait up to six months until fully recovered, and then repeat. Depending on the number of surgeries a patient is set to undergo, this whole process could take years.
Price is also another selling point of the mummy makeover: many clinics will offer special discounted packages for certain surgical combinations—and you can ask Medical Departures to give you the best rates online—guaranteed—in your desired destination.
What Does a Mommy Makeover Include?
A mommy makeover (or "mummy makeover" for those using British English) can typically include:
Breast lift
Breast augmentation (implants)
Tummy tuck
Liposuction
However, depending on your cosmetic goals, overall health and expertise of the individual surgeon(s), a mommy makeover doesn't need to stop there. It may also include:
Thigh lift
Arm lift
Facial liposuction
Brow lift
Rhinoplasty (nose job)
Butt lift (gluteal lift)
Ultimately, a mommy makeover is very flexible, and can include two, three or even four procedures. A board-certified surgeon will have the final say as to whether your desired combination of procedures can be performed safely.
Some surgical combinations will be advised against due to the increased risk of complications. An example of this would be combining a Brazilian butt lift (BBL) with work on other parts of the body due to complexity of fat transfer.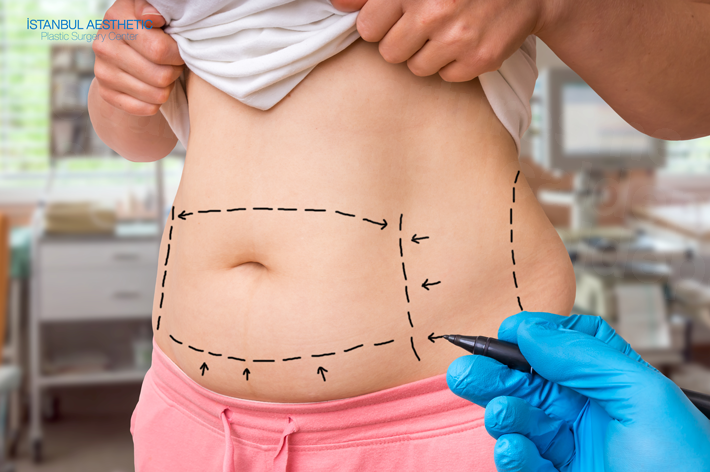 Credit: Istanbul Aesthetic Center
Am I Suitable for a Mommy Makeover?
If you are fed-up with stretch marks, a sagging tummy and pockets of fat on your abdomen, waist, thighs or arms that do not improve with diet and exercise, or the shape and size of your breasts have changed for the worse, then a Mommy Makeover could be a good option.
You are likely to be a successful candidate for the procedure if you are:
In good general health
Have maintained a relatively stable weight for at least six months
Are not recovering from any other surgery
Have no underlying medical conditions that would add risk to being under general anesthetic
Have realistic expectations along with a positive attitude
Have a BMI of under 30
What Can I Do Before and After Surgery to Improve Recovery?
You will need to follow pre- and post-Mommy Makeover surgery advice from your surgeon as the surgery will take several hours and place heavy demands on your body for healing. This normally includes:
Reaching a target weight, making sure you do it at least a month before surgery (if you are overweight)
Exercising daily
Maintaining a healthy diet as the nutrients will help with recovery
Quitting smoking at least one month before surgery as this may cause complications and slow down the healing process.
Refraining from aspirin or other drugs/medicines that may thin the blood
After Mommy Makeover surgery, you will need to arrange a support system essential to your recovery. Driving, lifting, cleaning and laundry will all be out of the question for several weeks for more strenuous activity, and if you have young children, you will need assistance as you recover.
What's Involved With the Mommy Makeover Treatment Process?
The process for booking treatment with Medical Departures and getting your mummy makeover abroad is summarised below:
Step 1. Choose a reputable global clinic and board-certified surgeon in your chosen location by browsing through Medical Departures' listings, which contain nearly 100 options across the world.


Step 2. Book your free appointment via our site or get in touch with our Customer Care Team via phone, email or online chat. We can provide you with a non-obligation quote and help you set up your appointment abroad—with no upfront charges.


Step 3. Once booked, our team can help you arrange all aspects of your mommy makeover holiday; we can also arrange for you to speak to your chosen surgeon as part of an online, virtual consultation. This gives you a chance to discuss your cosmetic goals, what the surgeries will entail and ask any questions on your mind before you fly.


Step 4. Head to your chosen destination—this usually involves a short flight, while for US citizens seeking treatment across the border in Mexico, it may even be possible to drive. We recommend arriving at least a few days before your appointment to get settled; or, to enjoy a longer pre-surgery holiday, you could even travel a week or two beforehand, depending on your schedule.


Step 5. Attend a consultation/pre-surgical appointment: During your initial consultation, your doctor will review the various options, techniques, and potential risks. You will undergo evaluations and a full medical to confirm your suitability, as well as discuss your cosmetic goals.

There are plenty of variables to consider as part of a mommy makeover; for instance, if you are having breast implants, you and your surgeon will both need to agree on an appropriate cup size; for abdominoplasty, you'll need to decide between a full or partial tummy tuck; with liposuction, the volume of fat being removed will need to be estimated. These are all things that will be confirmed during this initial appointment.


Step 5. Surgery may take place on the same day, a day later or several days following your consultation. Normally carried out on an outpatient basis, the medical team will help you prepare once you have arrived at the clinic or hospital. An anesthesiologist will also be responsible for developing your anesthetic plan, ensuring you remain safely unconscious for the duration of the surgery.

Depending on your combination of procedures, they may be performed simultaneously by two or more surgeons or successively with a smaller team.


Step 6. Once the surgery is over, you may be permitted to head back to your hotel on the same day, or you may be advised to stay overnight for monitoring. The remainder of your time in your chosen location should be spent resting and recovering in the comfort of your hotel. After returning to see the doctor several days later for a post-surgery appointment, you will be given the green light for returning home.

As to when you will be able to fly (or drive) home, this will depend on the extent of your mommy makeover, the duration of the flight, how well your initial recovery is going and, ultimately, your doctor's recommendation. While you will be able to get an estimated timeline before travelling, we always recommend booking flight tickets with the option of changing the return date, just in case.
More information on mommy makeover procedures
For further information, visit our information sections on each of the specific procedures, including liposuction, tummy tuck, breast augmentation, breast lift and breast reduction.
What's the Recovery Time for a Mommy Makeover?
The benefit of undergoing the procedures all at once is that you need only endure one recovery period. Adversely, you have multiple operations to recover from: the first week will be the most uncomfortable and you will still not be up to doing much even two or three weeks post-op. After around a month, you should be much more mobile.
In general, it should be noted:
You should be prepared to feel very sore immediately after the surgery for several days, and your movement will be limited to your hotel room and nearby facilities.

You may be given one or more compression garments to wear; these help with swelling and speed up recovery.

Pain medication will be administered so that you can get over the worst, which you can continue once back home.

Once the swelling and bruising have begun to subside, your movement will increase, with gentle walking encouraged in order to promote blood flow.

It may be several weeks before you can resume most of your everyday activities.

Full recovery usually takes around 6-12 weeks, which means you won't be able to do any heavy lifting (even picking up children) until then.
Always consult your surgeon as to when you will be able to travel home after any surgery. Different factors may affect your return trip schedule, such as flight duration and how quickly you are recovering.'
Risks
Potential mommy makeover risks and adverse side effects include, but are not limited to, infection, poor healing, unfavorable scarring, seroma, loss of nipple sensation, bleeding, inability to breast feed, asymmetry, implant leak, capsular contracture, looseness of skin, fat necrosis, deep venous thrombosis, cardiac and pulmonary complications, persistent pain and anesthesia risks.
Find out more about the risks associated with mommy makeover surgeries here.
How Much Does a Mommy Makeover Cost?
This depends on which surgical components you and your specialist select for your Mommy Makeover package, as well as which destination you choose for your treatment. As an example:
As you can see, most of our clients are able to save at least 50%—which equates to thousands of dollars (either US or Aussie) wherever you go.
What About the Quality of Surgery Abroad?
The doctors we work with who perform surgery on international clientele (or medical tourists as they are sometimes known) all have memberships with professional boards, such as the International Association of Aesthetic Plastic Surgeons, as well full licenses, specialised training (alongside their doctor's degrees) and proven track records with respect to carrying out combined surgeries as part of a mommy makeover.
They are accustomed to treating patients from abroad, and most are well aware that if they provide sub-standard services, word would soon get around and patients would stop coming. It is in their best interests to provide high-quality services and customer satisfaction.
We advise everyone to do a little research on their prospective clinic or surgeon, as we do at Medical Departures. As well as posting authentic Mommy Makeover reviews from former patients, we pre-screen doctors and clinics, verifying professional accreditation and conducting criminal and legal checks.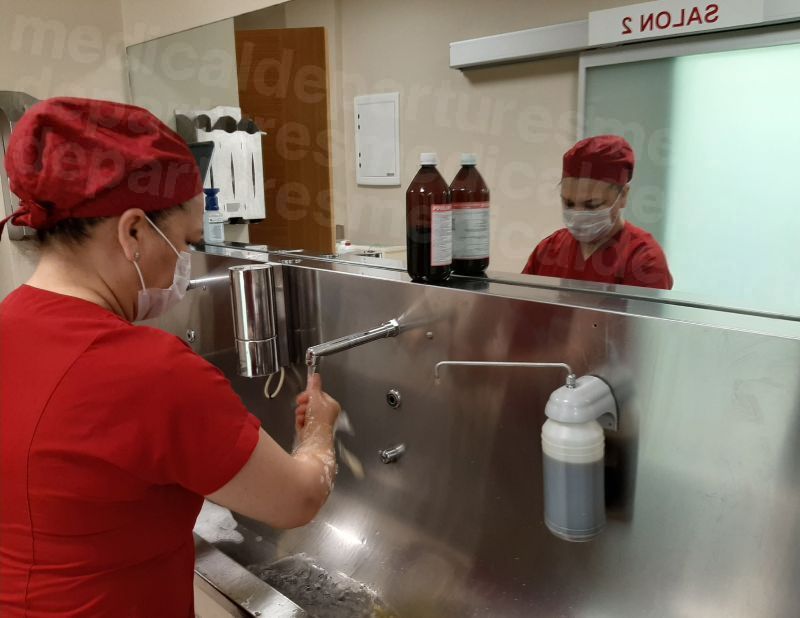 Where to Find the Best Mommy Makeover Surgeons?
Take a look at our most popular global destinations for mommy makeovers below with a selection of our top-rated, fully verified clinics in each one:
>> Turkey
>> Mexico
You can get started now with Medical Departures by browsing through our background-checked clinics in these top medical tourism destinations: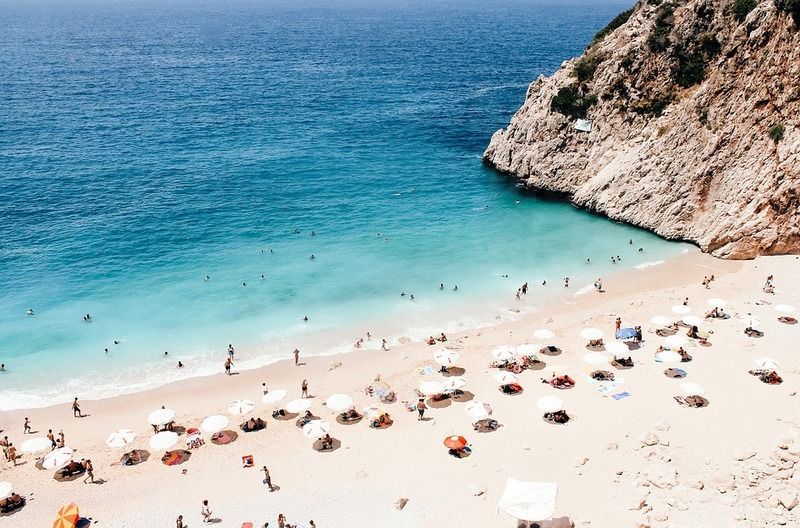 The Bottom Line - And How to Book with Medical Departures
Post-pregnancy changes are normally most apparent around the tummy and breasts, and a Mommy Makeover is a great way to take care of these problems with one operation and, importantly, only one recovery time.
The next step is to browse Medical Departures' full list of Mommy Makeover hospitals and clinics here.
Book directly or through our Customer Care Team to guarantee the best prices online and 24-hour assistance, or if you are ready to book your appointment, you can do so right here any time of the day or night, at no charge to you.
Sources:
What is a Mommy Makeover? American Society of Plastic Surgeons. 9 June 2017. https://www.plasticsurgery.org/cosmetic-procedures/mommy-makeover
Chidyllo, Stephen, MD, DDS, FACs. Is breast reduction covered by health insurance? American Society of Plastic Surgeons. 19 January 2018. https://www.plasticsurgery.org/news/blog/is-breast-reduction-covered-by-health-insurance
International Society of Aesthetic Plastic Surgery. Website accessed: 20 November 2021. https://www.isaps.org/
Brazilian Butt Lift. American Board of Cosmetic Surgeons. Website accessed: 20 November 2021. https://www.americanboardcosmeticsurgery.org/procedure-learning-center/body-procedures/brazilian-butt-lift/
Role of Physician Anesthesiologist. ASAHQ. Website accessed: 20 November 2021. https://www.asahq.org/madeforthismoment/anesthesia-101/role-of-physician-anesthesiologist/
What are the risks of a mommy makeover? American Society of Plastic Surgeons. Website accessed: 20 November 2021. https://www.plasticsurgery.org/cosmetic-procedures/mommy-makeover/safety
Whitlock, Jennifer. Understanding the Risks Involved When Having Surgery. Very Well Health. 1 November 2019. https://www.verywellhealth.com/understanding-the-risks-involved-when-having-surgery-3156959
Da Silva, Chantal. Thousands Of Americans Are Crossing The Border Into Mexico Every Year To Get Affordable Medical Treatment. News Week. 18 May 2019. https://www.newsweek.com/thousands-americans-cross-border-mexico-affordable-medical-treatment-each-1426943
Smokers who quit one month before surgery reap benefits: UN health agency. UN News. 20 January 2021. https://news.un.org/en/story/2021/01/1055591