Bangkok is a popular medical tourism destination that merges fascinating culture, affordable prices, quality medical facilities, and exciting nightlife, offering value-for-money double eyelid surgery in high-quality clinics. Below are seven good reasons why you should consider having your double eyelid treatment in Bangkok .
#1 – Popular City Getaway
Approximately 20-million people visit Bangkok every year, making if the world's most visited city . With an exciting nightlife, world-class shopping, and lots of attractions, Bangkok is a world-class city getaway destination.
#2 – Tropical Weather
Thailand is a warm and welcoming country you can enjoy by your hotel pool before and after your double eyelid surgery. Temperatures very rarely go below 30-degrees and it is sunny nearly every day, so make sure you pack some sunscreen. You should however work on your tan prior to your surgery, as your doctor will advise you to stay out of the sun post-treatment. After your procedure, Bangkok offers a wealth of activities.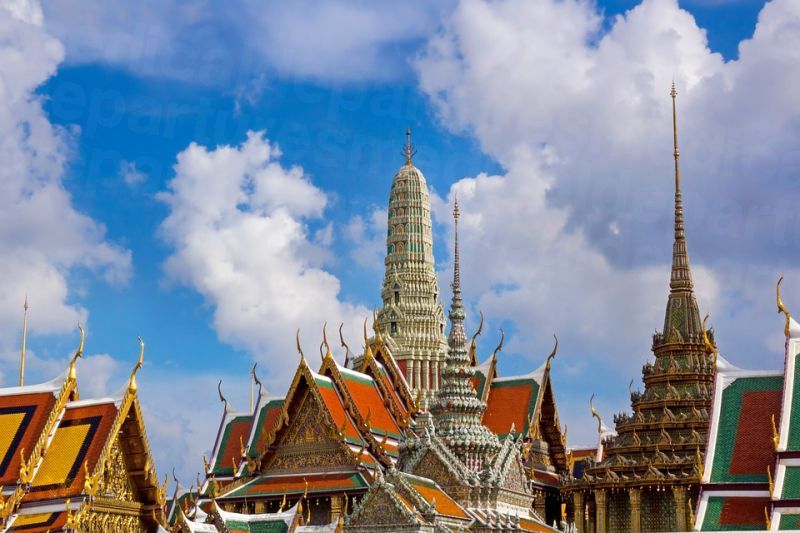 #3 – Tourist Attractions
You will discover a wealth to see and do in Bangkok while you are here taking advantage of the affordable double eyelid surgery clinics. Bangkok is famous for attractions such as the Grand Palace, Wat Arun, and Lumphini Park. Its modern upscale shopping destinations, such as the MBK Center, IconSiam and Central World are also popular.
#4 – High-Quality Medical Centers
The best plastic surgery clinics in Bangkok are renowned as they offer competitively priced high-quality care These clinics have passed Medical Departures stringent checks, which include verifying doctor's qualifications and experience, and clinic accreditation. As such, it is a popular destination with Medical Departures patients, who have recommended the following clinics:
#5 -Experts at Serving the International Patient
Bangkok is a world-class cosmopolitan city and the medical clinics listed on Medical Departures all have English-speaking staff and experience in working with patients from across Australia, New Zealand, Europe, and America.
#6 – Perfect Destination for Aussies and Kiwis
Thailand is a popular holiday destination for Aussies and Kiwis and it has a strong tourist infrastructure including international airports, hotels, a city train system, and numerous taxis. If you want to explore the country before or after surgery, Bangkok is central and connected to all parts of the country by air or road.
#7 - Low-Cost Cosmetic Treatments
Last but certainly not least, Bangkok is over 60% more affordable than Western clinics for double eyelid surgery. For example, in Bangkok, it costs less than $1000, whereas in the US it costs four times more. Check out a full comparison in the table below:
| | | | | | | |
| --- | --- | --- | --- | --- | --- | --- |
| | USD | CAD | GBP | EUR | AUD | NZD |
| Cost of Double Eyelid Surgery in Home Country | $4,000 | $5,163 | £3,119 | €3,489 | $5,500 | $5,811 |
| Cost of Double Eyelid Surgery in Bangkok | $900 | $1,161 | £702 | €785 | $1,177 | $1,244 |
Note: the prices above are approximate. Please check our current prices for your selected clinic for estimated costs of treatment.
Getting Started
Bangkok is a popular holiday and medical tourism destination. When you are ready to book a visit for inexpensive and high-quality double eyelid surgery, be sure to get in touch with the Medical Departures Customer Care Team, who can help you organize your trip and choose the clinic that best suits your needs.
Sources:
Bangkok. Lonely Planet. https://www.lonelyplanet.com/thailand/bangkok
Talty, Alexandra. Bangkok Is The Most Visited City In The World. Forbes Magazine. 25 September 2018. https://www.forbes.com/sites/alexandratalty/2018/09/25/bangkok-is-named-most-visited-city-in-the-world-again/#1afc8f494071
Ng, Amanda. WHY IS THE DOUBLE EYELID SURGERY SO POPULAR IN ASIA? Dazed Beauty.
https://www.dazeddigital.com/beauty/head/article/43499/1/why-double-eyelid-surgery-popular-asia