Looking for Top-Quality Plastic Surgery? (Thailand - Chiang Mai) Ram Hospital is an Excellent Choice
Every year, Thailand receives millions of international tourists. A growing number of these visitors come for medical purposes. This country is particularly known for its affordable plastic surgery, highly sought by tourists from Australia, New Zealand etc. If you are searching for high-quality yet affordable plastic surgery (Thailand, Chiang Mai) , Ram Hospital is one of the best options you can avail. In the following paragraphs, you will get a brief overview of Ram Hospital's surgical services.
Ram Hospital Has Some of the Best Surgeons in Thailand
You will find some of the best Thai surgeons at Ram Hospital. Doctors and surgeons at this one-of-a-kind medical facility have years of experience performing various kinds of surgery, and some of them even have advanced qualifications. Some of the most reputed surgeons at Ram Hospital are:
Dr. Padungkiat Sethakul (MDS)
Dr. Wannakorn Phatharajaree (DDS)
Dr. Pracha Kanyaprasit (MDS)
Dr. Nathapan Klapajon (MDS)
Dr. Porntip Sanguanmitra (MDS)
Dr. Thawatchai Tansathit (MDS)
These surgeons have decades of experience performing cosmetic and reconstructive surgery, especially on foreign patients. The Ram Hospital is also part of the Ramkhamhaeng Group group, which is a trusted name in Thailand. These are some of the main reasons why tourists trust and vouch for the Chiang Mai Ram Hospital. Plastic surgery is of such excellent quality that this hospital has earned international accreditation as well. More on this below.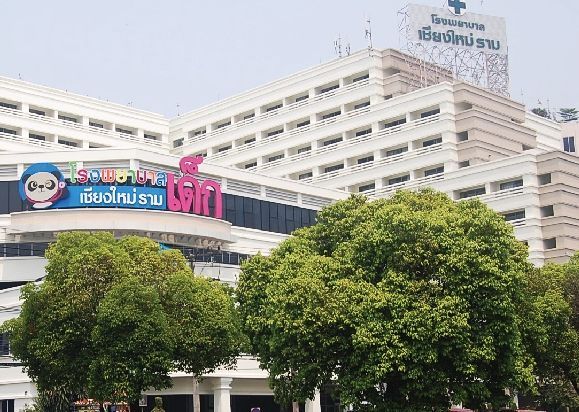 Ram Hospital - Plastic Surgery Quality
Contrary to popular opinion, private hospitals in Thailand offer treatment and patient care that is at par with international standards. All international hygiene protocols are observed inside the hospital. The Ram Hospital is a 12-storey facility with 350 rooms replete with state-of-the-art equipment and amenities.
Moreover, as you read above, the doctors and surgeons are highly qualified in plastic surgery. All this means you can be confident of the quality of plastic surgery at Ram Hospital. You will also be interested to know what when it comes to medical tourism in Thailand, there is little correlation with the quality and the cost of surgery. This brings us to our final (and most important) point.
Cost of Plastic Surgery at Ram Hospital
The main reason why medical tourists prefer Ram Hospital for plastic surgery is its amazing prices. Here are two examples, just to get an idea:
Cost of Facelift in Australia: AUD $24200
Cost of Facelift in New Zealand: NZD $26000
Cost of Facelift at Chiangmai Ram Hospital: AUD $6200 and NZD $6700
Cost of Tummy Tuck in Australia: AUD $13600
Cost of Tummy Tuck in New Zealand: NZD $14700
Cost of Tummy Tuck at Chiangmai Ram Hospital: AUD $4800 and NZD $5200
So you are getting plastic surgery of international standard while saving anywhere from 50% to 75% as compared to your home country.
To sum up, there is no shortage of good hospitals for plastic surgery in Thailand. Chiang Mai - Ram Hospital, however, is rated by many medical tourists as one of the best facilities in the region.