Phuket Island, Thailand, is widely regarded as one of the most desirable and beautiful holiday locations in the world. Merging a sun-kissed sub-tropical climate all-year-round, dreamy beaches and crystal clear oceans, with world-class infrastructure and exciting nightlife, the island is a true holiday paradise. Phuket has also become a popular choice for medical tourism holidays with some of the best modern facilities in the world. Radiant Medical Phuket is leading the way in SE-Asia for their 5-star skin treatments, operating to the highest professional standards.
Who are Radiant Medical Phuket?
Situated in the heart of the island's business district and capital, Phuket Town, Radiant Medical Phuket have been established since 2008, widely accepted as the ultimate medical center for beauty and skin care in Phuket. Although the clinic was only opened within the last 10 years, the center's owner, Tanyawan Ketkan, has been a long-standing figure in the beauty and skin treatment industry, using that experience and expertise to launch Radiant Medical Phuket to lofty heights. Their main emphasis is on quality and affordability.
Her decision to open the clinic in Phuket was to firstly take advantage of the rapidly-growing medical tourism scene in Phuket, and secondly to promote the beauty and aesthetic appeal of Phuket Town, which has very distinctive Sino-Portuguese architecture you won't find anywhere else in Thailand.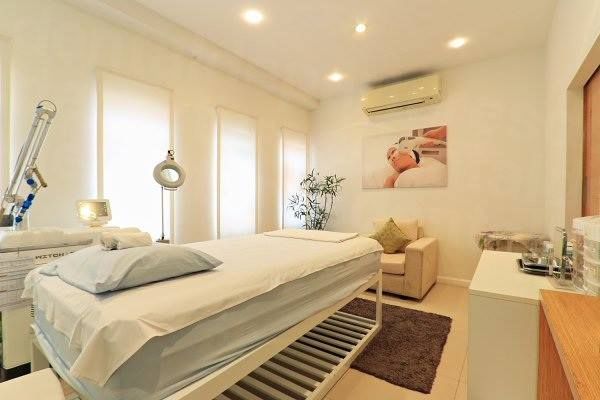 What do Radiant Medical Phuket Offer?
Radiant Medical Phuket provide the latest innovative treatments for beauty and skin care, offering free consultancy and even a pick-up and drop-off transfer service from the client's hotel or home. This state-of-the-art skin care clinic utilizes the latest technological advancements in the skincare industry.
With two main doctors and a plethora of registered nurses, the clinic not only provides the best treatments but also has the facilities to administer the proper care that is needed to not only maintain, but also improve the health of your skin. Using all FDA-approved equipment, cosmeceuticals, and pharmaceuticals, you get the most reliable and trusted skin treatments possible.
Once you have made contact with a Radiant Medical Phuket consultant, they will treat you on an individual basis because each case and person is different, tailoring their treatments to suit your requirements. They utilize the 'Holy Grail' machine of the skin treatment world, the Ulthera, which is a special type of non-surgical and non-invasive treatment. Using ultrasound to tap into the body's own natural healing mechanisms, the Ulthera helps to tone and lift, tightening loose skin, especially on the face, brow, neck and under-regions of the chin.
Their other skin treatments include Fractional CO2 Lasers, which is an innovative treatment for acne scar tissue, eliminating wrinkles with tightening treatments. Other treatments that compliment this feature include Q-Switched Nd/Yag Laser treatments that are an effective combat for freckles, skin rejuvenation, Melasma, Abnormal Pigmentation treatment and more.
Radiant Medical Phuket also specialize in hair removal treatments, using Cutera CoolGlide Laser Hair Removal treatments, which is the best in the industry for all skin types and tones.
Radiant Medical Phuket Before and After
Whether you are thinking about utilizing their skin or hair removal treatments, the results are impressive and will make a big impact on your life in terms of your appearance, which boosts confidence and literally changes lives.
Whether you have skin blemishes that need cleaning up, or have wrinkles or loose skin on your face and need tightening around the chin area, the Radiant Medical Phuket before and after photos are proof of why you need to take advantage of this service today. The change in appearance is simply spectacular, and with so many non-invasive treatments, you have nothing to fear or be scared of. As the old adage goes, "the thought of doing something that frightens you is actually worse than facing the problem head-on." If you are concerned about the effect of the treatments, please do study the Radiant Medical Phuket before and after photos to smash away your concerns.
Take Advantage of a Radiant Medical Phuket Review
We are very fortunate to live in a time where we can perform our own due diligence on anything from the quality of a restaurant or hotel, to the reliability of service providers across the globe. This is no different with medical tourism companies. It is important to know who you are dealing with, making a Radiant Medical Phuket review essential in terms of your decision-making process.
When searching online for a Radiant Medical Phuket review, you will see they have compiled a vast choice of testimonials from former guests. These reviews prove that Radiant Medical Phuket have some of the best and most trusted and reliable beauty and skin care treatments you will find in SE-Asia.
Understanding the Radiant Medical Phuket Cost
As each beauty and skin treatment depends on what you individually need, this means the Radiant Medical Phuket cost can be slightly different on a patient-to-patient basis. This is why it is imperative to contact Radiant Medical Phuket beforehand for your free consultation.
However, here are some of the average and standard prices for their treatments. For example, their C02 Laser Treatment can cost anywhere from $100 USD to $700 USD. Fractional C02 Laser Treatment will cost in the range of $300 USD to $600 USD. Nd Yag Laser is more affordable, costing from $100 to $300.
Hair removal treatments can cost as little as $100 for armpit hair removal to just over $400 for back hair removal, with other treatment prices within those two. You can also take advantage of Detox Facial Treatment for as little as $80.
When you are seeking one of the best beauty and skin care treatments centers in SE-Asia, Radiant Medical Phuket is a world-class skin clinic that offers state-of-the-art skin and hair removal treatments. Come along to take advantage of their knowledgeable specialists that are on-hand to offer the best impartial advice, known for their affordability, reliability, honesty and expertise that will take your confidence and appearance to new levels of excellence.