Do you have a loose and sagging tummy that does not become flat no matter what you do? Are you thinking of surgery? A tummy tuck in Bali may be just what you are looking for. It is affordable – a major factor when you have to pay for plastic surgery – and you can enjoy a holiday in this amazing island at the same time. You do not compromise on the quality of treatment either, since plastic surgery in Bali is performed by excellent doctors in state-of-the-art hospitals and clinics.
How can your tummy become flat?
If you have tried all kinds of diet and exercise and even gone to the gym in an effort to make your tummy flat - and still been unsuccessful – you may have come to the conclusion that surgery is the only option. That is because fat can possibly be shifted by other means - whether diet or liposuction – but loose skin that has lost elasticity will still stay.
Tummy tuck surgery, also called abdominoplasty, comprises removal of the extra skin and perhaps tightening of the muscles and liposuction as well. Abdominoplasty in Bali, whether mini or extensive, will help you get a flat tummy. The surgery scars are usually in an inconspicuous place as low on the abdomen as possible. If your belly button is repositioned, then this may leave some scars, but these will fade with time.
Which is a recommended clinic for tummy tuck in Bali?
At the Medical Departures' website you will find a number of quality checked clinics in Bali that do tummy tuck. One of the most highly-recommended ones is BIMC Hospital Nusa. This is a huge multi-specialty hospital that was the first one in Indonesia to get accreditation from Australian Council on Healthcare Standard International (ACHSI). The hospital has a team of highly experienced and expert doctors and a team that is conversant with catering to foreign patients.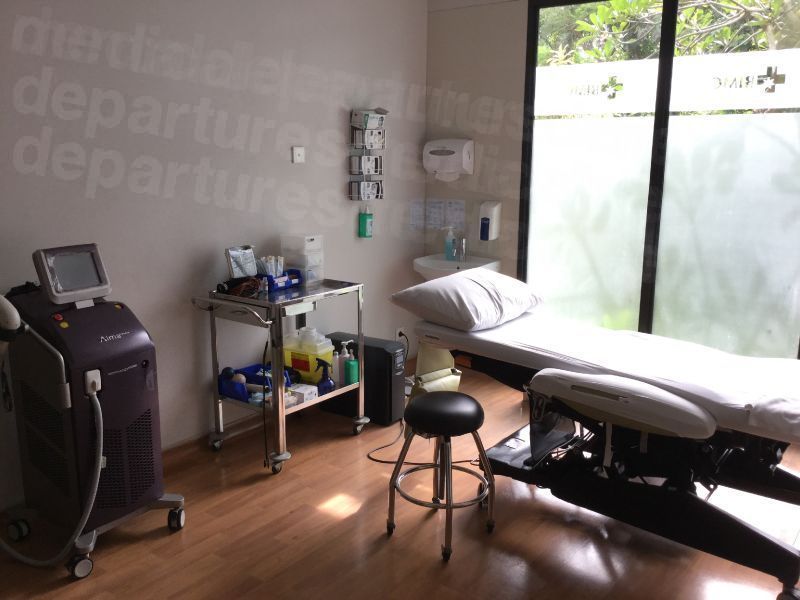 The hospital is located in Denpasar in Bali. It has two branches, one in Kuta and the other in Nusa. BIMC Hospital Nusa sees large numbers of international patients who come for cosmetic surgery and treatments. The hospital offers quality care and treatment and uses the latest machines and devices for tests, diagnoses and treatments. It is also conveniently located being close to the tourist areas frequented by travelers in Bali.
What is the cost of tummy tuck in Bali?
The cost of tummy tuck in Bali may vary somewhat depending on whether you want a mini one or an extensive one and whether or not you require liposuction. At BIMC Hospital Nusa tummy tuck will cost you US$5,711 (AU$7,237, NZD7,790, £4,396, €4,865, CAD7,242).
In an advanced country this procedure can cost as much as US$15,509 (AU$19.655, NZD21,150, £11,936, €13,210, CAD19,664). This means that even if you add the cost of travel, stay, entertainment and other expenses, you still save a great deal by getting tummy tuck in Bali.
Search our clinics for your tummy tuck surgery in Bali , then book with Medical Departures and you will soon flaunt a flat tummy.