While some people are still hesitant about travelling abroad for plastic surgery, there really is no need to be. The Thai capital is home to many internationally accredited medical facilities staffed with highly-trained surgeons, and patients from all over the world are enjoying low-cost breast lifts, breast reductions, and breast implants in Bangkok .
It probably comes as no surprise to you that breast implants are one of the most popular plastic surgeries in Australia . Even when you look outside of Australia to other industrialised nations, it is often the same story. More women than ever before want breast augmentation surgery, and an increasing number are travelling abroad to get it. Keep reading to dispel any doubts you might have about Thailand breast clinics .
Why is Bangkok Such a Popular Destination for Low-Cost Breast Augmentation?
Ok, so you know that breast augmentation is cheaper in Thailand than Australia, but why exactly do so many women choose to have treatment in Bangkok. First, the capital is where the most talented Thai plastic surgeons live and work, plus the highest number of advanced breast clinics are there as well. The high level of competition between clinics in Bangkok means the quality of care keeps getting pushed up. This also helps to keep breast augmentation prices competitive across the city.
Thailand strides ahead of many other countries in Southeast Asia when it comes to healthcare and safety. Thai medical facilities are widely-regarded as being safe , and with the help of Medical Departures, you can be sure to choose a quality breast clinic. We publish before-and-after photos of treatment, verified reviews written by past patients, and also physically check the medical licences and treatment rooms of clinics.
Which Type of Cosmetic Breast Surgery is Right for You?
A range of cosmetic breast surgery options is designed to achieve different results. If you would like larger, fuller breasts, then saline or silicone implants are likely to be the best option for you. For women with sagging breasts, a breast lift can pull them up and make them appear more youthful. When your breasts are too big, a breast reduction can bring them into proportion with the rest of your body. All of these different mammoplasty procedures are available in Bangkok, and all at a lower price than your local breast clinic.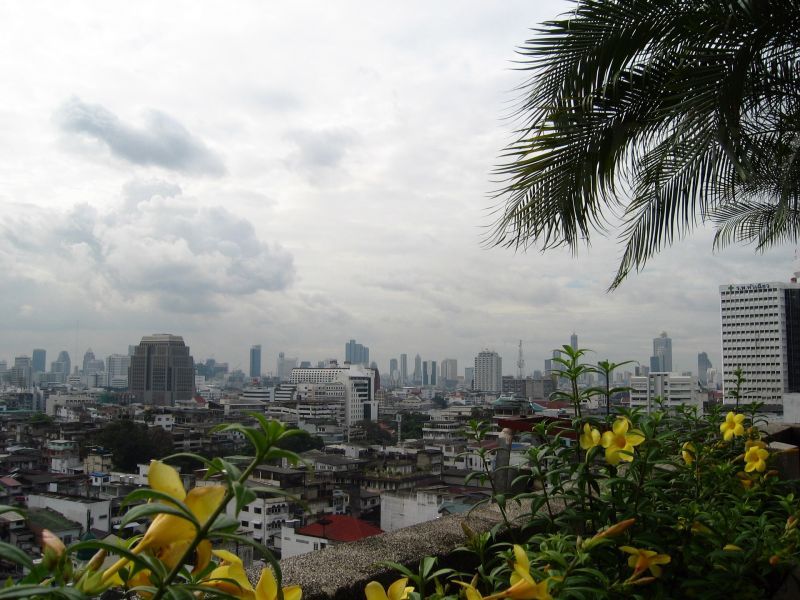 How Much You Could Save Off Your Breast Procedure in Bangkok
Australian patients who travel to Bangkok for their cosmetic breast surgery often knock more than AU$8,000 off what they would have paid at home. When you compare the prices of breast procedures in Bangkok to cities like Sydney, Melbourne, Brisbane, or Perth, the difference is often around 70%. Here are some of the average prices in both countries so you can see the figures for yourself.
In Australia, the average price for breast lift surgery is roughly AU$15,800, but breast lifts in Bangkok cost on average just AU$5,120. For breast implants, you can expect to pay AU$16,500 to an Australian plastic surgeon, but at a Bangkok breast clinic, the price drops to an average of AU$7,100. It is a similar story for breast reduction surgery, with the average Australian price around AU$18,000, while in Bangkok the usual cost is AU$5,400.
Four of the Best Bangkok Breast Clinics
The KTOP Clinic is one of Bangkok's premier breast augmentation clinics and an overseas branch of South Korea's highly-regarded Grand Plastic Surgery. All the talented surgeons here speak English, so you can discuss any aspect of your breast treatment with them. With a 5-star patient satisfaction rating and over 200 positive reviews from past patients, KTOP Clinic is our top pick.
Another of the finest breast treatment clinics in Bangkok is the Nirunda International Aesthetic Centr e. Founded in 2007 by a group of skilled specialists, many of whom studied medicine at King's College London. This modern clinic is equipped with the latest medical technology and tools. More than 180 patients have written about their treatment here.
Samitivej Sukhumvit Hospital is perhaps Bangkok's most renowned medical facility , fully-accredited by the Joint Commission International and a Medical Departures Global Patients' Choice Award winner. Expect the full gamut of cosmetic surgeries to be available here, all at a price that Australian hospitals will not be able to match.
Our final recommendation is Kamol Hospital , another JCI-accredited medical facility that has been offering affordable breast implants since 2009. Dr. Kamol Pansritum leads a team of expert doctors and clinicians here, all dedicated to helping their patients achieve the appearance they desire. In addition to holding its own stringent standards, Kamol Hospital has also successfully passed our 4-part review to become a Medical Departures Verified Clinic.
Arrange Your Breast Augmentation Appointment in Minutes with Medical Departures
Setting up a consultation at any of these Bangkok breast clinics is simple when you use the Medical Departures online appointment scheduler. All you need to do is pick a time and date that works for you, leave your email address or phone number, then you will receive an appointment confirmation shortly afterward. If you would prefer to speak with somebody over the phone please call the Customer Care Team and they will help you through the entire booking process.
Sources:
Cook, Erin. The Stats Are In: Here Are Australia's Most Popular Plastic Surgery Procedures. Harper's Bazaar. 7 March 2017. https://www.harpersbazaar.com.au/beauty/australias-most-popular-plastic-surgery-procedures-4735
Dzhingarova, Veselina. How Safe Is Thailand For Breast Implant Surgery? Guidelines Health. 22 August 2018. https://guidelineshealth.com/women/how-safe-is-thailand-for-breast-implant-surgery/
Gardner, Stephanie S., MD. Options in Cosmetic Surgery for Breasts (Mammoplasty). WebMD. 15 July 2017. https://www.webmd.com/beauty/cosmetic-surgery-mammoplasty
Breast implants: Saline vs. silicone. Mayo Clinic. 2 August 2018. https://www.mayoclinic.org/healthy-lifestyle/womens-health/in-depth/breast-implants/art-20045957