Bangkok Hospital (Samui Branch) Offers Unique Cosmetic Solutions That Are Up To 70% Cheaper Than Your Country
Thailand is one of the most frequented vacation spots in the world due to its natural beauty, serene beaches, and exotic culinary experience. Lately, tourists from across the world are also travelling to this country to avail the finest dental, medical, and cosmetic services. There is more than one reason to explain this growing trend. The Bangkok Hospital, Samui, is an internationally recognized hospital in Thailand offering the best in both medical and cosmetic procedures, surgical and otherwise.
Established in 2004, this clinic has grown to be one of the most renowned clinics in Thailand offering a wide range of cosmetic procedures with outstanding results. It is also the foremost choice of those seeking plastic surgery in Koh Samui. In the following paragraphs, we will discuss all things that make this hospital great.
A One-of-its-Kind Hospital
This prestigious clinic in Koh Samui is located at Moo. 3, Taweeratphakdee Rd., Bophut, Koh Samui, Surat Thani Province, 84320. You should also know that the Samui branch of this hospital is just one of many across Thailand.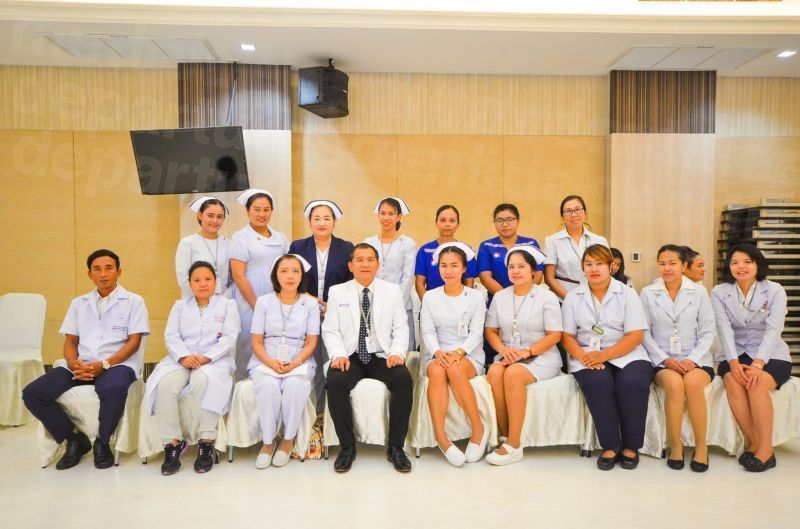 This state-of-the-art facility and has been custom-designed to provide you the best patient experience. The clinic has a 50-bed capacity, while facilities and amenities provided at this hospital are unparalleled. All these features have earned it the Bangkok Hospital Joint Commission International (JCI) accreditation. This accreditation is considered the global benchmark for hospitals and it is no small achievement for a hospital located in Koh Samui to have achieved this accreditation.
Other benefits include:
Free Wi-Fi
Free parking
Free phone calls
Wheelchair accessibility
Cosmetic Services Available at the Clinic
The Bangkok Hospital in Koh Samui is a one-stop-shop for both medical and cosmetic services. Since 2004, the hospital has procured advanced facilities and employed specialists for multiple services. It has become a preferred hospital for medical tourists who want to get plastic surgery in Koh Samui . The unique cosmetic solutions are designed to alter each person's appearance as per their needs. Cosmetic procedures available at the hospital include breast augmentation, breast implants, breast lift, breast reduction, eye surgery (upper and lower blepharoplasty), forehead lift, facelift (full and mid), neck lift, and abdominoplasty etc.
This wide variety of services offered at the Bangkok Hospital in Koh Samui continues to draw a growing number of medical tourists, especially from Australia and New Zealand to this island.
Internationally Qualified Doctors and Surgeons
One of the top reasons why this clinic has achieved popularity in the last decade or so is its line-up of highly qualified physicians and excellent medical staff to assist them. Together, these professionals have been offering outstanding results to thousands of satisfied patients.
Currently, there are twenty-five physicians working at the hospital, all of whom are internationally qualified. Some of the top names include Dr. Somkid Udomkijmongkol, Apirat Cheepensuk, Dr. Adth Gadavanji, and Dr. Charan Paphangkorakit.
These surgeons have trained rigorously and they continue to update themselves on the latest research in their respective fields of expertise. Due to their superior services, medical tourists from far and wide come to this hospital every year. In fact, 60% of all patients at this hospital are medical tourists. And when these patients return home, they happily refer this hospital to the people they know. Like all hospitals catering to medical tourists in Thailand, the Bangkok Hospital in Samui receives a bulk of its clientele from repeat visitors.
High-Quality of Patient Care
Along with surgical excellence, this hospital is rated highly for its patient care as well. You will get a unique hospital experience there, thanks to the friendly and professional approach of the medical staff that creates a highly hospitable environment for foreigners. Undergoing surgery outside your country can be overwhelming, but the medical staff ensures your peace of mind and comfort.
The medical staff is fluent in English so there will be no communication barrier and you can comfortably discuss everything you need to know about your procedure.
This high quality of patient care has also garnered an international reputation. Ellen Fisher, a Canadian nurse who was treated at the Bangkok Hospital earlier this year had this to say about the hospital staff:
'I am so thankful for all their care. I learned a lot from the highly trained nurses- so much that I am going to enhance my practice by using what I experienced from them and their model of care with nurses and nurse assistants.'
This speaks volumes about the quality of this hospital.
Affordable Services and Procedures
We have learnt so far that the Bangkok Hospital in Koh Samui offers a wide-range of healthcare and cosmetic services at the hands of highly-qualified doctors and surgeons. However, you get all this at a fraction of the costs compared to in your country. The superior treatments at this hospital are up to 70% cheaper than prices in countries like Australia and New Zealand.
For instance, the average cost of facelift surgery in these countries is AUD $9,572 and NZD $10,629. However, at this hospital you have to pay around AUD $5,687 and NZD $6,101 for a facelift. Koh Samui is also cheaper than Phuket, so as a medical tourist you can enjoy the beautiful Island while getting the most affordable medical procedures.
Another highly sought-after procedure at this hospital is breast augmentation, which costs AUD $15,680 and NZD $17,000 in Australia and New Zealand respectively. But at this hospital it costs around just AUD $4,824 and NZD $5,175. So these are the kind of savings that you can expect to make as a medical tourist at the Bangkok Hospital.
In closing, it must be mentioned that this hospital also gives you a chance to explore Koh Samui. This island a winning combination of numerous natural and man-made attractions. Witness the waterfalls or visit the Big Buddha and enjoy an all-round medical vacation when you sign up for a procedure at the Bangkok Hospital, Samui. Schedule your free consultation today.