Searching for a reliable cosmetic surgeon in Bangkok? Find and book a top specialist at low prices with Medical Departures and save up to 50%.
Why not combine high-quality rhinoplasty treatment with a rejuvenating vacation in Thailand's capital. Increase your self-confidence and obtain the nose you've wanted with specialist rhinoplasty treatment.
Why Choose Bangkok for Cosmetic Surgery?
Considered to be the mecca of medical tourism, Bangkok has become a well-regarded destination for regional expats and international patients alike. With top-notch medical facilities, English-speaking staff, quality clinicians and modern clinics , many are choosing to have cosmetic procedures here.
Furthermore, lower standard of living means affordability is widespread and savings can be passed on to you the patient. Consequently, prices of nose contouring procedures of all kinds are significantly lower than what you would pay in Australia or New Zealand.
Thailand's healthcare facilities are comparable, and often better, than you might find in your country. Medical Departures only works with the best quality-checked surgeons in Bangkok. Stringent hygiene standards, approved memberships and physician qualifications are all verified, making the decision-making process hassle-free.
Clinics in Bangkok—Overview
Boasting cutting-edge diagnostic equipment and leading medical expertise, we visit all our clinics to ensure standards are maintained. Browse before you book to help ensure a safe, satisfying outcome.
Check out high-definition clinic photos on our website and rhinoplasty reviews to assure a first-rate experience. Notable clinics for rhinoplasty procedures include Samitivej Hospital , F Clinic , Bangkok Hospital and Yanhee Hospital .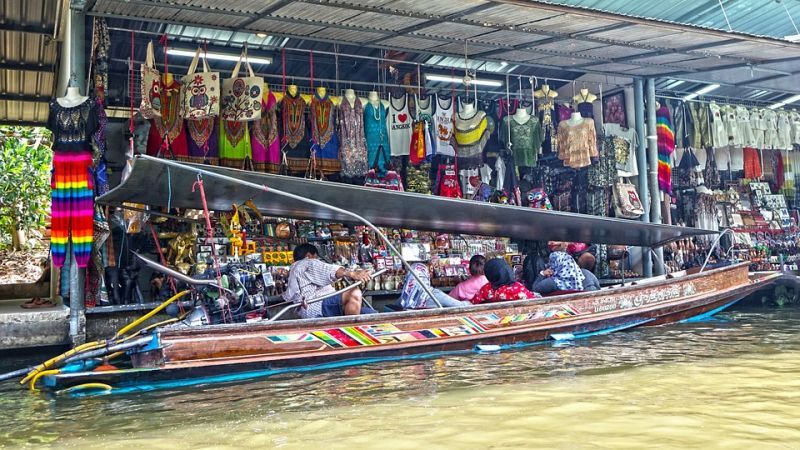 What Is the Cost of Treatment Compared to Home?
Expect savings up to 50% off rhinoplasty treatment in Bangkok:
Rhinoplasty treatment in Australia: $12,600 AUD

Average rhinoplasty treatment in Bangkok: $4,000
Why Choose Cosmetic Surgery in Bangkok?
With two million medical visitors every year, it is no wonder patients increasingly flock to Bangkok for inexpensive care and a holiday destination full of heritage, culture and nightlife.
Bangkok offers one of the best-value dining destinations globally, whilst travellers can seek out the many street markets that lend this bustling metropolis a world of diverse charm and choice.
Take a river boat trip on the mighty Chao Phraya as it winds its way through the heart of Bangkok. Get lost off Banglamphu's track and narrow passages of Chinatown or take in a traditional Chinese opera performance. Bangkok's public Skytrain lends easy access to the vibrant area of Sukhumvit, giving Bangkok a real dynamism.
For retail therapy head to one of Bangkok's many mega-malls, discover the city on a Segway or experience a unique Lady-Boy show.
Where to Stay in Bangkok
There is no shortage of accommodation options in Bangkok including the popular Sukhumvit area, brimming with amenities such as restaurants, shops and the easily accessible Sky Train.
Due to congestion, it is advisable to reserve lodging close to your specific clinic. For further assistance, please ask our Customer Care Team who will be happy to help.
What's the Next Step?
Find and book one of our many
rhinoplasty clinics in Bangkok
with Medical Departures. Check-out our clinic images, view maps, read reviews and discover our best price guarantee. If you have any queries, please contact us via online chat, e-mail or our toll-free phone number — we're happy to help.
Has word2cleanhtml helped you? Word2cleanhtml is a free service and we hope it has helped you. If you would like to say thank you, you can make a small contribution to the author of this site. PayPal - The safer, easier way to pay online! Report a bug home about api contact © 2007-2016 Olly Cope Designer and illustrator: Aurore Lefevre Made in Liège, Belgium.