Looking to increase your breast size? Concerned about the shape or firmness of your breasts? Save more than 50% off breast enlargement in Bangkok with Medical Departures.
Combine an unforgettable vacation with quality medical treatment for significantly less than what you would pay at home. Receive identical treatment in one of Southeast Asia's most diverse and vibrant cities, blending Western lifestyle and traditional Asian culture.
Why Is Bangkok So Appealing for Cosmetic Surgery?
Thailand's medical tourism sector is growing fast, as well as its well-established reputation as a world-class tourist destination. Thanks to accessible flights, first-rate cosmetic surgery expertise, a distinct customer service culture and state-of-the-art medical facilities, it's no wonder Thailand tops the list for cross-border cosmetic and aesthetic treatments worldwide.
Catering largely to overseas patients from Australia and New Zealand, top-notch cosmetic care in Bangkok is all the more affordable for patients taking advantage of Thailand's low cost of living. Medical facilities are second to none, offering a vast range of public and private healthcare services, with stringent regulatory oversight. All hospitals and clinics are regulated by Thailand's Ministry of Public Health (MOPH), with private sector facilities further regulated by the Medical Registration Division.
Top private clinics in Bangkok offer packages aimed specifically at international patients. Together with English-speaking staff, cutting-edge technology and modern interiors, it is no wonder that breast surgery patients combine inexpensive, premium medical care with a pre-op holiday or post-op recuperation in this vibrant Asian metropolis.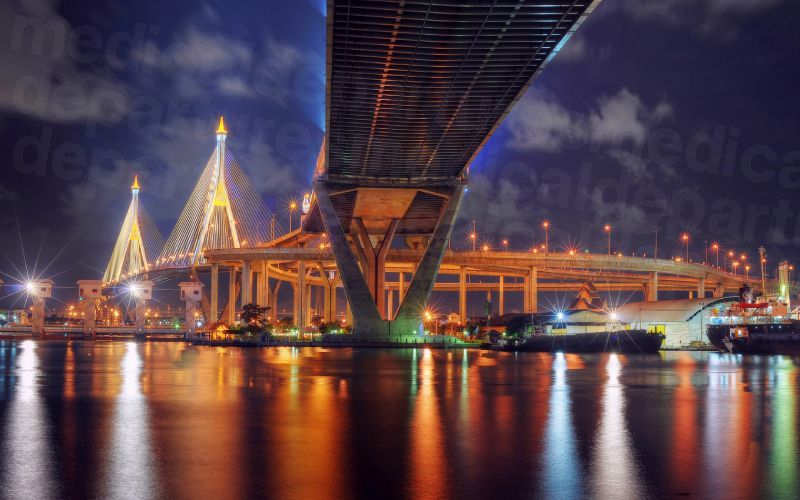 Breast Enlargement—Synopsis
Known as mammoplasty, this common, safe procedure involves silicone implants or fat transfer to increase the size, shape and firmness of your breasts, improving the balance of your figure. The procedure especially useful post-pregnancy or weight loss in order to restore breast volume and skin tone.
Clinics in Bangkok—Overview
Medical Departures only work in conjunction with the very best quality-assured breast enlargement clinics in Bangkok . All our listed clinics are background-checked for doctor qualifications, accreditations, memberships and stringent hygiene, ensuring a seamless cosmetic experience. Browse before you book: view maps, virtual clinic tours, photos and compare prices.
Our top three fully-approved clinics, based on our internal research and verified patient reviews:
Each of these three facilities have been awarded full accreditation by the US-based Joint Commission International (JCI), the world's largest international accreditation agency, and overseer of patient safety protocols and process.
What is the Price of Breast Enlargement Treatment in Bangkok?
Save nearly 60% on breast enlargement cost in Bangkok ;
Breast enlargement price in Australia: $16,500 AUD

Average breast enlargement price in Bangkok: $5,000
Why Bangkok?
Bangkok is convenient for international travelers with regular flights from Australia, New Zealand (and nonstops from Sydney and Auckland), the US, EU, North and South Asia and the Middle East arriving daily into the ultra-modern Suvarnabhumi International Airport.
Steeped in heritage, culture, religion and splendor, take a trip to the royal palaces or ancient temples, explore Bangkok's extensive network of canals and traditional floating markets or discover thriving markets packed with mouth-watering street food stalls.
Bangkok is now bursting with glitzy shopping malls sufficient to exhaust any consumer. The night market at Patpong will captivate your senses. Get lost in Chinatown or take the Skytrain to Sukhumvit for a glut of bars and vibrant nightlife scene. Indulge in a traditional Thai massage, Lady Boy show or Thai cookery class and you will find out why Bangkok is the perfect medical tourism destination.
Where to Stay in Bangkok
Bangkok provides a wide variety of accommodation to suit every wallet. Budget-friendly hostels are situated in Khoa San Road, whilst Silom and Thonburi offers some of the finest and luxurious hotels in the world, such as The Oriental and The Peninsula.
Patients can find an extensive collection of hotels around Siam Square along Sukhumvit, and the upscale Silom district, with many reasonably priced options available.
How Do I Book?
To book your appointment with Medical Departures , call the toll-free number provided or book online. See below for ways to contact us or speak to our Customer Care Team for assistance on plastic surgery in Bangkok.