Phyathai 2 Hospital is located in central Bangkok. This large international hospital has two different buildings with 550 in-patient beds and 76 diagnostic rooms. It uses the latest in modern technology and devices, has the newest machines and is JCI accredited. As a bustling hospital it sees patients of all nationalities and is committed to high standards of care and treatment.
Treatments and surgeries available at Phyathai 2 Hospital
Phyathai 2 hospital is a premier hospital in Bangkok, committed to all round health care of its patients. It is a multi-specialty hospital that has dermatology, eye center, oncology center, GI center, orthopedic center, heart center, women's center, neurology center among others.
The beauty center at the hospital is the one that is associated with all kinds of plastic surgeries and cosmetic treatments. Among the treatments and surgeries on offer at this center are
All kinds of breast surgeries (lift, reduction, augmentation, etc.)

Butt implants

Eye bag removal

Facial contouring

Cheek implants

Chin augmentation

Facelift

Neck lift

Nose job

Tummy tuck

IVF and other assisted reproduction techniques

Hip replacement

Knee replacement

Bariatric surgery

Ear surgery

Liposuction

Gender reassignment surgery
All these are performed by trained and professionally highly qualified doctors, assisted by an experienced nursing staff.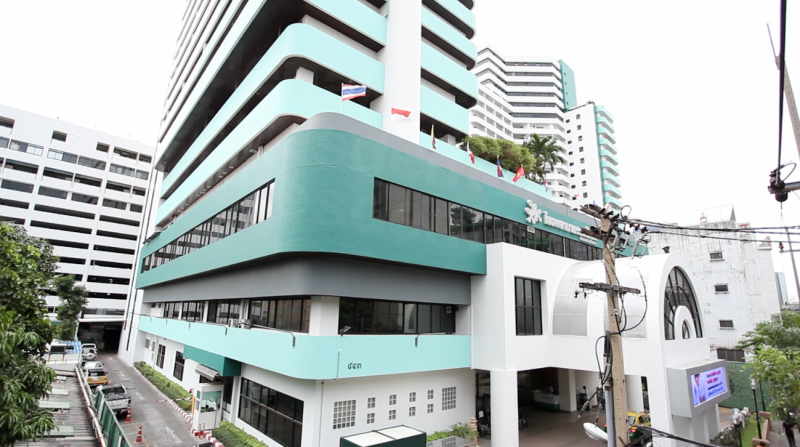 Doctors at Phyathai 2 Hospital
The hospital is one of the Phyathai group of hospitals that include Phyathai 1, Phyathai 2, Phyathai 3. Phyathai 2 hospital was established in 1987. Among the leading doctors at the cosmetic center of the hospital are:
Dr.Theerayut Jongwutiwes is a plastic surgeon who specializes in Obstetrics and Gynecology.
Dr.Panya Saksangawong is a plastic surgeon who specializes in cosmetic and plastic surgery with a special in facial surgery, breast augmentation, rhinoplasty. H
Dr.Thitikorn Wanichkul is a plastic surgeon who specializes in cosmetic surgery of the face, breast and body.
Dr.Pailin Puangpet is a dermatologist who specializes in cosmetic dermatology with a special focus on acne, laser treatments, fillers, Botox and others. Dr.Sutasinee Tunsuriyawong is a dermatologist who specializes in cosmetic dermatology with a special focus on acne, laser treatments, fillers and Botox.
Dr. Winai Keawcharoen is a plastic surgeon who specializes in cosmetic and plastic surgery with a focus on facial surgery, breast augmentation, rhinoplasty.
Assoc. Prof.Thanainit Chotanaphuti is a plastic surgeon specializing in cosmetic surgery of the face, eyes, nose, body and breasts.
All these doctors are members of The Medical Council of Thailand. There is a full team of highly qualified and board certified plastic surgeons who are also working at the hospital.
Medical tourism in Bangkok
Thanks to its location in Thailand and being the capital of the country, Bangkok is well developed and easily accessible. It has a busy international airport, serviced by major international airlines. It is a convenient stopover as well as a final destination from many countries. While it is a shorter distance away from Australia and New Zealand, it also sees large numbers of medical tourists from the U.S., Canada, Europe and even nearby Asian countries.
Medical tourism has become increasingly popular as people don't mind traveling across continents to take advantage of lower medical costs in different parts of the world. Large and small Bangkok hospitals are extremely popular because of the high quality of amenities they offer, the top of the line facilities and the highly trained doctors that are on call. Most of the high end hospitals have English speaking doctors and some even offer interpreter services for people from non-English speaking countries.
As a medical tourist you not only take advantage of the much lower cost of medical and cosmetic treatments and surgery in Bangkok , but also get to have a holiday in an exotic Asian destination.
Enjoy your holiday in Bangkok
While Bangkok is a modern city with skyscrapers, big shopping malls, sky trains and an underground metro, it has parts that hark back to its origins. So you can find a mix of the old and the new in this city. With different temples, the royal palace and museums, you can always find historical and cultural attractions.
The city is also known for its gardens, its floating markets and its hawker foods. Chinatown is another must-visit area. Bangkok is famous for its spas and retreats and you should take advantage of the region by indulging in relaxing spa therapies and massages. River cruises, specially a romantic dinner, is another tourist attraction. In the night Bangkok comes alive with its rooftop bars, nightclubs, cabarets, night shows, pubs and lounges and even night markets. It is the city that never sleeps.
Shopping at the malls or in the open air markets – and Thai clothes and silks are very reasonably prices – is another activity. Traffic can be problematic at times so it makes sense to stay close the hospital if you have to make many trips for your surgery or after care.
Price comparison of popular surgeries and treatments
If you were to check out the price difference of surgeries at Phyathai Hospital 2 and the prices in your country of residence for similar treatment, you will realize how much you actually save, despite the cost of airfare, accommodation, food and other expenses. At the same time you get an attractive two in one deal since you also get to enjoy a holiday in this tropical country.
Breast augmentation- You may pay an average of AU$15,680 (NZD16,870, £8,982, €10,589, US$11,584, CAD15,882) in your home country but in Bangkok you will pay an average of only AU$4,492 (NZD4,834, £2,575, €3,036 US$3,318, CAD4,49) for the same procedure at Phyathai.
Facelift – In Australia this could set you back by AU$23,904 (NZD25,726, £13,703, €16,155, CAD24,210, US$17,658). At this hospital it will cost around AU$4,492 (NZD7,965, £4,217, €5,010, CAD7,485, US$5,456).
Breast lift - In Australia the average cost is AU$15,835 (NZD17,024, £9,011, €10,708, CAD15,991, US$11,659). At Phyathai 2 Hospital you can pay an average of AU$5,616 (NZD4,834, £2,575, €3,035, CAD4,549, US$3,318).
Phyathai 2 Hospital is among the top hospitals in Bangkok. With the expert panel of doctors and high quality treatment at low prices, you should book with Medical Departures for your preferred cosmetic surgery or treatment with quality-checked clinics at the best prices.